If you don't see today's Fishing Report, please refresh your browser to empty your cache.
Welcome to the Fishing Report from Townsend, Tennessee in the Great Smoky Mountains. It is an overcast brown trout day in the Smokies. Well the holidays are over and it is a few months till Spring gets here. Winter always seems to take forever....then you see the first daffodils and realize....I haven't gotten my Quill Gordons tied up yet. The winter is slow at the Shop but we stay plenty busy getting ready for spring. Each year we have lofty goals of all the projects were are going to complete during the "slow" time and then it slips by so quickly. Before we know it the wildflowers are blooming and the Quill Gordons and Blue Quills begin to emerge.
Rain fell over the last couple of days but the readings on the stream flow gauge at Townsend hasn't moved. The temperature gauge is working so the question is is there a problem with the streamflow monitor? or has the ground just been absorbing all the rain to replenish from the drought?
This morning the gauge at Townsend is giving a reading of 1.83 feet or 124 c.f.s. This is lower than the daily normal of 329 c.f.s. Water temperatures are an excellent 47F. Warm overnight lows have allowed this. Temperatures will begin to fall as we get to Thursday when a cold snap rolls in.
Fishing today could be good. Water levels should be up some and water temps are great for this time of year. I would be fishing with a nymph and split shot. Get the flies down. If you aren't hanging on the bottom every now and again then add more weight. If the sun was scheduled to make a showing today I might tie on a dry like a parachute adams but today nymphs will most likely do best.
Try a double nymph rig with a larger fly such as a Pat's Rubberlegs up top and a smaller BH Pheasant Tail or Prince Nymph below. The Squirmy worms continue to work well also.
Walter Babb and Ray Ball will be at the Shop this Saturday from 10 until 2 pm. They will be telling stories and tying flies. This is a great opportunity to see two local legends in person. No reservations needed just show up, get a cup of coffee and pull up a chair.
We will be having different tyers every Saturday until the end of March. We'll get the schedule updated in the next day or so.
Have a great day and thank you for being here with us!
Daniel Drake
January 2, 2017
Respond to: Byron@littleriveroutfitters.com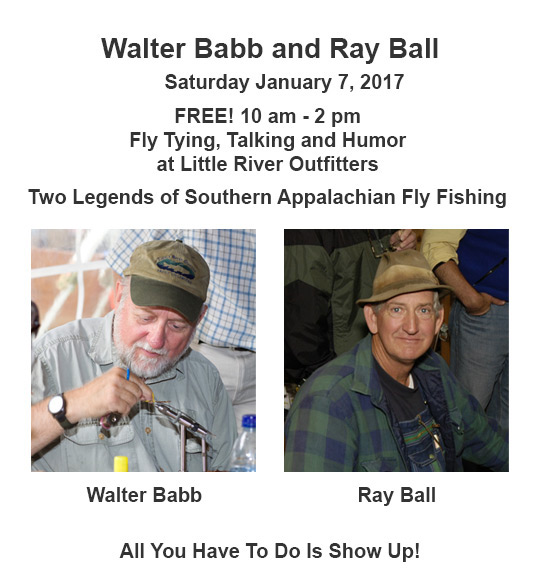 When you talk about true living legends, who gained a reputation by spending their lives fly fishing in the Southern Appalachians, Walter Babb and Ray Ball will come up in the conversation. There are others. Not many.
If you want to meet these guys, you can on January 7th. Maybe you know Walter or Ray or both and want to spend time with them. You can. And, you will probably see other friends of theirs and yours.
Walter will be tying and talking. Ray may be tying, but he will be talking, telling stories and some jokes.
Whatever they do, you will enjoy this day.
This is the kickoff of our 2017 Free Fly Tying Demonstrations that we hold each Saturday during the Winter months. All you have to do is show up at the shop, grab a cup of coffee and pull up a chair. They will be here at 10 am until 2 pm.