Townsend, Tennessee - Great Smoky Mountains National Park

Welcome to the Fishing Report from Townsend, Tennessee in the Great Smoky Mountains. What a beautiful morning it is. Look at the sky in the photo below it took from my office. The clouds are dark in some areas and non-existent in others. The sun will take over soon and the temperature will warm into the 50's today. Townsend is very quiet. It will be that way for two months. The Parkway Grocery was busy this morning but not like it usually is. I stopped in to see if anyone there wanted to talk about our right-of-way issues. Steve asked me one question and that was it. There were not any stakeholders there. I'll try again tomorrow.
Little River is in excellent shape. I did not take the water temperature this morning. I'll start back tomorrow. Paula and I traded vehicles during the holiday and my thermometer has not been with me in the mornings. Flow is still strong but the water level is falling. This morning the flow is 616 cubic feet per second. Median flow for this date is 330 cfs.
Fishing should get a little better this week. The water will warm up some and the water levels in the streams will drop. We do have a chance for rain or snow starting tomorrow night. Right now nothing significant is predicted. Low temperatures at night will be in the 20's for a few days and later in the week the highs will be in the 30's. It is winter after all.
If you go fishing nymphs or streamers will be your best choice. Some of my friends fished this past weekend and did fairly well. One of them caught a 20" brown trout. That is much better than fairly well. You might have to add a lot of weight to get your fly down in this swift water. Cooler water temperatures equate to inactive fish. Most will be hunkered down but they will still eat and you can catch trout this time of year. Just off the top of my head I would pick a Tellico or Prince Nymph right now. A Muddler Minnow might work well too. This is going to be a nice day to go fishing.
Business people in our town are either taking a break or digging into plans and projects for Spring. Business at our store starts earlier than the other establishments in town. Fishing here usually gets good in March depending on the weather. Sometimes late February is a great time to be fishing here. Spring break at the Universities brings in the younger anglers. Older people start fishing here as soon as the weather breaks and the Spring hatches begin. I am really looking forward to that.
The other tourist related businesses are dependent upon nice weather to get their cash registers cranking again. Most fishermen don't care about a little rain or low temperatures as long as the trout are feeding. Of course, our total economy here is helped by anglers, but that is a very small part of our town's revenue. Most people come here to be in the mountains and fishing is just one of the activities. I know, that is hard for some of us to understand. I would not go anywhere on vacation unless the primary activity is fishing. I've always been that way. Thank goodness my wife feels the same way.
But, we have a couple of months to wait and prepare. Preparing is a huge part of the fun. That is why I like fly tying so much.
Thank you for being here today and have a good one.
Byron Begley
January 4, 2011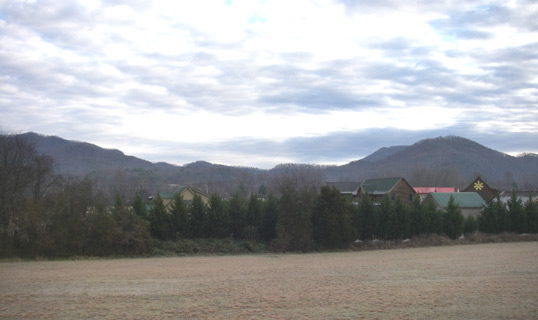 Respond To: Byron@LittleRiverOutfitters.com

FLY TYING CLASSES
Our fly tying classes will be held in January and February. To sign up just call the shop at 877-448-3474. You can read more on our website in the Schools Section. The fly tying class schedule follows:

Saturday January 8 – Beginner Fly Tying
Saturday January 15 – Intermediate Fly Tying
Saturday January 22 – Advanced Fly Tying
Saturday February 5 – Beginner Fly Tying
Saturday February 19 – Intermediate Fly Tying
Saturday February 26 – Advanced Fly Tying
Respond to: byron@littleriveroutfitters.com