If you don't see today's Fishing Report, please refresh your browser to empty your cache.
Welcome to the Fishing Report from Townsend, Tennessee in the Great Smoky Mountains. At 6:08 am, the temperature is 48.2 degrees.
Today's high temperature will be about what is is right now. Cold air is moving in. Tonight's low is expected to be in the low 20's. The high temperatures tomorrow through Sunday will be at or slightly above freezing. Lows will be in the 20's, dropping into the mid teens or single digits Saturday and Sunday night. It is amazing how different the weather websites are predicting the low temperatures for the weekend this morning. It is going to be cold, no matter who you believe.
There is a chance for snow Thursday night through Friday. More snow is expected to our North. We may get some here. It is too early to tell exactly what will happen. We could get no snow or 1 to 3 inches.
Little River is flowing at 134 cubic feet per second (cfs) or 1.87 feet on the flow gauge. Median flow for this date is 345 cfs. The water temperature is 52.2 degrees this morning.
Some local friends of mine think the flow gauge is not reporting properly. I copied the USGS office in Knoxville on an e-mail to one of them. Another friend contacted the USGS office. The chart, depicting the water flow looks different. I have not actually driven to the gauge and looked at it, to compare the results to what we are reading online. Also, rivers can change, and what you read online may be correct, though it won't compare exactly to the gauge you see in the river, so I don't know. The equipment was calibrated sometime around November 15th to the 17th.
Fishing may be good today. The water temperature is favorable. I was at the shop yesterday, and saw several friends who were going fishing. I know people have been catching trout over the past few days. Today may be your last chance to enjoy these good fishing conditions. The cold air will lower the water temperatures. The water will be cold by the weekend.
If you go, use nymphs and go today.
If you can, and we can, we should all be at the shop Saturday morning for a few hours with Walter Babb and Ray Ball. This is a free event, and an opportunity for you to meet for the first time, or get to know these guys better. They are both incredible fly fishermen, who have spent their life fly fishing in the Southern Appalachians. I know Walter will be tying flies and he is a master. He is also well known in bamboo rod making circles, as a maker of fine rods. Ray may just be talking and telling you about his many years of experience, living and fishing in the Smoky Mountains. I will be there. You should too. If the roads are bad due to snow, watch this report, as the event could be cancelled. I think Saturday will be fine. All you have to do is show up. The event is free. Walter and Ray will be at the shop between 10 am and 2 pm. We will have a very enjoyable day.
The shop's fly tying department has been totally re-arranged and stocked. This is fly tying season.
Dave Carson, Daniel and I are meeting Monday to plan Fly Tyers Weekend, which will be held in early November. I'm going to tell them what I know about "putting on" the event. I've done it many times. What I learned later, is to get Anthony Hipps involved. Anthony lives in Alabama, and he has the ability to make any fly tying event the best you could hold. Anthony worked with me on the 2014 and 2015 Fly Tyers Weekends, which were hugely successful. Dave and Daniel will be organizing this one with Anthony.
I am also hoping Mike Bryant will help. His organization skills are essential. Mike is our new State Chairman of Trout Unlimited. They will be renting large heated tents, to be erected behind and connected to the shop this year. That's the way we did it back in the old days. Everyone loved it. I am already looking forward to November.
Pull out your long johns, and get ready for the weekend.
Have a great day and thank you for being here with us.
Byron Begley
January 4, 2017
Respond to: Byron@littleriveroutfitters.com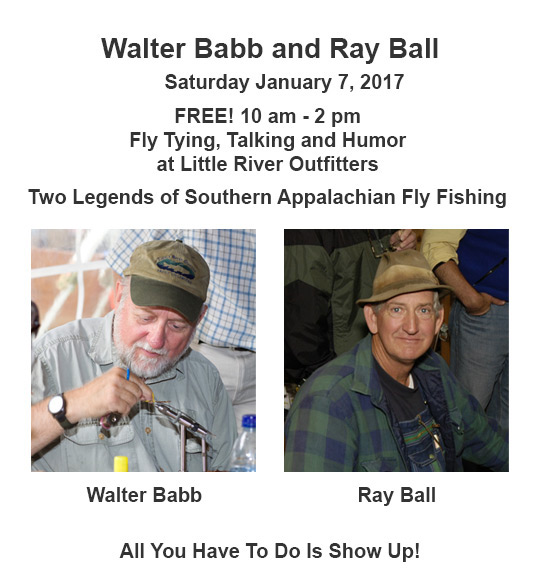 When you talk about true living legends, who gained a reputation by spending their lives fly fishing in the Southern Appalachians, Walter Babb and Ray Ball will come up in the conversation. There are others. Not many.
If you want to meet these guys, you can on January 7th. Maybe you know Walter or Ray or both and want to spend time with them. You can. And, you will probably see other friends of theirs and yours.
Walter will be tying and talking. Ray may be tying, but he will be talking, telling stories and some jokes.
Whatever they do, you will enjoy this day.
This is the kickoff of our 2017 Free Fly Tying Demonstrations that we hold each Saturday during the Winter months. All you have to do is show up at the shop, grab a cup of coffee and pull up a chair. They will be here at 10 am until 2 pm.