Townsend, Tennessee - Fly Fishing in the Great Smoky Mountains National Park, East Tennessee and Western North Carolina

Welcome to the Fishing Report from the Great Smoky Mountains. At 6:17 am, the temperature is 32 degrees and the high today is not supposed to climb past 39 degrees. We have gone from Spring-like weather to Winter with some high water thrown in.
Little River is flowing at 923 cubic feet per second (cfs) or 3.31 feet on the flow gauge. Yesterday, the river peaked at about 1,900 feet per second or 4.5 feet on the gauge. Median flow for this date is 310 cfs.
The water temperature in the river hovered around 52 degrees all day then started dropping late last night. Currently, the water is 47.3 degrees.
According to the Great Smoky Mountains Road Twitter account, Newfound Gap Road closed last night due to snow and ice. It remains closed this morning.
The temperature will drop into the mid-20's tonight and tomorrow night. The high temperature Wednesday is expected to be 28 degrees followed by a low of around 7 degrees Wednesday night.
Water temperatures will likely drop into the 30's by the weekend. Fishing will be slow.
If the other streams in the Smoky Mountains are similar to conditions in Little River, wading today will not be safe and to make matters worse for anglers, it is going to be cold. If you go, take extra dry clothes and don't fall in. Fish from the bank or be very careful if you do wade. Most people will not go fishing today.
This does not sound like a good fishing report for this week and it's not. We've had it too good this year, with better than normal fishing though the holidays. Some fishermen were catching trout on dry flies this weekend. It felt like Spring. The trout thought it was Spring.
We have some bird feeders very close to the back of our house. We serve thistle, and black sunflower seeds. I fill the feeders every day. Additionally, I spread seed, mostly millet and cracked corn on the ground back into the forest. Doves and non-perching birds feed all day on the ground. Perching birds eat the thistle and sunflower seeds in the feeders. We love watching the birds. There are some rare species here, due to our proximity to Great Smoky Mountains National Park.
I pulled into our driveway yesterday afternoon and two wild turkeys were standing on the concrete next to the carport. I've never seen that before. They flew into the trees when I drove in. Then I saw what was going on. A flock of turkeys had found our bird feeding area. That has never happened. We see wild turkeys around here almost every day. For some reason, those birds never found our feeding station until yesterday. I've been feeding the birds behind our house for a couple of months or longer this year.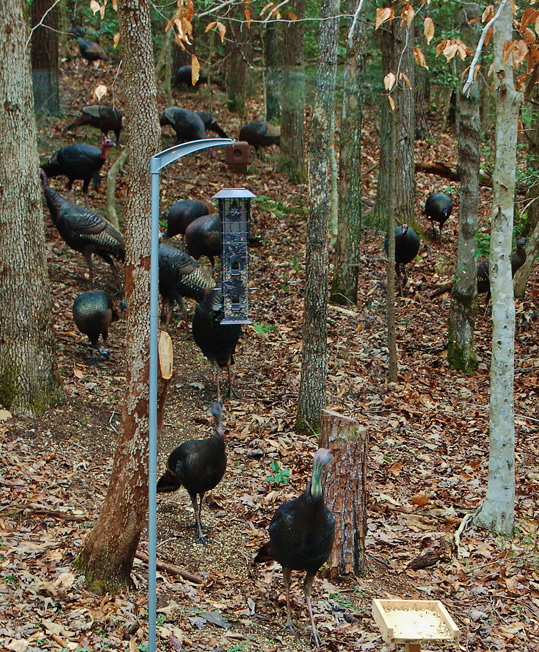 I walked in the house and looked out. I tried to count the turkeys. I think there were 29 of them. That feeder you see is 15 feet from our back door. Most of what they were eating were small seeds but they picked the ground clean. Paula took the picture above.
I suspect, the turkeys know what is coming, bitter cold temperatures. Also, most of the acorns have been eaten. We had a huge mast crop this year. Seeing these birds so bold as to come this close to our house is very unusual. We see bears and deer out there at times. But we've never seen turkeys this close before.
Two gobblers stuck around after the others left and picked up every seed they could find. I walked out after the gobblers left and I could hear the doves flying around in the trees above. I bet they are ticked that the turkeys found their food.

In the Spring, when the black bears become active again, the bird feeders will have to come down. Feeding birds is something we can only do during the winter months.
Rocky Cox will be tying flies at the shop Saturday. You should come by and meet him. This is a free demonstration. He will be at the shop between 10 am and 2 pm. Just come by the shop. No reservation necessary.
I've known Rocky many years. He is one of the professional guides we send our customers to. He does most of his guiding on tailwaters, mostly on the Clinch River north of Knoxville and Cumberland River in Kentucky. He has been guiding since 2001.
You can visit his website by CLICKING HERE. I hope you can be at the shop Saturday.
We are also holding a beginner fly tying class Saturday, taught by Walter Babb and Brian Courtney. I'm not sure if the class is full. It may not be. Call the shop at 865-448-9459 if you are interested in learning to tie trout flies. That alone will change your whole perspective on fly fishing. It will add a new dimension while giving you something to do when we have winter weather like we'll see this week.
If you are not sure about your ability or desire to tie flies, come watch Rock instead of taking the class and get an idea what this hobby is all about. I've been tying flies for over 50 years and still love doing it. I tied 3 or 4 last night.
Have a great day and thank you for being here with us.
Byron Begley
January 5, 2015