If you don't see today's Fishing Report, please refresh your browser to empty your cache.
Welcome to the Fishing Report from Townsend, Tennessee in the Great Smoky Mountains. At 6:17 am, the temperature is 29.8 degrees.
Today's high temperature will be in the low 40's. Tonight will be cold, with lows in the mid to high 20's. We have a good chance for rain changing to light snow this afternoon or tonight. It may snow tomorrow. The high will be 32 degrees. Saturday and Sunday will be cold, and temperatures at night will dip into the teens, maybe the low teens.
Weather websites and their models differ. Some call for total snow accumulations of 1" in the valley. There could be more, or none at all. We are under a winter weather advisory today and tomorrow morning.
Little River, according to the USGS website, is flowing at 144 cubic feet per second (cfs) or 1.91 feet on the flow gauge. Median flow for this date is 319 cfs. The water temperature is 43.3 degrees this morning. There is speculation, that the USGS gauge is not reading correctly on their website.
Water temperatures will fall through the weekend. The streams will be very cold. Fishing will be slow.
If you go, use nymphs, weighted, and get them down near the bottom of the stream. Hope for the best but don't be disappointed if you don't catch trout this weekend. The fish are going to be hunkered down and almost inactive, due to the cold water.
Also, if we do get some snow in the mountains, which is likely, some roads may be closed tomorrow.
We are hoping for clear roads by Saturday, because we have a great day planned for you at the shop. Walter Babb and Ray Ball will be here, weather permitting. They will be here between 10 am and 2 pm. Just show up. This event is free.
I've known these guys for many years. You won't find many more experienced and knowledgeable Smoky Mountains fly fishermen than Walter and Ray. They will be tying flies and talking to you about fly fishing. This is going to be fun. You will learn much about Southern Appalachian fly fishing.
If we do get snow and have slick roads, please check this page before driving to the shop. If the roads are bad, we will cancel and I will announce it here.
We have lined up fly tyers to demonstrate and for you to meet, each Saturday during the Winter. These Free Fly Tying Demonstrations are a great way to spend your Saturdays during the cold months. You don't need a reservation. Just show up. They all begin at 10 am and last until 2 pm.
It is going to be warm again, next week. The long term forecast calls for highs in the 50's and lows in the 40's, Tuesday through Sunday with rain some days. After this brief frigid period, we may follow up with some decent fishing soon.
Have a great day and thank you for being here with us.
Byron Begley
January 5, 2017
Respond to: Byron@littleriveroutfitters.com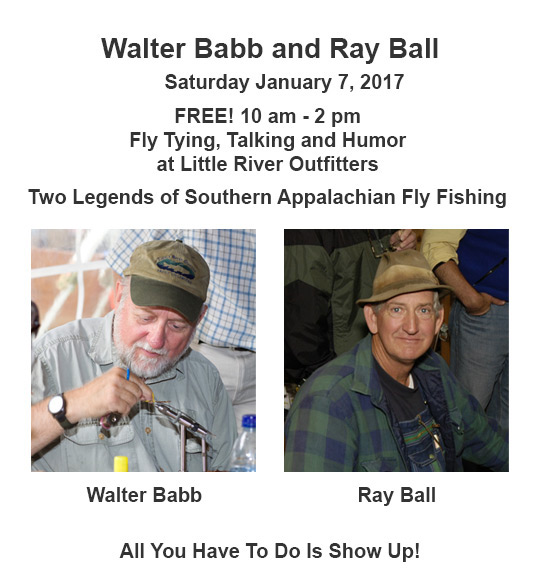 When you talk about true living legends, who gained a reputation by spending their lives fly fishing in the Southern Appalachians, Walter Babb and Ray Ball will come up in the conversation. There are others. Not many.
If you want to meet these guys, you can on January 7th. Maybe you know Walter or Ray or both and want to spend time with them. You can. And, you will probably see other friends of theirs and yours.
Walter will be tying and talking. Ray may be tying, but he will be talking, telling stories and some jokes.
Whatever they do, you will enjoy this day.
This is the kickoff of our 2017 Free Fly Tying Demonstrations that we hold each Saturday during the Winter months. All you have to do is show up at the shop, grab a cup of coffee and pull up a chair. They will be here at 10 am until 2 pm.