If you don't see today's Fishing Report, please refresh your browser to empty your cache.
Welcome to the Fishing Report from Townsend, Tennessee in the Great Smoky Mountains. At 5:36 am, the temperature is 30.9 degrees.
Today's high temperature will be at the freezing mark. Snow flurries are expected today. Snow is predicted tonight. We are under a winter storm warning. Snowfall amounts of 3 to 6 inches are predicted tonight and early tomorrow morning. The chance for snow is 90% tonight.
It is going to be cold. The National Weather Service predicts lows of 16 degrees tonight, 7 degrees tomorrow night and 13 degrees Sunday night.
Little River is flowing at 144 cubic feet per second (cfs) or 1.91 feet on the gauge. Median flow for this date is 305 cfs. The water temperature is 41 degrees this morning.
The water temperature will drop into the 30's by tomorrow. I think the water temperature will drop to the freezing point, tomorrow night.
These are obviously not ideal fishing conditions in the Smoky Mountains. There is no way I would be wading in a stream tomorrow or Sunday. If you fell in, the consequences would be dire. The cold water will render the trout inactive. The Park may be closed tomorrow, due to slick roads.
I don't know at this point, if we will be holding the Free Fly Tying Demonstration tomorrow, featuring Walter Babb and Ray Ball. I will let you know on this report, when I find out. Daniel runs the store and he will make that decision, based on the actual outcome of the winter storm and the condition of the roads. Whatever he tells me to announce, I will. Check this report when planning to attend tomorrow.
I am remodeling my office/man cave. Yesterday I calked the joints where oak posts and beams meet the sheetrock walls. Today I'm going to put a coat of polyurethane on the wood doors and window frames. Then, I'll paint the baseboards. Next I will be dis-assembling cabinets, moving some and installing new pieces. I will add new oak counter tops and finish them. All audio/video equipment will be moved and re-wired. I'll paint the sheetrock walls after prepping. I'm going to re-finish the pine wood floors. Track lighting will replace several lamps. I think this will take two weeks. I started two days ago. What a job!
I don't work at the store anymore. I work at home, and have for two years. This office has not been set up for that kind of activity. It will be soon.
David, Daniel and I are meeting Monday, to discuss plans for Fly Tyers Weekend, that will be held the first weekend in November. They will be in charge. I'll be telling them what I know about holding events, something I've done for many years, even prior to opening our store over 20 years ago. They will have as much fun as I have had doing this, and from now on, I will be a spectator/participant. I'm looking forward to that. Anthony Hipps is already heavily involved in this event. He is essential to Fly Tyers Weekend.
We are looking forward to a busy year at the shop, though it won't be easy beating the last two years. Daniel, Dave and Paul have some great new ideas. I will do the marketing for them. I have some new marketing ideas too.
So, we start a new year with a possible snow storm. And, we wonder about the drought. In business, you wonder about many things that are out of your control.
The new updated U.S. Drought Monitor was released yesterday morning. All states in the Southeast US showed improvement from the week before. Actually, the improvement was dramatic. You can view it by CLICKING HERE. The drought has been improving every week, over the past few weeks.
Have a great day and thank you for being here with us.
Byron Begley
January 6, 2017
Respond to: Byron@littleriveroutfitters.com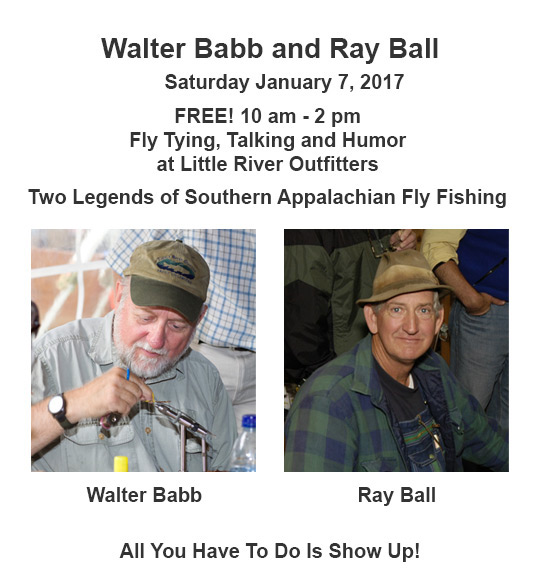 When you talk about true living legends, who gained a reputation by spending their lives fly fishing in the Southern Appalachians, Walter Babb and Ray Ball will come up in the conversation. There are others. Not many.
If you want to meet these guys, you can on January 7th. Maybe you know Walter or Ray or both and want to spend time with them. You can. And, you will probably see other friends of theirs and yours.
Walter will be tying and talking. Ray may be tying, but he will be talking, telling stories and some jokes.
Whatever they do, you will enjoy this day.
This is the kickoff of our 2017 Free Fly Tying Demonstrations that we hold each Saturday during the Winter months. All you have to do is show up at the shop, grab a cup of coffee and pull up a chair. They will be here at 10 am until 2 pm.