If you don't see today's Fishing Report, please refresh your browser to empty your cache.
Welcome to the Fishing Report from Townsend, Tennessee in the Great Smoky Mountains. At 5:18 am, the temperature is 18.3 degrees.
I walked out on the front porch and it is cold out there. It was hard to judge how much snow we have. We live in the forest and some areas I saw had about 1" while others were covered with approximately 4 inches of snow. It was still snowing.
The snow should end soon. Today's high temperature is predicted to be 22 degrees, with a low tonight of 3 to 5 degrees. It will be clear today and tomorrow. Warm air will move into our region Tuesday. We will have high temperatures in the 50's Tuesday and Wednesday and in the 60's Thursday through Sunday. Rain is expected Wednesday.
The USGS flow gauge at Little River in Townsend is not transmitting data. It has not been working correctly for a few days. Maybe it is down for repair. The water temperature, as reported by USGS is 35.1 degrees this morning.
I am waiting to hear from Daniel, on his decision whether to cancel today's Free Fly Tying Demonstration. He will talk to Walter and Ray this morning, then call me.
The Tennessee SmartWay map indicates snow and ice on Highway 321 with moderate traffic delays. It looks like Walter has the same conditions on his route here from Sweetwater.
Many roads in Great Smoky Mountains National Park are closed due to snow and ice.
I will update this report when I hear from Daniel.
UPDATE 7:10 AM: TODAY'S FREE FLY TYING DEMONSTRATION HAS BEEN CANCELLED! I DON'T KNOW IF THE STORE WILL BE OPEN. IT MAY OPEN LATE. CALL THE SHOP BEFORE YOU COME.
Have a great day and thank you for being here with us.
Byron Begley
January 7, 2017
Respond to: Byron@littleriveroutfitters.com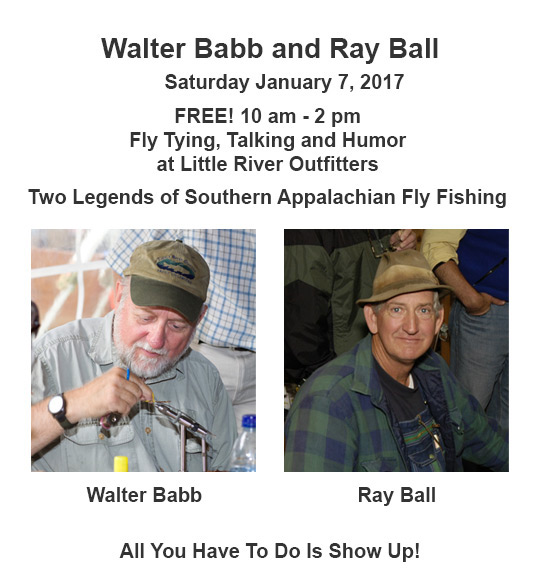 When you talk about true living legends, who gained a reputation by spending their lives fly fishing in the Southern Appalachians, Walter Babb and Ray Ball will come up in the conversation. There are others. Not many.
If you want to meet these guys, you can on January 7th. Maybe you know Walter or Ray or both and want to spend time with them. You can. And, you will probably see other friends of theirs and yours.
Walter will be tying and talking. Ray may be tying, but he will be talking, telling stories and some jokes.
Whatever they do, you will enjoy this day.
This is the kickoff of our 2017 Free Fly Tying Demonstrations that we hold each Saturday during the Winter months. All you have to do is show up at the shop, grab a cup of coffee and pull up a chair. They will be here at 10 am until 2 pm.