Townsend, Tennessee - Fly Fishing in the Great Smoky Mountains National Park, East Tennessee and Western North Carolina

Welcome to the Fishing Report from Townsend, Tennessee in the Great Smoky Mountains. At 5:52 am, it is raining and the temperature is 44.8 degrees. We have had almost ¼ inch of rain since midnight. The temperture is expected to drop today to a low of 18 degrees tonight. The rain will be light today, then it may turn to snow this afternoon in the higher elevations.
Little River is flowing at 253 cubic feet per second (cfs) or 2.01 feet on the flow gauge. Median flow for this date is 295 cfs. The water temperature is 47.8 degrees this morning.
Fishing in the Smoky Mountains may be decent today. The water temperature is favorable right now for fair fishing. It will certainly be overcast.
The problems may be wind and a strong front moving in. Expected wind speeds up to 20 miles per hour are being reported. I can hear the wind blowing now. Sometimes, when strong fronts approach, the trout respond by becoming inactive.
So, I don't know, fishing could go either way.
I would not venture to the high elevations today, when we are expecting snow. Driving down the mountains on slick roads is not fun at all. I've had some very tense moments, doing that.
Yesterday I talked about a coyote that has been hanging around our house. The animal is very large, larger than any coyote I've seen. I've only viewed the coyote from a distance of maybe 100 feet. I speculated that this could be a gray wolf/coyote hybrid.
I loaded some video to my computer and below is a screen shot from the footage. After closer inspection, I think this is just an eastern coyote, though a large and good-looking specimen. The face of the hybrid looks more like a gray wolf, than this animal does. The video camera was zoomed in and shows more detail than I could see at that distance. I shot the video from my office window, here at home, where I'm working right now.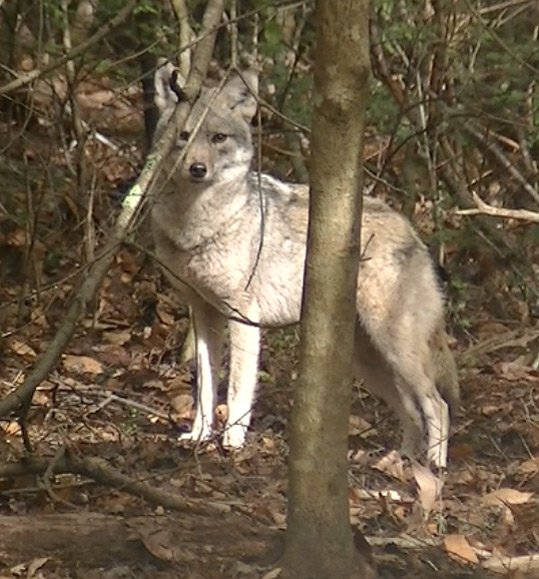 I know many people who shoot coyotes. They are exotic to the East. My understanding is, the western coyote moved to the east, in mass, when the Mississippi River froze one year. This coyote visits our home and keeps his distance. I just can't imagine killing this beautiful animal. He doesn't have to worry about me.
It is with a heavy heart, that I have to announce the passing of my friend Wilson Reynolds. His fiancé Wendy Baker called me last night with the news. Wilson passed away after surgery yesterday near his home in Maryland.
Wilson and Wendy own Tremont Lodge and Resort and Tremont Resort Campground in Townsend. We worked together to bring back Fly Tyers Weekend. We have had some great times together. I will miss Wilson very much. He was one year younger than me.
Many of us lost another friend Thursday, Diane Beith of Poplarville, Mississippi. Diane and her husband Jack, are well known in Townsend and Blount County, due to their involvement in Troutfest, the Little River Chapter of Trout Unlimited, and as customers and friends of all at Little River Outfitters.
Today my thoughts and prayers go out to Wendy Baker and Jack Beith, two good friends.
More of us lost another friend this weekend. His name is Lloyd (Fuzz) Callaway. He lived in Cleveland, Tennessee. I met and enjoyed his company, while on bear and boar hunting trips. Fuzz kept us all laughing at camp. I spent a day with him in the woods once. I will never forget that day. We listened to the hounds and every sound in the forest, but mostly talked and laughed.
I think all of us, who go on these boar and bear hunts in the Cherokee National Forest, go for the enjoyment of others, not the killing of a bear. Personally, I would not shoot a bear, kind of like that coyote above. But, I sure do love going on those hunts. I love the people and where I am. I love listening to the hounds. I will certainly miss Fuzz. We all will. It won't be the same.
My life won't be the same without these three friends.
This is going to be a bitter, cold week in the Smoky Mountains. I'm confident, we will wake up to a view of snow covered mountains tomorrow morning. In the higher elevations, high temperatures in the 20's and 30's, with lows in the teens are expected through Thursday.
I'm already looking forward to Spring.
Have a great day and thank you for being here with us.
Byron Begley
January 10, 2015