Townsend, Tennessee - Fly Fishing in the Great Smoky Mountains National Park, East Tennessee and Western North Carolina

Welcome to the Fishing Report. This is my day off. It is dark outside and 40 degrees. What a week this has been. Saturday, the temperature was 72 degrees. Then the rain started. Little River rose from 2 feet on the gauge to 8 feet. We got about 8" of rain this week. More rain has started falling. By this afternoon the rain will turn to snow. We are expecting 1" to 3" in the valley and up to a foot in the mountains. The snow will melt tomorrow down here. Saturday is supposed to be sunny and 50 degrees.
Little River has dropped to 4.45 feet on the gauge or 1,780 cubic feet per second (cfs). Median flow for this date is 251 cfs. The water temperature right now is 50.5 degrees. Fishing in the Smokies will be slow and dangerous. I would not go. Roads will become impassible and the Park will close some of them due to the snow.
A huge landslide on Highway 441 near Newfound Gap occurred yesterday. A 200 foot swath of the road slid down the mountain. Nobody was hurt. I read somewhere that a park ranger had just driven over that section. The exact location is near mile marker 22, which is located between Newfound Gap and Cherokee, North Carolina. The road is closed of course. The Park Service expects to open the road from Sugarlands to Newfound Gap and from Cherokee to Smokemont Campground. There is no telling when the slide and road damage will be repaired. You can read the story in the Daily Times by CLICKING HERE. You can watch the coverage by WBIR by CLICKING HERE. The landslide is described as the size of a football field and deep. Well I'll be. One of the people being interviewed is wearing a Little River Outfitters cap.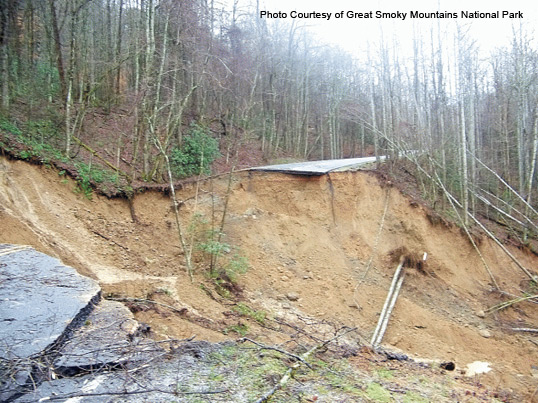 Other landslides occurred in our area, one below a cabin near Townsend and another on Alcoa Highway.
Reservoirs in our area have been rising due to the rain. TVA is trying to increase their water storage capacity by generating and opening flood gates. Fishing in the tailwaters may be affected by that for a few days.
You should come by our store on Saturday. Mike Bone, a very well known tailwater guide will be tying and talking about fishing between 10:00 am and 2:00 pm. This event is Free. All you have to do is show up. You will like Mike and you will learn much about fly fishing for trout and smallmouth bass.
Have a great day and thank you for being here with us.
Byron Begley
January 17, 2013
Respond to: byron@littleriveroutfitters.com