Townsend, Tennessee - Fly Fishing in the Great Smoky Mountains National Park, East Tennessee and Western North Carolina

Welcome to the Fishing Report from the Great Smoky Mountains. The temperature is 44 degrees this morning. The high will be around 62 degrees with plenty of sunshine. It is going to feel like Spring today.
The water temperature in Little River is still chilly, 41 degrees this morning. Yesterday, that number rose to over 43 degrees. That is still cold and fishing probably didn't improve much yesterday. I'm anxious to see what happens today. We may see fishing improve some in the Smoky Mountains.
Flow is good in the river but still below normal. Right now, flow is 195 cubic feet per second (cfs) or 1.87 feet on the gauge. Median flow for this date is 309 cfs.
If you go, fish with a nymph dropper rig, two nymphs. Get them down deep and near the bottom. You might try a dry fly later today after the water has warmed.
It is January, so don't expect these warm temperatures to last long. They won't. I'm looking at the 10 day forecast and it looks like winter to me. We won't see sub zero temps or really cold days and nights but we will have normal winter conditions over the next 10 days except for today and tomorrow. So we wait. Maybe in February.
We are seeing more anglers preparing. The fly tying department at the store is busy. I was there most of the day yesterday and saw quite a few anglers going through the materials, picking out what they need for Spring fly fishing.
Dan is going musky fishing today with David Knapp. I hope they catch one or at least get some follows. A "follow" is certainly a big deal to fly fishermen targeting musky. I can't imagine how exciting that must be. These fish are stocked in some smaller lowland rivers in Middle Tennessee by TWRA. Hooking and trying to land a 30" to 50" predator like a musky, in a small river, with downed trees to get tangled in, must be a rush. I heard someone caught a 54 ½" musky last week on the Clinch River. I was glad to hear it was released. I don't think it was caught on a fly.
I've been talking to a lot of customers about Florida, specifically, the gulf coast. We are planning at least one trip there this year. Andy and I talked about the Sand Shrimp pattern we both love to use for redfish and speckled trout. Just about every fish that swims in the ocean likes a Sand Shrimp, even sheephead. If a fly works for sheephead, you've got a good fly. You can learn to tie one by CLICKING HERE. Below is a photo of the Sand Shrimp.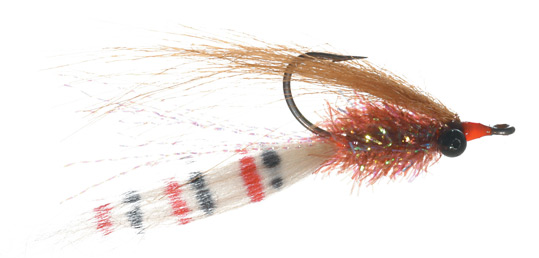 Paula and I were fishing from kayaks in the Gulf this Spring for a week. She used a Sand Shrimp exclusively. I changed to a few other flies but always went back to that fly. We caught a lot of fish, many different species, until the wind kept us off the water for 3 days.
The Sand Shrimp was made popular by Ed Story, founder of Feathercraft in St. Louis. Ed passed away a few years ago. People in the fly fishing industry and customers who knew Ed miss him very much. Ed called the fly, the FC Sand Shrimp. FC was short for Feathercraft. I wanted to have this fly tied overseas to sell in our store and called Ed for permission. He told me that would be fine but to drop the "FC" from the name on the ones we sell. So, that's what I did. I still hear people referring to the fly as the FC Sand Shrimp. Andy used that name yesterday. Sometimes, I do too.
Another great fly to have in your box is the Copperhead. My friend Randy Hamilton came up with that fly. Randy lives in Charleston, South Carolina and knows his saltwater fly fishing. The Copperhead looks like a spoonfly in the water, but it is much easier to tie.
I'm off today. I'll be painting the interior walls of the new boat house. The walls are covered with plywood on the lower 4 feet, and pegboard on the upper four. I've been waiting for warmer temperatures. We've got warmer temperatures today. The boat and kayaks are in the boat house but I've been waiting to paint before moving in all the tackle and boating accessories. The security system is not hooked up yet to that building. I'll wait until that is done before moving in the rods, reels and especially, our flies.
Steve Brown and Buzz Buffington will be tying at the shop Saturday between 10 am and 2 pm. These guys are Clinch River experts. The demonstration is free, all you have to do is show up. We'll see plenty of fishermen who are interested in that great river, attend our free event Saturday.
Have a great day and thank you for being here with us.
Byron Begley
January 20, 2015