Townsend, Tennessee - Fly Fishing in the Great Smoky Mountains National Park, East Tennessee and Western North Carolina


Welcome to the Fishing Report from the Great Smoky Mountains. It is 20 degrees this morning. Today will be sunny with a high around 50 degrees. Tomorrow will be warmer but we will probably get some rain throughout the day.
Little River is flowing at 205 cubic feet per second (cfs) or 1.90 feet on the gauge. Median flow for this date is 289 cfs. The water temperature at 6:45 am is 36.9 degrees.
Fishing will be slow in the Smoky Mountains today due to the cold water. If you go fishing, tie on a pair of weighted nymphs and dredge deep, near the bottom of the stream. You can catch trout when the water is this cold but don't expect much action if any.
Newfound Gap Road from Gatlinburg to Cherokee is closed temporarily due to snow and ice. That has been the case for several days, mostly at night.
You should visit our shop today to meet Roger Lowe. We are holding our usual Free Winter Saturday fly tying demonstration between 10 am and 2 pm. Just show up and spend time with Roger.
He and I have been friends for many years. Roger lives in Western North Carolina where he is a professional guide. He is one of the most knowledgeable mountain fly fisherman and fly tyer you will meet. His book of Smoky Mountains Fly Patterns has been bought by thousands of anglers over the years. Roger is an expert.
You don't have to tie flies or even want to learn, to get valuable information with time spent at our store today. Roger is a fisherman and a guide. He communicates well. He will be talking and answering your questions for four hours.
Mark Schoonaert from the Chicago area in Indiana sent me a link to an article we both found interesting and disturbing. It is on the CNN website and titled, "Bears Overdose on Chocolate Bait. If you are a dog lover and owner, you know not to feed your best friend chocolate. Chocolate contains a chemical that is lethal to dogs. Well, it turns out, chocolate is lethal to bears. And, chocolate is also a legal means to attract bears to a hunting site in some states. This story is about four bears found dead near a baiting site in New Hampshire. You can read the article by CLICKING HERE.
Baiting bear during the bear hunting season is illegal in Tennessee. However, some hunters bait bears to trail cameras during the off-season just to see what the population looks like where they hunt. Sometimes, hunters use chocolate for this purpose. I know that for a fact. The hunters I know would not want to poison the bears. But, they may be doing it by accident. More people need to know about this.
Mike Bryant, Marvin Cash and I visited Tremont Lodge & Resort yesterday to plan Fly Tyers Weekend. It will be held either the last weekend of October or the 1st weekend in November. We have not decided. At issue is a Tennessee home football game or an away football game and of course, Halloween.
We looked at the conference facilities. This year's event will be similar to 2014 but with one significant difference. We will be partnering with the Region Fly Fishing Federation. FFF will most likely be holding a fundraiser banquet and other activities related to fly tying. We are keeping it a fly tying event. That's what it is and that has made it successful. The brand will remain. The event is a partnership with Tremont Lodge and Little River Outfitters. We will just take on a new partner, the Fly Fishing Federation Southeast Region.
Stan, Dan and I were talking about fly fishing yesterday. Imagine that! We do that almost every day. Dan and I do talk about fishing every day that he and I are both at the shop, working.
We got on the subject of fly fishing for bluegill after spending time talking about carp and largemouth bass.
Fly fishing for bluegills and shellcrackers are one of my favorite pastimes. Casting a popper onto a shaded bank during the warm months is hard to beat. The popper hits the water, you see a shadow, then a big panfish move toward the fly, then wait to see what happens. Sometimes they take it and sometimes they don't. We all love sight fishing and that is what I'm describing here.
But, there is another very effective method for catching larger bluegill. That can require getting some kind of nymph down deep where the bulls live. My favorite fly for that purpose is a Dragon.
Carter's Rubber Legged Dragon is a perfect deep water fly for catching bull bluegill. See the photo below. It is weighted by bead chain eyes. It sinks fast. A very slow retrieve nets results. You have to feel the strike. This is not sight fishing. This pattern was designed to catch huge bluegill at Calloway Gardens in Georgia. It works.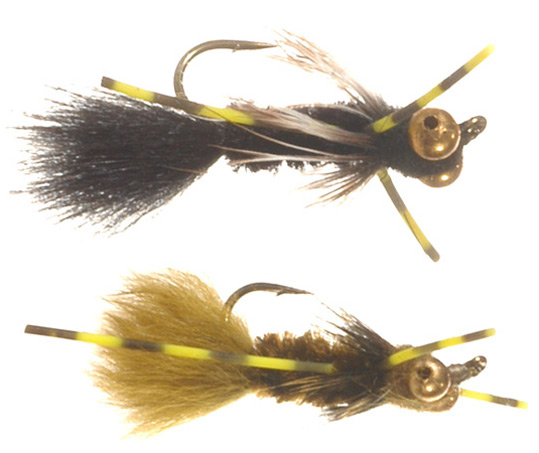 I have my own versions, tied in many different colors. My favorite colors are crawfish orange, black and chartreuse. I use rabbit fur cut from strips for the tail and collar. The hook is a Tiemco 2457 in sizes 6 or 8. That hook has a wide gape and you often catch bass or other gamefish on the fly.
I do a lot of warmwater fly fishing, on lakes and rivers, usually fishing from a boat. My favorite three flies are Knuckleheads, Wooly Buggers and Dragons. You need some kind of shad pattern too.
We know most fly fishermen target trout by a wide margin. We also know, 2/3 of fly fishermen do not tie flies. Trout flies can be tedious to tie. They are often small. Some of us don't see as well as we used to.
If you are a warmwater fly fisherman, you can tie your own flies with limited basic skills. These flies are easier to tie. They are larger. Some very effective warmwater flies can't be bought in a store.
Maybe we need a class, where beginners can learn to tie these three patterns, then be off and running in a day.
At Fly Tyers Weekend, you will see many expert warmwater fly tyers demonstrating. Keep that in the back of your mind, if you do not tie but fish for warmwater species.
Have a great day and thank you for being here with us.
Byron Begley
January 31, 2015
Respond to: byron@littleriveroutfitters.com