Townsend, Tennessee - Fly Fishing in the Great Smoky Mountains National Park, East Tennessee and Western North Carolina

Welcome to the Fishing Report from the Great Smoky Mountains. The temperature is 19 degrees at our home this Tuesday morning. It was 14 degrees at LeConte Lodge yesterday morning. They had 9" of snow on the ground. Newfound Gap Road is still temporarily closed due to snow and ice, as reported by the Park Service this morning. What we have now, is not good fishing weather.
Little River is flowing very strong at 693 cubic feet per second (cfs) or 2.95 feet on the flow gauge. Median flow for this date is 351 cfs. The water temperature at 5:31 am is 37.9 degrees. These conditions are not good for fishing in the Smokies. I would not wade in much of Little River with the gauge reading 2.95 feet.
The good news is, we will have a couple of warm days, with temperatures climbing into the mid-50's tomorrow. Looking ahead 10 days, we should enjoy decent weather, with no snow predicted but still, no Spring fishing conditions. Maybe that will happen the third week in February. It has done that before, as recent as 2011. Maybe Spring fishing, with quill gordons and blue quills on the water, is only two weeks away and we don't know.
"Not knowing makes fishing interesting". If we knew, it would not be a challenge. I have always been drawn to fishing for many reasons but one is, I don't know what is lurking beneath the surface. If I knew, I might be disappointed. Sometimes you see fish with your own eyes and that makes it more exciting or maybe different. I love sight fishing. But I also love "not knowing".
Not knowing allows you to speculate. It gives you the freedom to dream and imagine.
I've been looking at fishfinder/chartplotter combinations for our boat. They make some, that give you so much information, you can actually see the fish and almost determine how big they are. That is a little too much information for me. Those units cost $3,000. That's a lot too much money for me.
They take away the "not knowing". The "not knowing" fish finder/chart plotter combos are cheaper, $600. What I really want is a chart plotter so I don't drive the boat into a pile of rocks. That technology can be had with the less expensive models. I'm going cheap for two reasons, not tearing up the boat, or throwing us out, and not knowing too much about the fish population below the surface. After all, we are fly fishing, not trolling.
The guys have re-arranged the store and the new gear will be coming soon. Hopefully, they will have a display space for everything. Historically, our business starts picking up in mid February, two weeks away. We trend up much more in March. Spring break in the north begins in early March in states like Michigan. Anglers looking for Spring weather venture south to the Smokies. In April, all heck breaks loose. May and June are awesome. July is fair. August and September are slow. October is good.
I'm tying Byron's Knuckleheads every day. My average is one dozen per day. Before the selling season begins, I want to have 60 dozen in back stock. Right now, I'm at 32 dozen. Then, I'll start tying the Bass Buggers to sell in the store.
My favorite smallmouth bass fly in the Spring is a Black Wooly Bugger. Over time, I changed the components to make the perfect bugger for bass. First, it is tied on a Gamakatsu B10 S Stinger Hook. It's a true bass hook. They are sharp and strong. I think I lost a 7 pound smallmouth bass three years ago because the hook bent. That won't happen with a Gamakatsu B10 S, I hope.
Second, I wrap the hook shank with non-toxic, imitation lead for weight. Third, I use premium wooly bugger hackle from Whiting Farms. And, I epoxy the head because it looks better to me. It's the perfect Spring smallmouth bass fly. Look at this photo. Isn't that fly pretty?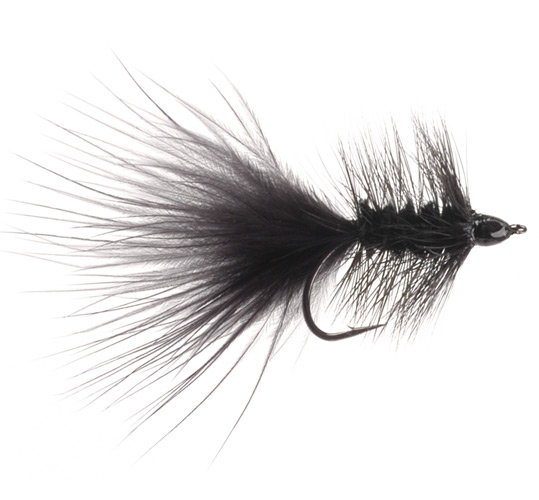 On the trout side, we will be stocking tons of Quill Gordons and Blue Quill imitations in different configurations, including the Quill Gordon wet fly. Those, and Blue Wing Olives are about all you need when the hatches begin in the Smokies. You may need some Pheasant Tail nymphs too.
All we need is warmer water. We are waiting for that most important condition. When the water temperature hits 50 degrees or better, and stays close to that during the day, Spring fly fishing begins. Will it happen in two weeks? Maybe. Will it start in March? It could. It's the "not knowing" that makes this sport so interesting.
We've got a great event planned for Saturday. Our Free Fly Tying Demonstration will feature Mike Adams and Alex Quick.
Mike is a professional guide in upper East Tennessee. He is a very interesting person to spend time with. He is an unbelievable fly tyer, with his own patterns tied commercially. We sell them in the shop. Mike is a trout expert, focusing on the tailwaters and streams where he lives. He knows the South Holston and Watauga like the back of his hand. His flies are the flies you should be using when you fish there.
Alex Quick has been working at Blackberry Farm for several years. He is responsible for all activities at the property, including fly fishing. He actually ran the fly fishing program before being promoted to "all activities". He has always been a fly fishing guide there too, when he can, when he has time. He's a fine young man and an excellent fly fisherman. He crosses the line from trout to warmwater species, and saltwater fishing.
This event is free and begins at 10 am on Saturday the 7th. Just come by, sit down, listen, watch and ask questions. They will finish at 2 pm.
We also have a beginner fly tying class taught by Walter Babb and Brian Courtney. That class is full with 8 students. You can get on the waiting list by calling the shop. Sometimes, people cancel at the last minute. There may be other people on the waiting list. I don't know.
Have a great day and thank you for being here with us.
Byron Begley
February 3, 2015