If you don't see today's Fishing Report, please refresh your browser to empty your cache.
Welcome to the Fishing Report from Townsend, Tennessee in the Great Smoky Mountains. At 5:17 am, the temperature is 41.2 degrees.
It will be cooler during the day, beginning today and lasting through the weekend. Today's high temperature will be in the mid-40's. Expect highs in the high 40's to low 50's through the period. Lows will dip into the low 20's tonight and into the 30's Saturday and Sunday.
A warm front will move into our area Monday, bringing rain and high temperatures in the 60's. Rain is likely every day, Monday through Wednesday.
The updated U.S. Drought Monitor was released yesterday morning. CLICK HERE to see it. We are rewarded with much improvement, all across America.
Little River is flowing at 167 cubic feet per second (cfs) or 2.00 feet on the flow gauge. Median flow for this date is 360 cfs. The water temperature is 45.5 degrees this morning.
Fishing could be fair today, only because the water temperature is above 40 degrees, but don't expect too much trout activity. I would tie on a pair of nymphs, add plenty of weight, and "high stick", getting your flies near the bottom. It is going to be pretty cold so dress appropriately.
Water temperatures will drop tonight. Fishing will be even slower tomorrow. You may see a little improvement Sunday, but not much. Early next week looks better.
It takes time for streams to warm or cool, depending on the air temperature and sun. Most larger streams in the Smokies are born in the high elevations, where the air temperature is colder than you will find in the lower elevations. I am often fooled by the forecast, as it relates to water temperature. I suppose I expect too much change, too quickly. You would think, after 10 years of watching these numbers almost every day, and writing about water temperature, I would have it completely figured out. I don't. There are either too many variables or I forget.
Plan on visiting the shop tomorrow for our Free Fly Tying Demonstration, featuring Jimmy Jones. Jimmy has been a long-time Smoky Mountain angler and fly tyer. He moved to East Tennessee in the mid-70's and lives in Maryville. He has been tying Smokies trout flies since then. He has some fly patterns that work. I've seen them. One is a killer Neversink Caddis.
Jimmy will be demonstrating and talking to you between 10 am and 2 pm. It's Free! Just show up at the shop, grab a chair and enjoy the day. Below are two of Jimmy's favorite mountain trout patterns. If you fish here, you know these Yellow Sally stonefly patters are "trout catchers", for much of the year. He will be tying these flies and discussing why they are his favorites.



Daniel is coming over to our house this morning. He and I will choose a design for our new online store. In my newly remodeled office, there is a 48" high definition TV, mounted on a large swing arm. The TV is connected via an HDMI cable to my Mac. The computer's keyboard and mouse are Bluetooth wireless, so I can move them around the room and control the computer and the big mirrored monitor. We can sit on the sofa, each of us can control the computer, and easily see all the details on the big screen. It's kind of cool. The monitor works as a television too. The Super Bowl will be tuned in Sunday evening.
I also use this Mac for iTunes and video music concerts. The computer is connected to two amps and controllers, feeding four speakers, with a digital delay from the front to the rear. I can control everything remotely. If I want to play piano, along with songs on iTunes, I place the wireless keyboard on the piano, to control volume and change songs. I do the same with guitar.
I wish we had all of this AV technology in the 60's and 70's. I never dreamed it would be like this in my lifetime. I remember when 8 track tapes were the latest and greatest. Then came CD's. Those were tiny steps, compared to what we enjoy today.
The turkey below posed for a portrait outside my office window yesterday morning. I keep a DSLR with an 80 mm – 200 mm lens, on a tripod, right at the window, just in case. This bird was standing in perfect light, 20 feet away, begging me to take his photo. I obliged. To some they are ugly. Look at the color. I think they are beautiful. Ben Franklin wanted the wild turkey to be our national bird. He was out-voted by those who preferred the bald eagle.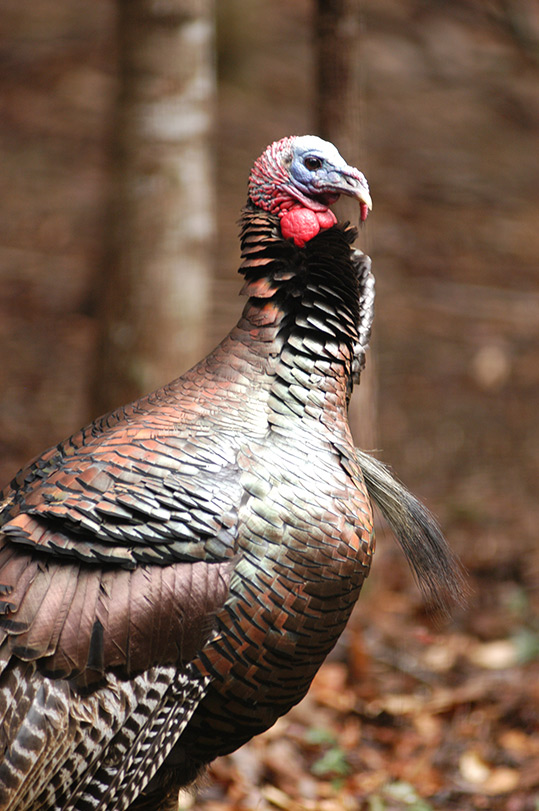 The ground hog predicted more Winter weather. The turkeys think differently. I've been watching turkeys for years, daily. I've never seen them act the way they are, this early.
Have a great day and thank you for being here with us.
Byron Begley
February 3, 2017