If you do not see today's Fishing Report, please refresh your browser to empty your cache.
Welcome to the Fishing Report from Townsend, Tennessee in the Great Smoky Mountains. At 5:52 am, the temperature outside is 35.6 degrees.
Today will be warmer, in the low 50's. We have a 40% chance for rain this morning. Tonight's low will be in the low 30's. Then, warm air will enter the area. Expect highs tomorrow and Tuesday in the low to mid 60's. Rain chances increase to 60% Tuesday, 80% Tuesday night and drop to 40% Wednesday.
Little River is flowing at 141 cubic feet per second (cfs) or 1.90 feet on the flow gauge. Median flow for this date is 387 cfs. The water temperature is a cold 38.3 degrees this morning.
Fishing will be slow until the water warms again. The water temperature will begin to rise today and continue to climb through Wednesday. Fishing will improve during that period.
If you go today, plan on using nymphs, with extra weight, fished deep. I think that will be your best option until the water warms. The trout will be sluggish for a while, maybe all day. So, you are going to have to work for them. You may not catch any. You may catch a few. Keep your anticipation level high and enjoy your day in the Smoky Mountains.
I'm planning to stay right here in my office, tying Knuckleheads all day, until game time.
I did go the shop yesterday, to see Jimmy Jones tie flies. I didn't get to watch him long. What I saw was amazing to me. Jimmy is an excellent fly tyer. He uses the rotary function on his Renzetti vise. His flies look as good as any I have seen, and I've seen a lot of flies in my life. Jimmy showed me a box of his favorite patterns. I would consider them works of art, but he ties them quickly, making it look easy. Jimmy ties flies to use, in the Smokies and probably elsewhere. His patterns are very realistic. I wish I could do that.
Walter Babb was teaching a fly tying class yesterday, upstairs in a classroom. He makes tying beautiful trout flies look easy too.
Mike Adams and Dan Moneymaker will be tying next Saturday.
I saw and talked to a lot of old friends yesterday. And, I met some new folks, which is always fun. I talked to Nick for a while. He and his wife moved to Townsend from Florida, two years ago. They lived near Titusville, Florida, the home of Renzetti. Nick once had a problem, with his original Renzetti vise. He took the vise to the factory to get a part. There, he met Andy and Lily Renzetti. Andy took the vise back to the shop and repaired it while Nick waited and talked to Lily. Andy returned with the repaired vise and gave it to Nick. He did not charge for the repair.
The Renzetti's are really nice people. They have both been in our shop. I took the photo of them below, at our shop, in 2004 or 2005.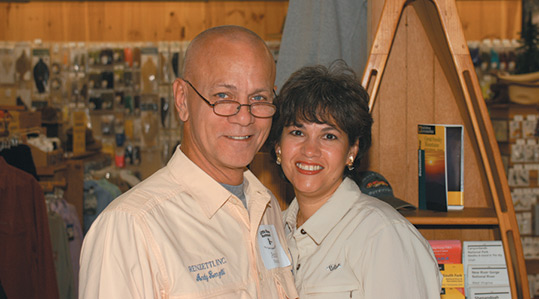 Andy is an engineer, inventor and machinist. Lily is a business woman. Together, they have made a huge impact on the fly fishing world. Not only have they brought some of the finest fly tying equipment and tools to us, they have always been great people to work with. They put the customer first, both dealers and end users. When I was more active in the business, I worked with Lily. But, they are both friends and people I admire.
If you go to a fly tying show, you will likely see more Renzetti vises than any other brand. Andy invented their "True Rotary" fly tying vise, like the one Jimmy used yesterday at our shop. The model you will see most often is the "Traveler". The Renzetti Traveler offers exceptional quality, at a reasonable price. They are made in America, at the small factory in Titusville.
You can buy more expensive and nicer Renzetti Vises. Mine is top of the line, way above my capability as a tyer. The Traveler holds tiny to normal size hooks, just as well as mine. My vise has ball bearings, for smoother rotary tying, something I don't do or use. It is pretty.
I also use Dyna King Professional vises. There are two mounted to my fly tying desk, within reach of where I am sitting right now. I like the Dyna King for my style of production fly tying. These vises have a slot in the jaws, so the hook is always placed in the exact same position, every time. I use the jaw collar to measure the length of material, so every fly I tie is made the same length. That is not something most people would care about. Most people don't tie the same fly over and over, like I do. My goal is to tie 2,000 Knuckleheads this year.
It is dawn. The crows are calling for some corn.
Have a great day and thank you for being here with us.
Byron Begley
February 5, 2017

Respond to: Byron@littleriveroutfitters.com