If you do not see today's Fishing Report, please refresh your browser to empty your cache.
Welcome to the Fishing Report from Townsend, Tennessee in the Great Smoky Mountains. At 5:59 am, the temperature outside is 26.2 degrees.
Today will be sunny with a high temperature near or above 50 degrees. The approaching warm front arrives tomorrow and will last for several days. Tomorrow's high will be in the mid-60's. Saturday will be slightly cooler with a chance for rain. Sunday and Monday will be very warm with highs in the high 60's to 70 degrees.
We should expect more of the same for the remainder of next week.
Little River is flowing at 249 cubic feet per second (cfs) or 2.13 feet on the gauge. Median flow for this date is 316 cfs. The water temperature is 41.7 degrees this morning.
Water temperatures will begin rising tomorrow. The water will be warm in most of the low to mid elevations streams this weekend. Fishing should be good. These conditions will continue through next week and maybe beyond. I think fishing will improve every day through the end of next week. We will have Spring-like fishing conditions.
Trout will be active due to the warmer water. Aquatic insects will probably be active too. You may see Quill Gordon, Blue Quill and Blue Wing Olive adults on the streams, sporadically and in different locations. You should be prepared to fish using dry flies, nymphs or wet flies.
Daniel asked our fly manufacturers to ship our first Spring orders this week, based on the weather forecast we are reading now. These will be the early flies, the aquatic insects we see first, in the Spring.
We do this every year, but the timing is usually later. And, occasionally, this is done in mid-February, like it will be this year. We predict when we think the Spring hatches will occur and bring those flies in at that time.
Now, the weather forecast can change. Cold air can move in, keeping the water temperature lower than we expect. Then, we will "sit" on the early fly inventory until the hatches begin later.
Most experts say, "When the water temperature reaches 50 degrees, and that is sustained for 3 days, the Spring hatches will begin". We have learned over time, the hatches can begin when the water is slightly colder. But, that statement about 50 degrees, something that has been talked about for a long time, is correct and usually realistic.
The old timers, missed the early Spring hatches, some years. Trout season opened in April, in Tennessee. Other years, the activity began in April. My only un-scientific opinion, based on my memory is, Spring comes earlier than it used to.
Matt Kulp, the Supervisory Fisheries Biologist at Great Smoky Mountains National Park, sent me some photos yesterday. One is below. This photo was taken, the first day, Trout Unlimited volunteers began working with the Park Service on the Acid Deposition Sampling Project.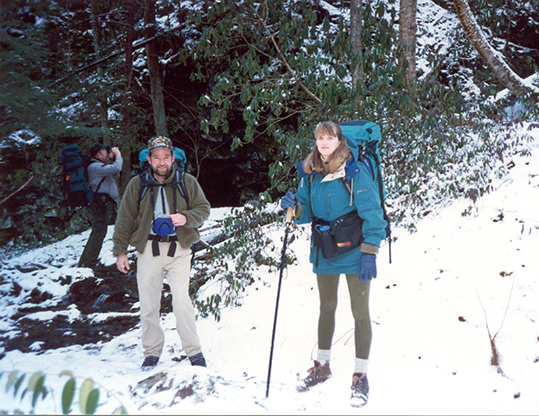 Since that day, volunteers and Park biologists, have been sampling water and conducting on stream testing, at sites located in the Park. We did this on a quarterly basis. I think it is still done quarterly. A database has been recorded, based on the sampling done. The goal, is to find out how much stream chemistry is changing, due to acid deposition or acid rain.
Each team of several, have their own sample sites they visit each time they go. This photo was taken a Goshen Prong, located 7 miles from the Little River Trailhead on the East Prong.
That is me and Paula in the foreground. Behind me is Steve Moore, who was head of the Fisheries department at that time. Steve has retired. This photo was taken 24 years ago. I look older. My beard is gray now. I'm bigger too. This was before Little River Outfitters opened. Paula and I were not married at the time.
Construction and demolition will begin on Little River near the trailhead above Elkmont and on Jakes Creek in March. Some cabins will be removed and others will be refurbished. I think this project may take all year.
During that time, the Little River Trail and Jakes Creek Trail will be closed. They will be alternated. One may be open one week, while the other is closed. The Cucumber Gap Trail will be used as alternate routes for hikers and fishermen at times. All the details have not been worked out. The Park Service wants to keep at least one route open, so visitors can access the East Prong to fish or hike. As soon as I hear the final plan, I will let you know.
Be prepared for Spring fishing. I think it is coming soon.
Have a great day and thank you for being here with us.
Byron Begley
February 16, 2017