Townsend, Tennessee - Fly Fishing in the Great Smoky Mountains National Park, East Tennessee and Western North Carolina

Welcome to the Fishing Report from the Great Smoky Mountains. It is early and dark. For once, the weather websites agree with the thermometer on our front porch. It is 18 degrees. Today's high will be between 25 and 27 degrees. We will likely get a little snow. The low tonight will be between 4 degrees and 2 below zero.
An ice storm created all kinds of problems in our county yesterday. It pretty much missed Townsend. Power outages were widespread. Daniel, Jack and Ron lost their power. Ron's came back on at 5 pm last night. I don't know about Jack and Daniel. Daniel told me the power company that services him had 16,000 customers without power. We have several power companies serving our county.
Businesses and schools in our County closed. Our store was closed because the guys live outside Townsend and couldn't get to work. I drove to town to check our building. The power was on. I went to the bank. It was closed all day. The people who work there, live outside our town. The other bank I use was open. There was just one person working at that branch. She lives in Townsend. She is the manager.
Most of the roads in Great Smoky Mountains National Park are closed.
I have no idea what today will bring. I'm usually off on Wednesday. I'm planning to work. There is not much else to do. I don't know if our store will be open. I'll be there for a while, taking merchandise pictures for our online store. I may be the only one there.
Little River is flowing at 340 cubic feet per second (cfs) or 2.07 feet on the gauge. Median flow for this date is 347 cfs. The water temperature at 5:50 am is 33.3 degrees. Fishing will be slow in the Smoky Mountains. I guess it doesn't matter. You can't get there anyway.
So, winter drags on. Looking ahead at the weather forecast to February 27th, I don't see much changing. Angler's Spring won't happen this month. It has in the past, but not this year.
Walter Babb is supposed to be tying at the shop Saturday. His demonstration is free. Just show up. He probably won't be there. We're expecting more snow, ice and sleet Saturday. Please check back later before coming to the shop Saturday to see Walter. I hope we are back to normal by then but it does not look promising.
I'm tying Bass Buggers to sell in the shop. This is one of two flies I tie to sell because they can't be bought from fly tying companies. I mentioned this on the report yesterday. I got an e-mail from a customer who wanted to see I picture of one. Wow, I got to communicate with a customer! That was nice. I sent him the photo below.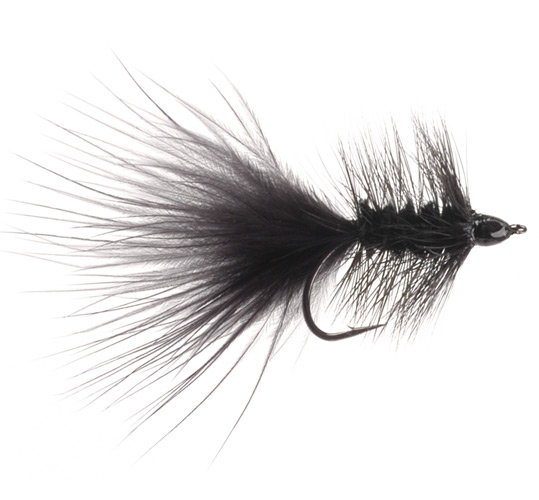 When the smallmouth bass move into or near shallow water to spawn, this is a killer fly. It's about all I use during that time. It's all you need. This Bugger is weighted and tied on a bass stinger hook. Using a fly tied on a stinger hook will increase your catch rate when fishing for bass. This one is a #4. If the smallies are in water between 1 foot to 8 feet deep, this fly will catch them. If they are in that deeper range, just wait for it to sink, then retrieve slowly. I also tie them on jig hooks so they don't get snagged as often on limbs. I tie those in sizes up to 2/0 and cast them with a 7 weight.
When fishing these buggers several feet below the surface in the lakes, with a slow retrieve, smallmouth bass often grab the fly just as you pull it up to make another cast. It happens right at the boat. I think it's that fast movement that triggers the strike. It used to be a big surprise. Now, I anticipate the reaction. Sometimes it happens and more often it doesn't. I learned over time, to be ready.
You pull up to cast and it feels like you hooked a big rock. I quickly find out that is not the case, because all heck breaks loose. Right now, I would give almost anything to feel that. It won't be long.
We are all suffering from cabin fever, Spring fever, or whatever you want to call it. Believe me, I feel your pain.
After 40+ years, of owning a business, I finally changed my life.
"Before 2015, I went fishing when I didn't have to work."
"From now on, I'm going to work when I can't go fishing."
It sounds like a simple switch doesn't it? It was not. I worked hard to get to this point. My priorities have changed and there will be no going back. That is just the way it's going to be.
Lucky for me, Paula likes to fish almost as much as I do. Also, lucky for me, some of my closest fishing buddies are making the same change. It was a plan. It didn't just happen. We've been talking about it for years. Some of us just decided, "Now is the time". I think it's our age that prompted the move at this point in our lives. I'll be 64 years old in July and I feel pretty darned good, better than I deserve.
Have a great day and thank you for being here with us.
Byron Begley
February 18, 2015