Townsend, Tennessee - Fly Fishing in the Great Smoky Mountains National Park, East Tennessee and Western North Carolina

Welcome to the Fishing Report from the Great Smoky Mountains. It is partially overcast and 51 degrees in Townsend this morning. The wild turkeys were out in force this morning. I saw 30 or more. I see more wild turkeys in the mornings at our house, than any other wildlife species. They outnumber the crows, squirrels and rabbits. They even outnumber the people. I saw more turkeys than people this morning on my way to work. I like that.
Little River is flowing strong at 542 cubic feet per second (cfs) or 2.63 feet on the flow gauge. Median flow for this date is 341 cfs. The flow yesterday morning was 388 cfs. We didn't get any rain down here during the past 24 hours. Either it rained in the mountains or the water has risen due to melting snow. Mount LeConte has 4" of snow on the ground as of this morning.
The water temperature at 8:15 am is 46.5 degrees. Yesterday, the water temperature peaked at nearly 50 degrees. Today is going to be very warm, in the lower 70's. Unless the snow melt holds the temperature down, we should see it exceed 50 degrees today.

If you go fishing this morning watch your step. The water is swift in some places.
I haven't been fishing lately, but surely the fishing has improved. Anglers are seeing Quill Gordons in Little River. The fly fishing guides from Blackberry Farm are all over the place up there waiting for hatches on their days off. They are seeing aquatic insect activity. You are likely to see caddis, small black stoneflies, Quill Gordons, Blue Wing Olives and possibly Blue Quills.
I would not expect huge hatches and trout gulping down the bugs. What you will see if you are in the right place at the right time are more bugs and less sluggish trout.
Last year, the Spring insects were hatching in February and the water temperatures were actually colder than they are now. Look at the charts below. The first depicts the daily water temperatures during the month of February last year. The second chart shows the temperatures so far during the same month this year. You can see, the water temps were lower, in the 30's and 40's this week last year. They rose to near 50 close to the end of the month. These graphs are similar. Early February this year was definitely colder. But now, it is warmer than last year.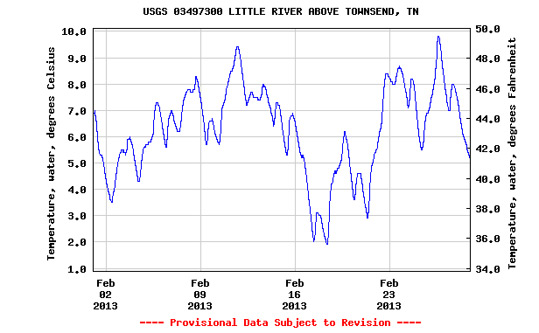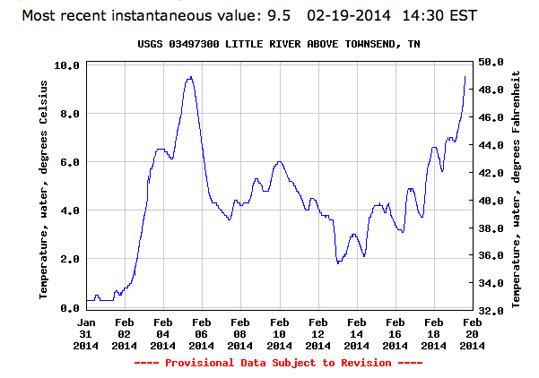 If you go fishing try nymphs or wet flies. A wet Quill Gordon might work. If you see bugs on the water and trout feeding on them, switch to a dry. Try to use a fly that matches what you see the trout feeding on. A small black caddis makes a good representation of the tiny stoneflies. You may see Blue Wing Olives. Try that. If you happen to see trout feeding on Quill Gordons or Blue Quills, well, you know what to do.
You may not see anything where you are fishing. February hatches are sporadic and often short lived. You might get lucky though.
I read an article on the Daily Times website about discussion in our community about removing dams on Little River. That is happening in Tennessee and around the United States. One example of this occurred on the Harpeth River in Middle Tennessee. You can read the article by CLICKING HERE.
For the heck of it, I searched Goggle for "Little River Tennessee Dams" and hit the "Images Button". One of the images I saw was the front porch of our store. I clicked on the image and then the web page. The website is called Gary's Outdoor Wanderings2. It is a blog I have read many times. Gary Loucks, who lives near here, writes about his outdoor adventures and always has some great nature photography to admire. On his blog, he wrote about our store.
I didn't realize it was him at the time, but Gary sent me an e-mail a couple of weeks ago trying to determine the name of an insect he found below Cherokee Dam. I wrote back and told him it is what we all call a black fly. Evidently that prompted him to visit our store. He wrote some nice things about us. He visited Saturday before last when Mike Adams was tying. Gary took lots of pictures of the store and described his visit. You can read his blog and that page by CLICKING HERE. Scroll down. There are some photos of Gary's boats. One is a tricked out Gheenoe. He also fishes out of a nice touring canoe. Gary also has a great dog that travels with him.
I don't know Gary personally but I do enjoy his website and have for a while. Paula and I were in Hilton Head that day so I missed my opportunity to meet him. Maybe some day.

Don't forget, Roger Lowe, a guide from North Carolina will be tying here Saturday. This will be a free demonstration beginning at 10 am and lasting until 2 pm. Roger is an expert. He knows his Smokies fly fishing as well as anyone I know. All you have to do is show up. It's free.
Have a great day and thank you for being here with us.
Byron Begley
February 20, 2014