If you do not see today's Fishing Report, please refresh your browser to empty your cache.
Welcome to the Fishing Report from Townsend, Tennessee in the Great Smoky Mountains. At 5:34 am, the temperature outside is 57.9 degrees.
A thunderstorm moved through the area early this morning and dropped .27" of rain. The radar indicates more rain is possible this morning.
Today's high temperature will be about what it is now. The temperature will fall today and tonight it will drop into the high 20's. Tomorrow's high will be in the mid 50's. It will be sunny.
Little River is flowing at 159 cubic feet per second (cfs) or 1.84 feet on the flow gauge. Median flow for this date is 331 cfs. The water temperature is 54.9 degrees this morning.
Fishing has been better than good. It has been excellent. One of our customers reported catching over 50 brook trout on Lynn Camp Prong yesterday morning. Aquatic insects have been hatching. Trout are taking dry flies. This has been an unbelievable week, for fly fishing in the Smokies.
Now, we will have a short cold spell for the weekend. Warm air will move back into the region Monday. Fishing should be good again next week, unless the weather forecast is wrong.
What about today? The water is warm, though it will likely be trending down at some point today. The water is rising in Little River and probably many other streams in the Park. I do not know how high it will go. You may find stained water in some streams or maybe you won't. A cold front is following the rain. Sometimes, strong fronts affect the trout in a negative way. Sometimes it affects them in a positive way. It is 6 am. I really don't know what to expect.
Fishing could be great again today, or it could be slower. This is one of those times when you should make the call and go find out.
The water temperatures will certainly drop tonight. I can predict that with 100% confidence. I believe fishing will be slower tomorrow. Daniel will be writing tomorrow's fishing report. I will be fishing.
Next week, fishing should be very good again, beginning Tuesday.
I hope you can visit our shop today for our Free Fly Tying Demo. It begins at 10 am and lasts until 2 pm. All you have to do is show up. I wish I could attend. I hate to miss this one.
Today's program will feature Dan Munger and Brandon Bailes. You will learn much about tying and fishing from these guys. If this were a TV show called "The Fly Fisherman", Dan and Brandon would be finalists. You can read more about them and today's event by CLICKING HERE. Come on by, pull up a chair, and enjoy your day. Go fishing before or after or both.

This has been an unusual and record setting February. Trees and flowers are blooming. Wild turkeys have split into gender groups. The old gobblers are alone. The younger males are avoiding the older males. The gobblers are becoming aggressive.
Mourning doves have paired. Less birds are visiting the feeder. Paula was out of town for a few days this week, and I spent the last two evenings outside, grilling and sitting. I sat on a deck with a view of the Great Smoky Mountains. The peepers are peeping before dark. Moths and other insects are flying around the outside lights. I wore a short sleeve t-shirt with no jacket. It felt good. The days are getting longer quickly.
Fishermen are becoming active and vocal in the local meeting places. Some are talking about trout. Others are showing me pictures of crappie, "big crappie". The shop is busy. Mail order is very busy. New gear is arriving at the shop. There is more to come.
We learned yesterday, Korkers will be shipping their new "Hatchback" wading boot next week. We were planning for an April arrival. So, I have not placed this boot on our online store. I'll do it next week.
I am particularly interested in this boot because, my foot has grown or flattened, and I need a larger boot. I like the Hatchback, because you can slide your foot in from the rear, rest the boot on something behind you, "toe down" then reach back and tighten the boot using the Boa ratchet lacing system, by simply twisting with one hand. "No more bending over". See the photo below. Taking them off should be as easy.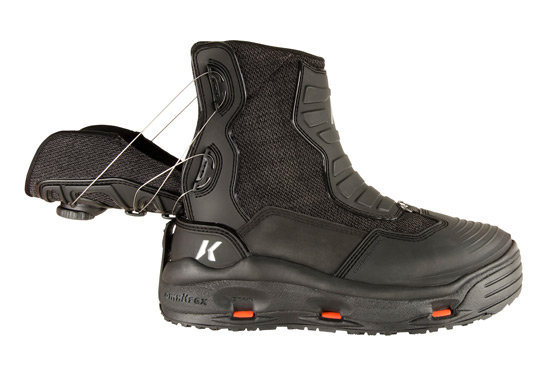 I am going fishing this weekend and had to borrow a pair of boots from the shop's student loaner selection. Mine are too tight. I am going to give these Korkers Hatchback boots a try. They will last me a long time. The soles are interchangeable. And, you have sole options, like felt, rubber, felt with cleats, rubber with cleats and maybe others. I can't remember this morning "what and if" the other options are.
It rained again. Little River is still rising. I don't know it that is good or bad.
Have a great day and thank you for being here with us. I will be back here Tuesday.
Byron Begley
February 25, 2017