Townsend, Tennessee - Fly Fishing in the Great Smoky Mountains National Park, East Tennessee and Western North Carolina

Welcome to the Fishing Report from Townsend, Tennessee in the Great Smoky Mountains. At 6:12 am, the temperature is 57.2 degrees.
Todayy will be warm. The high temperature will be in the low 60's. Tomorrow will be warm too, but there is a fair chance for rain.
Get ready for plenty of warm days beginning this weekend. At this point, highs are predicted to be in the 60's to 70's beginning Saturday and extending through March 14th. This looks like the beginning of Angler's Spring in the Smokies.
Little River is flowing at 543 cubic feet per second (cfs) or 2.55 feet on the gauge. Median flow for this date is 231 cfs. The water temperature is 46.8 degrees this morning.
Fishing will improve over the next two days. Water temperatures will rise, probably to 50 degrees or warmer. The trout will be active. You may see sporadic hatches of Quill Gordons, Blue Quills and Blue Wing Olives. Water levels are currently on the high side of "good" but they will continue to drop, until tomorrow evening.
There is a chance for rain Tuesday and Thursday. The air will chill for 3 days. Then it will warm again by the weekend. I can't predict if or how much rain we will see, or what that will do to the water levels. This weekend will be sunny with no rain expected.
Go fishing today, tomorrow or this weekend. Everything looks good right now. That could change by the weekend.
TVA plans to generate all day today at Norris and Cherokee dams. Lake levels above both dams are higher than their "expected elevations" for this date.
The guys at the shop are expecting more shipments of new Spring merchandise this week. It's that time of year. I'm busy preparing photography for the new online store. So, I've at least seen the photos of the new gear.
Last Fall I was fishing one day with Frank Bryant who owns Chota. We were fly fishing for bass and bluegill from a boat on a small lake on the Cumberland Plateau. Frank was wearing a pair of shoes that were prototypes, the only one of their kind in the world. They were solid gray and had rubber soles. He told me he wears them everywhere he goes, trying to wear them out. Frank is an expert footwear designer.
By the way, prototype footwear is very expensive. They cost several hundred dollars per pair.
What he was wearing while fishing and when we went to dinner, is what you see below. The colors have changed and the soles are now felt. It is called the Hybrid Felt Shoe.
The Hybrid Felt Shoe is very light, and it is designed to be worn with or without neoprene wading socks. You can wear it with regular socks or no socks at all. Then, when you want to wear them with waders, you remove the insole, to increase the volume in the shoe to accommodate the neoprene sock or bootie.
We discussed colors and he decided to make them match some of his waders and of course the Chota Hippies. Check out the Quicklace system, something Chota is known for. The photo below is the end product.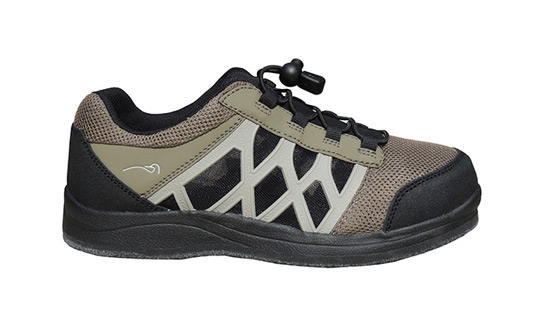 We have them in stock and more are on the way this week. You can learn more about these Hybrid Wading Shoes by CLICKING HERE, and, you can order them online or call the shop to order. These shoes look great, they are comfortable and very adaptable. They sell for $104.95.
This shoe could easily be transported into the backcountry in a backpack. I think they will be a hot item this year.
Also, check out the new Chota STL Light wading boot by CLICKING HERE. This boot sells for $79.95. We are going to sell a ton of these.
Chota and Little River Outfitters go back many years. We are about a 45 minute drive from Chota Headquarters. I remember the first prototypes Frank brought by our store, in the 90's. We get to see his creations, months before they come to market. Of course, we keep out mouths shut. I take photos that nobody sees for a long time.
Frank and I are close friends and I really enjoy hanging around and fishing with him. He always has something new up his sleeve. He is an inventor and designer. When he is in our store, he is always walking around looking at things, learning about who is making what. I look at a piece of gear, and think about how I would use it. Frank thinks about how it was made and from what.
He loves fly fishing as much as anyone. His is good at it too. He has a great sense of humor and he is smart. He is also very kind, to everyone. Everyone likes Frank.
Have a great day and thank you for being here with us.
Byron Begley
February 29, 2016