If you do not see today's Fishing Report, please refresh your browser to empty your cache.
Welcome to the Fishing Report from Townsend, Tennessee in the Great Smoky Mountains. At 5:17 am, the temperature outside is a very warm 69.6 degrees.
There is a 90% chance for showers and thunderstorms today and some may be severe. It is going to be very windy today. Rainfall between ¼" to ½" is predicted. About ½ inches of rain fell yesterday. The high temperature today is expected to be in the low 70's.
It will be cooler beginning tomorrow with highs in the 50's to 60's through the weekend. Lows will dip into the 20's and 30's.
Little River is flowing at 253 cubic feet per second (cfs) or 2.14 feet on the flow gauge. Median flow for this date is 333 cfs. The water temperature is 50.9 degrees.
Today will not be a good fishing day. Strong storms and high wind will not be friendly to those fishing in the forest. I live in one. I know what happens. Limbs fall. Some of them are big!
The water temperatures are good right now, in the low elevations. It will be warmer this weekend, following a couple of cool days. The nights will be cold. I can't say for sure how cold the streams will be this weekend. I think they will be chilly. If you are trying to decide whether to travel here to fish, I will say, don't expect fishing like we had over a week ago. It will probably be about like this past Sunday and Monday, fairly slow. We will know more as the week progresses.
I learned yesterday, Ray Ball will be at the shop Saturday, tying and talking about fishing in the Smokies. He will be joining Walter Babb. This is a free event. All you have to do is show up. They will be demonstrating between 10 am and 2 pm.
You don't want to miss this. These guys are true legends in their own time. Both have colorful personalities. They have an unbelievable knowledge on the subject of mountain fly fishing. That is what they grew up doing.
If you want to learn, be entertained and laugh, be at the shop Saturday. You will see some true Smoky Mountain fly patterns and learn how they are used, by two guys who know what they are doing. They have done it for decades.
This will be our last Winter Free Fly Tying Demonstration this year.
Does that mean Winter is over?
The long term weather forecast through mid-March looks promising, after we get through this weekend. Mid-March is always a busy time for us at the shop, unless we have a snow storm. Spring break begins in many states. I know some people I have heard from, are planning their first Spring Smokies trips, in two weeks. You may encounter warm days and nights. Look for highs in the high 60's with lows in the 40's at mid-month. That is subject to change of course.
Brandon Bailes was in town last weekend, fishing and demonstrating his tying skills at the shop. Friday, he fished Lynn Camp Prong. His goal? Brandon aimed to catch brook trout on a mouse fly pattern he designed. See the photo below.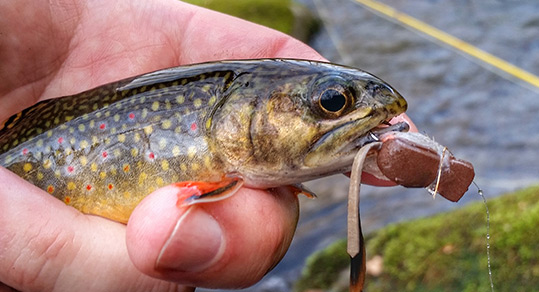 It worked. He caught about 2 dozen on his mouse pattern and some sculpin imitations.
Trout eat mice, shrews and voles. We have plenty of these small rodents in the Smokies and everywhere we fish. We have all heard bass love to eat mice. Large trout eat mice. Now we know, small trout eat them too, if given the chance. I think I'm going to tie some mouse patterns.
Daybreak has arrived this morning. The wind is blowing and it looks like the sky is partly cloudy. It is very warm. We'll see what happens.
Have a great day and thank you for being here with us.
Byron Begley
March 1, 2017