Townsend, Tennessee - Fly Fishing in the Great Smoky Mountains National Park, East Tennessee and Western North Carolina

Welcome to the Fishing Report from the Great Smoky Mountains. It is cloudy, windy and 64 degrees in Townsend this morning. Today is my day off. I'll be at home working on the boat, preparing for Spring. I'll start the engine and change the oil. The lower unit lubricant needs to be changed. The plugs and fuel filter are new. Sometime over the next few days I will clean fly lines and organize our flies. I just got a new trolling motor for the bow. Installing that will be done.
It feels like Spring. Today's high will be 67 degrees. It will rain today and tonight. Tomorrow will be completely different. Winter will temporarily return. The high will be 32 degrees. Expect snow showers and freezing rain. The low tomorrow night will be in the high teens. Then, warm air returns for several days.
Fishing should be good today. The water temperature in Little River is 48.2 degrees this morning at 7:18 am. The water will probably get warmer. The problem is, we have high water. Little River is flowing at 1,200 cubic feet per second (cfs) or 3.48 feet on the gauge. Median flow for this date is 338 cfs. This will not be a good day to fish in Little River. Maybe other streams in the Smokies are fine. I don't know. Right now, the water level has peaked in Little River and headed down. But, more rain is expected over the next couple of days.
We've been waiting for 50-degree water, we'll probably get it today, but there is too much of it.
Right now, next week looks awesome with highs in the high 50's and 60's. Lows will be in the 40's beginning Tuesday. Water temperatures should rise into the 50's and fishing will be good later next week. We do have a good chance for rain Thursday and Friday of next week. Temperatures will be about normal for that period.
This anticipation is killing me. You are probably feeling the same.
At the shop, have boxes of recently arrived Quill Gordons, Blue Quills and Blue Wing Olives, just waiting for their day. Today could have been the day. When these bugs start hatching, all heck will break loose. They were probably hatching yesterday.
This weekend looks pretty good for fishing if the water recedes enough to get out and wade the streams in the Smokies. Keep an eye on this report and watch those stream conditions. It will be warm but not like it will be today. Fishing will at least be better than it has been.
Josh Pfeiffer will be teaching a smallmouth bass class Saturday. He has "brown-bass" fishing figured out. He is a guide and a darned good one. He specializes in these fish. Fly fishing for smallmouth bass is getting more popular. We want to introduce more anglers to this sport. We plan to do that with this class and other events this year.
This will be a tying and talking class. It is for those who already know how to tie. As students learn about Josh's favorite flies, they will also learn how to use them. Josh is a wealth of knowledge. I have fished with him often. We always have a great time and catch plenty of fish.
I'll be helping Josh. My part in the class will be teaching the tying and fishing of the Knucklehead. We sell the ones I tie. I tied 2 dozen yesterday. We will also concentrate on the Murdich Minnow, Stealth Bomber and Tequeely flies.
Nobody knows why the Tequeely works so well for smallmouth bass. It doesn't look like anything. Look at the photo below. What does that look like to you? Nothing.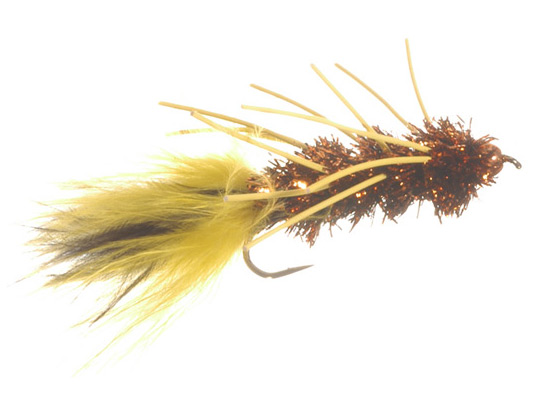 Brent, a friend of mine was floating the Little Pigeon River and having a slow day. Some other guys in a drift boat, were catching smallmouth bass hand over fist. At one point, the two boats and fishermen got together, some beer was traded for Tequeely's and Brent started catching smallies. For some reason this fly works.
Brent told me about the Tequeely. We ordered some to sell in the store. I bought two, put them in my boat bag and forgot about them.
Josh Pfeiffer and I were floating one of the tailwaters, I think it was the Holston, and we were having a slow day. That was probably 2 or 3 years ago. I remembered the Tequeely, and had those two flies with me in his boat. I mentioned them to Josh. He thought we should try anything at that point. I tied one on and immediately started catching fish. I took the oars and Josh fished with the fly. He had the same result. Now, it is one of his favorite flies and he will be discussing and tying it in the class Saturday.
We have them ordered and I think they will arrive by March 15th. They will be for sale on our website and in the shop. I still can't figure out why it works so well. The legs do move up and down in the water, in unison. Yellow is a great smallmouth color, or it has been for me.
Several very avid fly fishermen have been using purple dubbing on their tailwater trout flies. Purple? What species of purple insects do trout eat? I have no idea. It started on the South Holston and spread to the tailwaters here. Remember the fly, "Eat at Chuck's". My friend in Nashville came up with that fly years ago. It is purple. For some reason, it was a killer fly for trout on the Caney Fork River.
When I was very young, the purple worm became a "go to" bass lure. It seemed at the time, bass preferred purple over every color made.
Fish see colors differently than we do. At different depths and water clarity, one color might work best at times. I haven't figured that concept out but some people have.
On the sofa behind this desk, is a pile of fly tying materials Daniel ordered for me. Everything is purple. I see purple foam, Krystal Flash, thread, hackle, chenille and rubber legs. I'll buy some purple bunny strips and dubbing this week. This weekend, Frank and I will be tying purple flies.
Who knows if it will work. Maybe those flies won't catch anything. We'll will find out soon.
Have a great day and thank you for being here with us.
Byron Begley
March 4, 2015