Townsend, Tennessee - Fly Fishing in the Great Smoky Mountains National Park, East Tennessee and Western North Carolina

Welcome to the Fishing Report from Townsend, Tennessee in the Great Smoky Mountains. At 6:12 am, the temperature is 37.8 degrees. Today's high temperature should reach 47 to 50 degrees. Tomorrow will be warmer, 56 to 60 degrees. Sunday will be warmer than that, 59 to 61 degrees. It will still be cold at night, in the 30's through the weekend.
I am giving you temperature ranges based on several weather websites, because air temperature is going to be very important to fishermen this weekend in the Smoky Mountains. The water will warm this weekend, but I don't know how much. A couple of degrees in water temperature could make a difference.
Little River is flowing at 513 cubic feet per second (cfs) or 2.50 feet on the flow gauge. Median flow for this date is 338 cfs. We consider 2.50 feet on the gauge, on the high side of good. Some people love fishing when the water is at this level. Others don't. The water levels will continue to drop today and this weekend. There is not a significant chance for rain today through next Friday.
The water temperature is 42.8 degrees this morning. I am hoping the water temp rises to 48 or 50 degrees at the Townsend Gauge this weekend. If it does, fishing will be good.
Next week is going to be awesome. Highs will be in the 70's. Lows will be in the high 30's to the mid 50's. I think fishing will be "Excellent" next week. I think it may be good this weekend, especially Sunday. I hope so.
During the warmer periods we had in February, anglers experience very good fishing. That happened when the water temperature at our gauge was in the high 40's to the low 50's. Quill Gordons, Blue Quills and Blue Wing Olives were on the water. Trout were feeding on adults. These hatches were sporadic. Many fishermen reported good dry fly fishing at times. Others did well on nymphs. This is all going to happen again, soon.
There is no doubt, in my mind, we'll see water temperatures in the 50's next week.
If you are a smallmouth bass or warmwater fly fisherman, you may want to give the lowland rivers a try. I would use streamers, nymphs and crawfish patterns. I don't think they will be hitting poppers. But, they might.
Take a look at the large ad below. This is an e-mail I designed, and was mailed to several thousand people yesterday. It was reduced in size to fit this fishing report format. I took this photo, which was cropped for the mailer, at a small island off Cedar Key, Florida. The island is named Atsena Otie Key. It is located about 1/2 of a mile offshore. The island is a National Wildlife Refuge. We have paddled our kayaks out there, from Cedar Key several times and spent the day. I took the photo of Jack and our kayaks. Paula and I paddled and fished there a few weeks later.
This is one of the most beautiful places I have visited in Florida. The is currently uninhabited by people, though it has a long history of human activity and occupation, including Seminole Indians, industry and a civil war battle. Evidently it was an Army post at one time.
Now, all you see are animals, birds and kayakers. There are more photos I took there, below the ad.
Fishing was fairly good. We caught mostly small redfish. Look at the raccoon. You can't tell, but that is the largest raccoon I have seen. There were many others. Jack and I saw the first one and he said, "That looks like a dog". We finally figured out, these animals made a living by wading out into the water to catch horseshoe crabs. We found dead horseshoe crabs everywhere, with their insides eaten. Only a large raccoon with long legs could do that. I think these huge, long legged raccoons have evolved. They had to be large, with long legs, to eat well.
You can read more about Atsena Otie Key by CLICKING HERE. And, you can see a photo taken of the island from the air by CLICKING HERE.
If you ever visit Cedar Key, you should kayak out to this island. Kayaks can be rented on the mainland. We had our own and explored this area for two weeks. This is a special place.
Have a great day and thank you for being here with us.
Byron Begley
March 4, 2016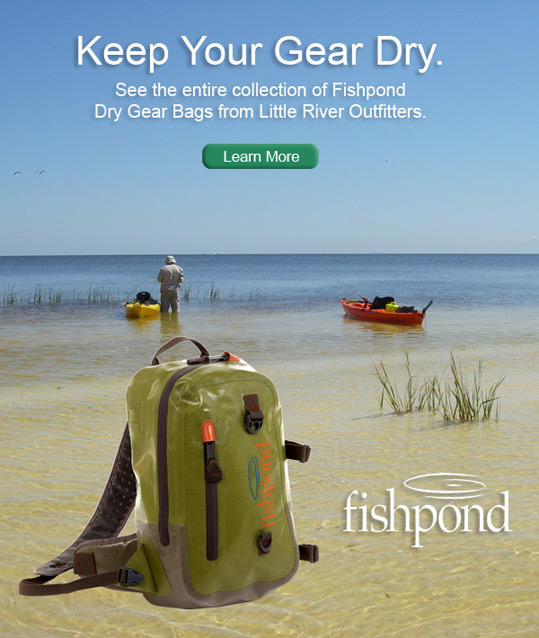 New technology and the design expertise at Fishpond, offers fly fishermen more alternatives aimed at keeping your gear dry.
Fishpond makes sling packs, lumbar packs, boat bags and luggage, that keep the contents dry. In all there are 12 pieces, and many are dual use. For instance, the Westwater Thunderhead Sling, is just what it's name implies. A sling pack. But it also works extremely well as a boat bag or a camera bag for a DSLR or high-end video camera.

I should know, I use a Westwater Sling for my DSLR camera, in the orange kayak you see in the photo above. I use it in our fishing boat for the same purpose.
Fishpond offers a great small waterproof pouch, that sells for $29.95, but protects your digital devices or other valuable gear, from the elements, especially water, which is where we fly fish.
Please visit our Fishpond Gear Guide and by CLICKING HERE, you will go directly to the Dry Bags and Packs page. You may be amazed.
Click the Buy Now button on that page, and we'll get you what you want, and we don't charge for ground shipping.
Thank you for supporting Little River Outfitters, and us.
Byron Begley