Townsend, Tennessee - Great Smoky Mountains National Park
March 6, 2010

Welcome to the Fishing Report. It is sunny and cold, 24 degrees when I drove to work. It will warm up soon and fast today. We are expecting a high in the mid 50's. Townsend is quiet as it should be this time of year. We are busy at the shop and people are fishing but the water is still cold. Anglers are not reporting great catches.
I talked to one customer who caught two trout yesterday morning. Another couple of guys were fishing through town and caught some nice trout. But, feeding activity won't be great when the water temperature is in the 30's. One report yesterday indicated the water temperature at Elkmont was 32 degrees. We had some snow melt yesterday which will cause a drop in temperature. We should have significant snow melt over the next few days. The report called in yesterday morning by Doug at Mount Leconte reminded us that there is still 50 inches of snow up there. I'll be interested to see what he reports this morning. Newfound Gap had no report.
Little River is getting low. That will change next week. We've got very warm weather and rain headed our way. Today the flow below the "Y" is 198 cubic feet per second (cfs). Median flow for this date is 422 cfs.
If you fish today you are going to find cold and very clear water. Later in the day the water may warm up. I believe I would fish nymphs and get them down. I would use a Tellico or Bead Head Pheasant Tail, probably one of each.
The tailwaters in our area would be an excellent choice today. They are fishing well. Generation schedules have been more "wade angler" friendly. Check before you go.
As I said earlier, we are going to see some significant changes in the fishing conditions in Great Smoky Mountains National Park next week. The nights are going to be warmer, in the 40's to near 50 degrees. The days are going to be warmer too, in the 50's and 60's. Rain will move into the area late in the week. Warm rain would be very good for fishing. I guess we'll have to wait and see what happens. I'm expecting some good fishing after the snow melts and the water warms.
I have read on three message boards that Bogdan Reels will be closing their doors. But, each post I read has no reference to an article in a National magazine or newspaper. I did find one link to a newspaper in Canada but their website is down. If anyone can verify this I would appreciate it. I have not talked to Stan Bogdan since Troutfest. He has been in contact with our Troutfest Banquet team though. He plans to be here with a brand new Bogdan Reel that we will auction off like we did last year. But I'm surprised to hear this news online and not from one of our people working on Troutfest. Please send me any supporting statements if you know of them.
Stan is a great guy and I think he will be 92 years old at Troutfest this year. He is very sharp, witty and funny. He has a great since of humor. I'll never forget one of the times he walked in our store. He just stopped in. And to make things more interesting, Joe Humphreys was here too. That was kind of a historic day.
Last year at Troutfest we auctioned a Bogdan trout reel. I don't remember exactly how much it brought but I think it was somewhere between $3,500 and $4,200. I was and still am Chairman of Troutfest and that whole weekend was a blur. Stan took the microphone before the bidding started and talked about his reels and the company. He is an excellent speaker.
When Stan walked into the banquet that night one of the first people he saw was Lefty Kreh. Lefty was 86 years old last year at Troutfest. Lefty said something like "I didn't know you were still alive". Stan came back with "I didn't know you were still alive". I heard the whole thing. They sat down and talked for a long time. It was another historic moment. You can meet and get to know Lefty and Stan at Troutfest this year and see first hand another exciting moment in fly fishing history. Things like this only happen at Troutfest.
Here is a photo.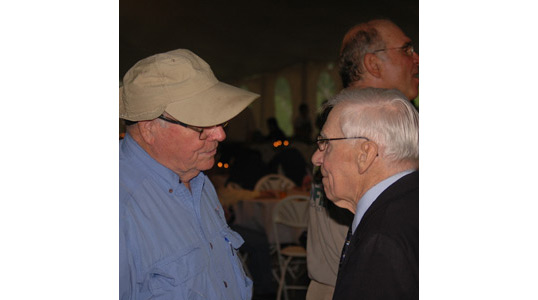 Don't forget the movie showing tonight called "The Rise". The information is below.
Have a great day and thank you for being here with us.
Byron Begley
March 6, 2010


Respond to: byron@littleriveroutfitters.com