If you do not see today's Fishing Report, please refresh your browser to empty your cache.
Welcome to the Fishing Report from Townsend, Tennessee in the Great Smoky Mountains. At 5:26 am, the temperature is a very warm 63.1 degrees.
I can hear the wind outside. Rain is coming soon. Rainfall today and tonight is predicted to be between ½ inch to 1 inch. Wind gusts to 35 miles per hour are possible. Thunderstorms are possible. The high temperature is predicted to be 65 degrees today, about what it is now.
Very warm daytime temperatures are expected for a few days. Tomorrow will be sunny with a high in the low to mid 60's.
Little River is flowing at 202 cubic feet per second (cfs) or 1.99 feet on the flow gauge. Median flow for this date is 389 cfs. The water temperature is 49.3 degrees.
Fishing conditions are good, thanks to the warm water in the lower elevations. Trout are active at this temperature. The wind may be a problem today. I suppose there is a chance some streams will be flowing high and possibly stained today and maybe tomorrow. Time will tell.
I think tomorrow will be a better fly fishing day in the Smokies. That depends on the rain, but right now, unless it is heavy in some watersheds, I think we have a good chance for good fishing tomorrow in the Park and elsewhere.
You might try nymphs or Squirmy Wormies. Try a Green Weenie. You may find bugs hatching with trout feeding on the surface. Switch to a dry fly that mimics what you see.
This weekend may be cooler, especially at night. Rain is expected Friday through Sunday. I don't know how that will turn out. I'm hoping for the best for fishermen.
It is daybreak now. I can barely see the sky. It looks to be overcast. It is not windy right now.
The Chimney Tops 2 wildfire is under review by experts. The fire was intentionally set in the Park, last Fall. It spread to Gatlinburg and other areas in Sevier County, causing loss of life and loss of homes and businesses. The report is expected to be released to the public in late April. You can read more on the Daily Times website by CLICKING HERE.
Randy Boyd announced he is running for Governor of Tennessee. He and his wife have a home here. I have worked with Randy on a couple of committees. He's a smart guy and a nice person to be with. You can read more on the WBIR website by CLICKING HERE.
If Randy wins, he will replace Governor Bill Haslam, whose last term expires in 2018. I've spent some time with Bill. His Townsend whistle stop was held at our store. His home is not far from here, in Walland. He's a nice guy too. Bill, who will have served two 4-year terms, which is the limit, declined to take the normal Governor's salary. Randy is doing the same thing.
It was difficult to work yesterday because there was so much going on outside my office window, for hours. I toss millet and sunflower seeds on the ground to feed doves and other birds. We have two hanging bird feeders outside, for those who prefer eating off the ground. I usually go out to put more seed on the ground after the birds finish eating it. Sometimes I do that 3 or 4 times a day. We bring the feeders inside at night, so the bears don't tear them down.
Yesterday, a flock of wild turkey hens arrived and started eating the seed on the ground. I didn't count them. I think there were about 15 to 20. They were as close as 30 feet from my window. I didn't think that much about it. Something like this happens several times a day.
Then, back in the forest, two gobblers arrived. They were at least 60 feet away. I have a DSLR camera mounted to a tripod at one of the windows in my office. I took the photos below, one of the hens eating and the other of the toms.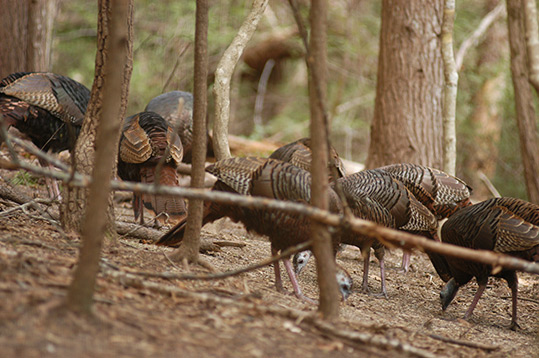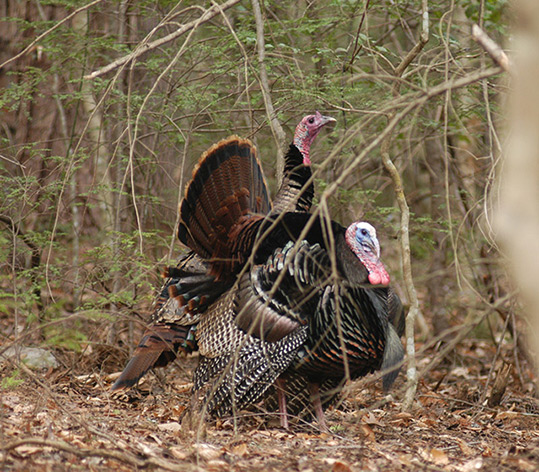 One of the gobblers fanned and strutted, hoping to mate with a hen. Two girls showed some interest but nothing happened. The other gobbler stood by and watched. I think the guys are brothers. They have been together for a while. I also believe they are less than two years old, probably born in May 2015. I call them gobblers but they may be considered to be jakes by experts.
The hens ate every speck of seed on the ground. After that, they just hung out. One tom actually laid down to rest. The other continued to display his mating stance.
We have been hearing gobblers gobbling and hens clucking all around our house this week. It reminds us that Spring is almost here. There are other signs from nature. What I saw yesterday will probably occur daily, until turkey hunting season opens. When that happens, they all pretty much disappear.
Our neighbors' sons hunt turkeys. They are joined by friends. They do not hunt near our house, but we can hear them. I know when they are hunting and the turkeys know when they are hunting. They know because they hear unusual noise, especially the day before hunting season opens or when the guys take a break during the day.
We live in a very quiet and secluded area. When people are here, everything knows. We hear a four wheeler driving by on the gravel road. We hear truck doors closing. We hear people talking and laughing. On opening day, the turkeys stay hidden. It happens every year. I can count on it.
Two weeks later, when the hunters are gone on the weekends, the turkeys appear again.
Spring is my favorite time of the year for many reasons, one being good fly fishing. Another is watching wildlife.
Have a great day and thank you for being here with us.
Byron Begley
March 7, 2017