Townsend, Tennessee - Fly Fishing in the Great Smoky Mountains, East Tennessee and Western North Carolina

If you don't see today's fishing report, please refresh your browser to empty your cache.
Welcome to the Fishing Report from Townsend, Tennessee in the Great Smoky Mountains. At 5:23 am, the temperature is 54.9 degrees. Yesterday was beautiful. This warm weather is unbelievable. Fly fishing in the Smokies is about as good as it gets.
Today will be yet another perfect fishing day. The high temperature should reach the mid-70's. We have a chance for rain this afternoon. The rain chance increases tomorrow. It will be overcast all weekend, perfect for fishing in the mountain streams. We love cloudy days. Fishing is always best on cloudy days.
It will continue to be very warm through Thursday of next week, with highs in the high 60's to 80 degrees. Lows will be in the 50's. A cold front will move into the foothills next weekend. It won't really be cold, just cooler than we have experienced over the past few days. Highs will dip to the low to mid-60's. Lows will be in the high 30's to mid 40's through March 26th. Fishing should be very good through that period, unless we get too much rain at some point.
Little River is flowing at 275 cubic feet per second (cfs) or 2.00 feet on the flow gauge. Median flow for this date is 352 cfs. The water temperature is 56.8 degrees this morning.
If you fish in the Smoky Mountains, over the next few days, expect very active trout and plenty of aquatic insect activity. You should be fishing just about anywhere, and you should do well. I would fish in the low to mid elevations streams. Hatches will be varied, depending on where you are. Expect all kinds of mayflies, including Quill Gordon, Blue Quill and Blue Wing Olives. You may see stoneflies and caddis on the water. Terrestrial insect activity is high, especially for March.
Check the TVA website for possible fishing flows on the tailwaters. You may be able to squeeze in some fishing time on the Holston. They will be generating at Norris Dam most of the day. Check out Center Hill! Look at Tims Ford.
I don't know, but I suspect the lowland rivers may be fishing well. I don't see any reason they are not. I haven't heard and have not been.
We've got lots of options today.
I've been self-isolated in the forest at our home for a few days, working. Yesterday I drove to town. By "town", I mean Townsend, just a few miles away. I did some banking, went to the Post Office and to the fly shop. As I made my rounds, I stopped in the road and gazed at Little River several times. The river is flowing perfectly, for anglers, not too high and not too low.
I asked the guys at the shop, what customers are saying about fishing. Here is what they said in a nutshell. "Excellent". "Bugs are hatching". "Most fishermen are catching the heck out of trout".
As is always the case, there are some fishermen who are not doing well. Those anglers have not learned the subtle tricks. They have probably not fished in the Smokies before or not often. Like me, and everyone else, we had to learn through frustrating attempts and failure.
Most new fishermen to this area, wade too much and cast too far, and they don't do well because of that. Another huge contributing factor to slow fishing, when conditions are like they are now, is "wearing clothing that trout can see". Fishermen who are not catching trout now, probably are not getting a good drift. The fly should move at the same speed as the current. It is hard to get a good drift in these streams, when you make long casts.
I asked Daniel, "How is business?" I knew the answer. From home I can watch the mail order business, in real time, and I do. I've seen those numbers all week. Business is good. Pre-season merchandise orders have been arriving and they are already placing fill-in orders to re-stock. That is a good sign.
I ran into Michael, our Mayor. He runs the family motel, the Talley Ho. He keeps in touch with all business owners in town. He told me, "Business is good".
So, I came home and took the afternoon off. I haven't had a day off in weeks. Wendy came by and spent the afternoon and evening with us. She, Paula and I sat on the front porch for hours, enjoying the view of the mountains and the lack of noise or people. We watched the wild turkeys. It was a peaceful, relaxing afternoon.
I'll be working on and writing about Waterworks Lamson reels today. I'll do the same with Ross Reels tomorrow. I'm updating the old online store. Daniel had to put the new online store on hold, because they are so busy at the shop. Normally, March is not this busy.
Grab your rain jacket and go fishing right now. Hook up your boat and head to the lake. Do the same with your camper and go camping. It is time for some fun.
Have a great day and thank you for being here with us.
Byron Begley
March 12, 2016
Respond to: Byron@littleriveroutfitters.com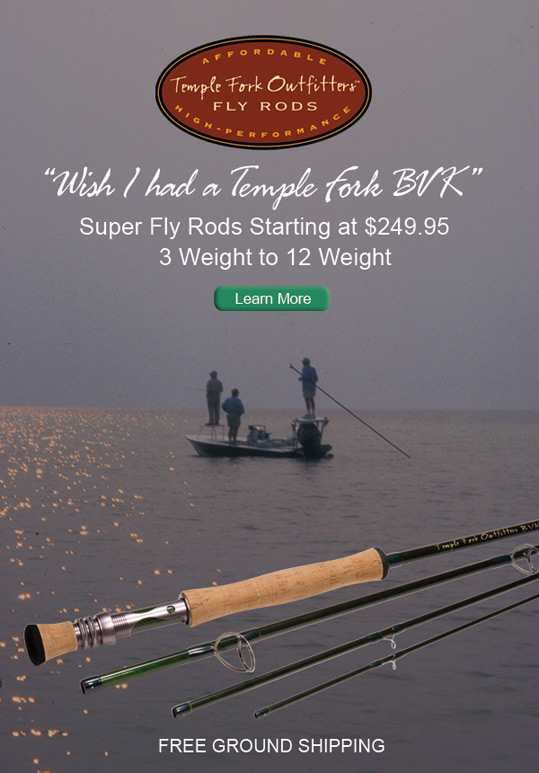 You do wish you had a Temple Fork BVK fly rod, or you would if you tried one. I have a 6 weight BVK and wish I had more. Mine is my "go to" smallmouth bass rod. I love it. I don't own a rod I like better. I use mine for trout too, on tailwaters.
The BVK (Bernard Victor Kreh) is named after Lefty, and he put his heart in this one, being very involved in the actual designs. The BVK is extremely light. It is crisp and fast. I fish with mine all day and don't tire easily. It is a great fish fighting rod too.
I compare the BVK to fly rods costing several hundred dollars more. I believe you will too. I have never met a fisherman who owns one, and regrets buying it.

Like all Temple Fork Fly Rods, they have a lifetime guarantee. If you break a section, send it to them and for a small fee, they will replace the broken piece.
I'm making strong statements but I believe what I say and you will too. Order one online or call the shop at 865-448-9459. We'll send you one. Cast it in your yard. Take it fishing. If you don't like it, send it back. We'll pay the ground shipping to you and refund the cost of the rod. All you are out is the shipping back to us.

I truly believe you will keep it and enjoy it for a long time, like I have.

If you live near us, come by the shop and cast one. Compare it to other fly rods.
CLICK HERE to order online. Free Ground Shipping.
Thank you for your continued support.
Byron Begley
Lake Information and Tailwater Generation Schedules



Please enter your e-mail address in the box to the left to sign up for our e-newsletter. You will receive news about the shop, events, sale information, fishing info and more important information a fly angler would want to have.

You can opt out at any time. If you decide you don't want to receive our information just change your status or click at the bottom of an e-mail we send you in the "Remove" box.

We do not sell or give your e-mail address to anyone. And, we won't hound you to death with e-mails. You will just get a few per year. Thank You for supporting us.