Townsend, Tennessee - Fly Fishing in the Great Smoky Mountains, East Tennessee and Western North Carolina

If you don't see today's fishing report, please refresh your browser to empty your cache.
Welcome to the Fishing Report from Townsend, Tennessee in the Great Smoky Mountains. At 6:15 am, the temperature is 48.4 degrees. We have a 50% to 80% chance for thunderstorms today. We are very close to an area where severe thunderstorms could form. So, I don't know what to expect. Expect a high temperature of 71 degrees today. Tomorrow should be sunny with a high around 80.
Heavy rain barely missed us yesterday, moving north to our west. The Knoxville Airport, not far from here reported 1.13". It did rain somewhere in the Little River watershed last evening. The gauge spiked up to 2.14 feet then fell. No big deal.
Little River is flowing at 275 cubic feet per second (cfs) or 2.00 feet on the gauge. Median flow for this date is 332 cfs. The water temperature is 56.1 degrees this morning.
Fishing has been awesome. That is about all I can say. Trout are active and taking dry flies. The days have been overcast and perfect for fishing. It is comfortable outside, even wearing a t-shirt at night. It is a little chilly this morning. Not for long.
They say Townsend was packed with visitors this weekend. I don't know. I stayed in the woods. The guys at the shop said they were busier Saturday than they have been in a long time. I don't think we did that much business in one day, last year. And, last year was a good one.
One of our readers sent me an e-mail and said, "You are killing me with these fishing reports". I wrote back, "I am killing me too. I'm working every day".
I don't see anything in the long term forecast that will negatively impact fishing in the Smokies through March 28th. We could have a deluge today. That would not be good. It may be chilly next Sunday and Monday. Then, it will be more of what we have had lately. Everything looks good.
I'll probably be working 7 days a week for a few weeks. There is a lot to be done. After that, I'm going fishing. I'll probably write the fishing reports and be gone. With my luck, it will be snowing in April. If it is, I'm going to get Paula, pack up all of our stuff and head to Florida.
If you are standing on the banks of the Holston right now, rigging up, you may have some time to fish for a while, before TVA turns on the water. It kind of looks the same on the Clinch River too. If you are wading into the Caney Fork, you might be left to fish without high water for a while today. You can forget about wading in the Cumberland River today. Check the TVA website yourself before going. I hope TVA has decided to give fishermen a break. Those breaks need to be on weekends for most folks.
I'm working on the Ross Reels section of our online store and did that all day yesterday. You won't see too much right now.
We have been selling Ross Reels for a long time, probably 20 years. Ross is owned by Mayfly Outdoors, a company that also owns Abel and Charlton Reels. Next month, the Colorado reel will be re-released. I've talked to Bart, the sales manager at Ross a couple of times during the past week. He is as excited about this as I am.
Introducing the 2016 Ross Colorado LT Reel! The new Colorado LT, like it's predecessor, is a click and pawl trout reel. It would also make a great bluegill and bass reel, if you can keep your line size to a 5 weight. The reels are designed for line weights 5 and below.
"What, no disc drag?" Nope. You are going to have to fight those big trout without one. Hey, I caught trout and lots of other species on click and pawl reels for decades. If someone said something to me about a disc drag, I would have replied, "What's that?"
"I've got a drawer full of English made CFO's that were made in the 70's". I even have an old CFO VI, that was eventually discontinued. It's a huge click and pawl reel made for salmon fishing. I learned quickly, that click and pawl reel was not a good salmon reel. Maybe that is why Orvis quit making it. I know that's why.
Click and pawl reels save weight. They balance well with today's very light fly rods. They take you back in time. If you need to apply more breaking resistance, use your palm on the rim. "Palming" was a word used often among fly fishermen when they got the chance. "I lost some palm skin on that one".
I was salmon fishing with a buddy decades ago. I stood next to him, while he was fighting a big fish. To slow down the run, he placed his index finger in a position, where the reel knob would hit it. It worked for a while. He was braking with his finger. Then, the unthinkable happened. The screw that held the knob to his reel backed out. His knob fell in the river. The reel was rendered useless. Of course, he lost the salmon. We found the knob.
Anyway, below are some photos of the new Ross Colorado LT. You can read more on our online store by CLICKING HERE. I designed this page yesterday but I have not edited the text. Check it out. These reels will be shipping to stores next month. You can pre-order from our online store.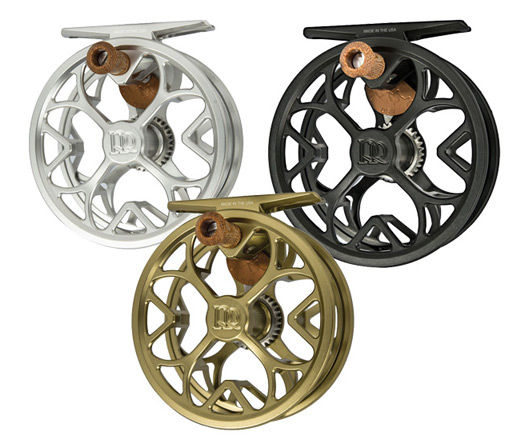 Have a great day and thank you for being here with us.
Byron Begley
March 14, 2016
Respond to: Byron@littleriveroutfitters.com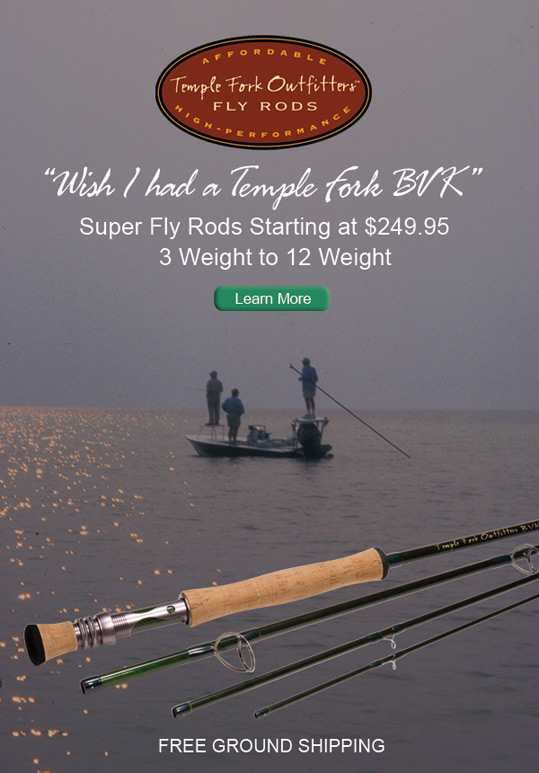 You do wish you had a Temple Fork BVK fly rod, or you would if you tried one. I have a 6 weight BVK and wish I had more. Mine is my "go to" smallmouth bass rod. I love it. I don't own a rod I like better. I use mine for trout too, on tailwaters.
The BVK (Bernard Victor Kreh) is named after Lefty, and he put his heart in this one, being very involved in the actual designs. The BVK is extremely light. It is crisp and fast. I fish with mine all day and don't tire easily. It is a great fish fighting rod too.
I compare the BVK to fly rods costing several hundred dollars more. I believe you will too. I have never met a fisherman who owns one, and regrets buying it.

Like all Temple Fork Fly Rods, they have a lifetime guarantee. If you break a section, send it to them and for a small fee, they will replace the broken piece.
I'm making strong statements but I believe what I say and you will too. Order one online or call the shop at 865-448-9459. We'll send you one. Cast it in your yard. Take it fishing. If you don't like it, send it back. We'll pay the ground shipping to you and refund the cost of the rod. All you are out is the shipping back to us.

I truly believe you will keep it and enjoy it for a long time, like I have.

If you live near us, come by the shop and cast one. Compare it to other fly rods.
CLICK HERE to order online. Free Ground Shipping.
Thank you for your continued support.
Byron Begley
Lake Information and Tailwater Generation Schedules



Please enter your e-mail address in the box to the left to sign up for our e-newsletter. You will receive news about the shop, events, sale information, fishing info and more important information a fly angler would want to have.

You can opt out at any time. If you decide you don't want to receive our information just change your status or click at the bottom of an e-mail we send you in the "Remove" box.

We do not sell or give your e-mail address to anyone. And, we won't hound you to death with e-mails. You will just get a few per year. Thank You for supporting us.