Townsend, Tennessee - Fly Fishing in the Great Smoky Mountains, East Tennessee and Western North Carolina

If you don't see today's fishing report, please refresh your browser to empty your cache.
Welcome to the Fishing Report from Townsend, Tennessee in the Great Smoky Mountains. At 5:49 am, the temperature is 47.1 degrees. Rain missed us again yesterday. Now we have a few days ahead with almost no chance for rain. The high temperature today is expected to be 80 degrees. It will be warm until Saturday. Then, the high temperatures will be in the 50's through the weekend with lows in the 30's.
Little River is flowing at 267 cubic feet per second (cfs) or 1.98 feet on the flow gauge. Median flow for this date is 323 cfs. The water temperature is 55.2 degrees this morning.
Fishing should remain very good until the weekend. If the forecast doesn't change, we will see the water temperature drop for a few days. That could have a negative affect on fishing, depending on how cool the water becomes. Maybe it won't. Warmth will return next Wednesday, the water temperatures will rise and fishing will improve.
The long term forecast indicates we will have warm days and nights through March 29th after we get through the cold spell beginning this weekend. Of course, this is all subject to change.
Right now, fishing is great. The conditions in Great Smoky Mountains National Park are perfect. Trout are taking dry flies or nymphs. Hatches are sporadic, which is typical in the early Spring.
Trout will take dry flies, whether the hatch is on or off. These trout are looking for food, in any shape or form. Many fly fishermen use a dry and dropper and give the trout the opportunity to have it both ways. Sometimes the trout will take the dry fly. Other times they will take the nymph. I know, I would use a Parachute Adams or Neversink Caddis as the dry. My nymph would be a Bead Head Pheasant Tail.
It appears you may have some wade fishing opportunities on the Clinch River today. Check the TVA website and see what you think.
I'm thinking about fly fishing for smallmouth bass. These fish may be active in the lowland rivers now. I don't know. I do know smallies are probably in deep water in the lakes, waiting for warmer water. When the move into shallow water, preparing to spawn, that is when I like to fish for them with a fly rod. After the spawn, they hang around in shallow water, and begin taking poppers and other top water flies. We'll have to wait a while for that, I think.
I began fly fishing for smallmouth bass, probably more than any other species, a few years ago. Unless you live in the deep south, you may have excellent smallmouth bass fishing wherever you live. We've go them here, in the rivers and lakes. Tennessee is known as the smallmouth bass state, by our wildlife agency, TWRA.
I think these fish fight harder than any I know of, for their size. I believe fly fishing works so well, fishing for smallies, because they tend to eat small fish, crawfish and insects. They don't seem to like a big splash. I think they prefer the soft landing of your fly, as opposed to a lure you would use with conventional tackle. That is my take on it, and fly fishing is a great way to catch smallmouth bass. I know that for a fact.
A few years ago, I wrote and designed a page on the subject of smallmouth bass fishing and placed it on our website. I was hoping to introduce other fly fishing anglers to this sport. The number of visitors to this page was surprising. It became and still remains, the third most visited page on this website.
One reason is, if you do an internet search on "fly fishing for smallmouth bass", this page usually shows up on the first search page. It is usually at the top when I search.
Due to the popularity of this page, I added more pages, with links from the original page. Fishermen read those too. What it is now, is sort of a website, within a website, on the subject of smallmouth bass fly fishing.
Today, our weekly e-mail, that will be sent to thousands of fly fishermen, will direct them and maybe you, to the smallmouth bass page.
Below is a reduced version of the e-mail we are sending today. The photo is me holding a smallie. Paula took the photo. I think we are on upper Tellico Lake, but for sure, we are on the Little Tennessee River. You can check out the smallmouth bass pages by CLICKING HERE or on the "Learn More" button on the ad below.
I have been placing the reduced versions of our weekly e-mails on this page for a few weeks. I haven't designed next weed's e-mail, so I have no idea what it will be about. If you have not seen these smallmouth bass pages, you may want to do that now. It may get you excited about what is about to happen in Tennessee, and later in the states to our north.
Have a great day and thank you for being here with us.
Byron Begley
March 15, 2016
Respond to: Byron@littleriveroutfitters.com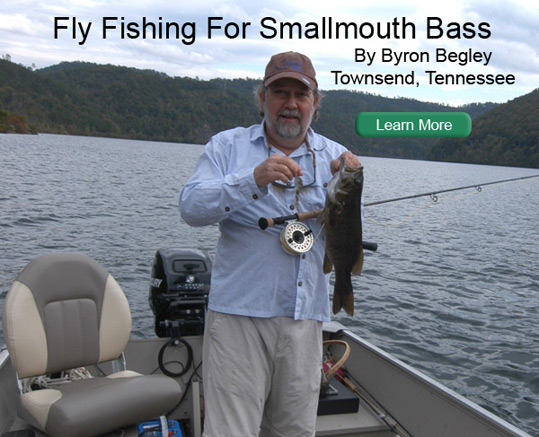 I have been fly fishing over 50 years and I am a partner in fly shop. I have been in the fly fishing business over 20 years. We live in trout country, in East Tennessee, near the entrance to Great Smoky Mountains National Park.
Most of my time fly fishing has been spent targeting trout, in streams. I love that. I fly fish in saltwater too. I will fly fish for just about any species.
A few years ago I was fishing with my friends Jack and Joe. We were in a boat on one of our nearby lakes. I was casting a wooly bugger. On that day I hooked and landed a large smallmouth bass. Before releasing the fish, we weighed it. The bass weighed exactly 5 pounds. I have not experienced anything like that. I was hooked. These fish fight harder for their size than anything I have caught. They are aggressive and the eat flies.

(The bass in the photo above is not that fish. That bass probably weighs 3 pounds.)
Now, you can often find me fishing our mountain and lowland lakes, usually with my wife Paula, in our small aluminum boat. We cast flies to the bank, hoping to catch smallmouth bass. We love it. We usually go on cloudy days, like you see in the photo above. Topwater fishing is usually better on cloudy days. We drift the lower stretches of our tailwaters for smallies too. We fish from kayaks for these fish.
I think this is something you should read about and consider. Unless you live in the deep south, you probably have great smallmouth bass fishing near your home.
I wrote a page on the subject a few years ago and placed it on our website. It quickly became, and still is, the 3rd highest visited page on our entire website. One reason is, if you do an internet search for "Fly Fishing for Smallmouth Bass", it usually comes up at the top of the search page.
You can CLICK HERE to read this page, with menu items to other pages on our website, written on the subject of smallmouth bass fishing. I think you will enjoy and learn from this. Maybe fly fishing for smallmouth bass is something you should consider.
Thank you for supporting Little River Outfitters.
Byron Begley
Lake Information and Tailwater Generation Schedules



Please enter your e-mail address in the box to the left to sign up for our e-newsletter. You will receive news about the shop, events, sale information, fishing info and more important information a fly angler would want to have.

You can opt out at any time. If you decide you don't want to receive our information just change your status or click at the bottom of an e-mail we send you in the "Remove" box.

We do not sell or give your e-mail address to anyone. And, we won't hound you to death with e-mails. You will just get a few per year. Thank You for supporting us.