If you do not see today's Fishing Report, please refresh your browser to empty your cache.
Welcome to the Fishing Report from Townsend, Tennessee in the Great Smoky Mountains. At 5:44 am, the temperature outside is 17.2 degrees.
It is cold right now, but relief is on the way. Today's high will be in the high 40's. It will warm to the high 50's tomorrow. Look for a high in the mid-60's Saturday. Sunday will be a little colder, in the mid-50's. Night temperatures through the balance of the week will range from the low 30's to the high 40's.
Next week should be much warmer.
Little River is flowing at 228 cubic feet per second (cfs) or 2.07 feet on the flow gauge. Median flow for this date is 374 cfs. The water temperature is a chilly 36 degrees.
Fishing will be slow today and tomorrow. The water temperature is too low. The streams will warm some this weekend, and much more next week. I do not have high hopes for great fishing this weekend. Fishing will improve, but I don't think the streams will warm enough to activate the trout in a huge way. I hope I am wrong.
Next week looks much better. I am betting fishing will be much better. Warm days and nights will gradually warm the water. I know some of you are planning trips here right now. You may be here right now. I wish I could give you more assurances but at this point I can't. All I can safely say is, fishing will get better every day after tonight.
The long term forecast looks very promising through the end of March. As we all know, that can change, one way or another. What we want to see are water temperatures in the high 40's and 50's. I hope that happens soon.
I don't see any snow in the forecast.
Yesterday morning, after finishing this report and checking e-mail, I walked outside. The sun was rising and shining brightly. I walked out to our deck and looked at the mountains. The photo below is what I saw. I shot it from the deck. That is the boat house in the foreground. The mountains are white, from about 2,000 feet elevation and up. I saw similar views, of different mountains, several times yesterday while running errands in town. It was cold and breezy all day. The shop was busy.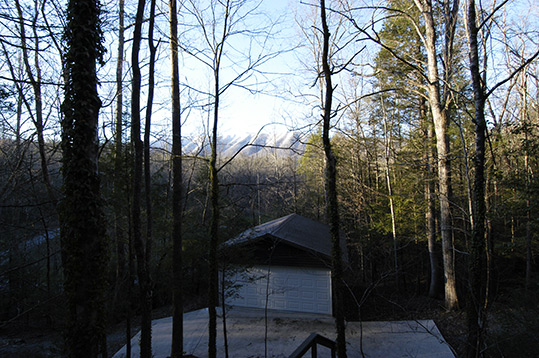 Tennessee Valley Authority (TVA) is raising the levels of the tributary reservoirs. The goal, is to have them filled to summer pool by June 1st, the beginning of the recreational boating season. TVA manages 29 dams in our region. Read the story and watch the video report on the WBIR website by CLICKING HERE. Some rain would help.
Our mail order department is getting busy again. Fly fishermen are thinking about fishing! We sent out an ad to our e-mail subscribers Tuesday. It featured the Smith Creek Fishing accessories we sell. I saw some orders come through for those items. CLICK HERE to see the web version of the e-Newsletter. I will probably get an e-mail from Wayne Smith, the company's founder and owner. He subscribes. Wayne lives in New Zealand. We communicate occasionally via e-mail. Wayne is a great guy.
Warmwater fly fishermen in the south are preparing for Spring. Soon, our ponds, lakes and rivers will become warmer. Smallmouth bass, largemouth bass and bluegill will be actively feeding on top.
In early February I started tying my fly, Byron's Knucklehead. I am getting a good, early start this year. In 6 weeks, I tied 36 dozen. I finished the yellow batch Tuesday. Throughout the year, I just need to tie about 2 dozen per week, to keep up with demand now that these are tied.
The first 36 dozen was a killer. Even just tying part time, making that many, kills my back. I do enjoy it. It's kind of a hobby. Below is a photo of the three boxes of flies I delivered to the shop yesterday, all three gross of them. CLICK HERE to see our 6-pack selection. You can order them for $19.95. There are plenty in stock. Ground shipping is free.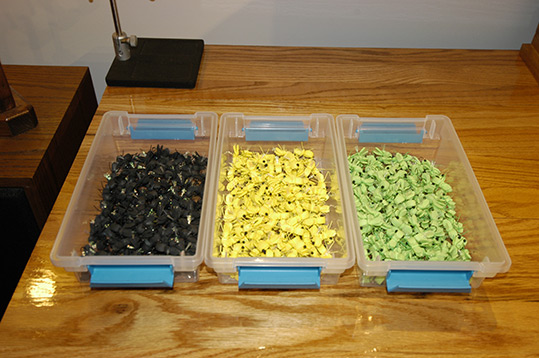 We will start selling BoogleBug poppers again, now that warm weather is coming. I have it on my list to call Pierce Yates, the founder and owner of that company, today. Pierce lives in Birmingham, Alabama. We share stories about popper fishing and of course, business. We sell a lot of his poppers. Our selection is vast. You can see that department on our online store by CLICKING HERE. You can order them online, or give us a call at 865-448-9459. Guess what? Ground shipping is Free!
Sometimes people just order one, to look at it. We don't charge for shipping it. They want to see if these poppers are worth the price. They are. Then, they order more. These bugs are beautiful and extremely durable.
You may know, I love fly fishing with poppers and surface foam flies. I started doing that in 1962. When a big bluegill or bass rises and slams a popper, I feel like I am eleven years old again. I am getting excited for that action to begin.
Have a great day and thank you for being here with us.
Byron Begley
March 16, 2017