Townsend, Tennessee - Fly Fishing in the Great Smoky Mountains, East Tennessee and Western North Carolina

If you don't see today's fishing report, please refresh your browser to empty your cache.
Welcome to the Fishing Report from Townsend, Tennessee in the Great Smoky Mountains. At 6:10 am, the temperature is 44.1 degrees.
Yesterday's high temperature was predicted to be 62 degrees. The high was actually 67 degrees. Last night's low was predicted to be 36 degrees. This morning it is 44. It didn't happen. The weather pattern changed. That has happened two days in a row. As a result, the water temperature in the Smokies streams remain fairly warm.
Little River is flowing at 199 cubic feet per second (cfs). Median flow for this date is 368 cfs. The water temperature is 51.6 degrees.
Most weather websites agree today's high will reach 49, tonight's low 30 and tomorrow's high 54. We have a 60% to 70% chance for showers today.
Fishing will be good today, maybe not like we have had in the past few days, but good. When the water temperature is 50 degrees or warmer, you can usually expect active trout. Earlier last week, the water temperature reached 60 degrees. Fishing was excellent.
The long term forecast predicts very warm temperatures again beginning Tuesday and extending through next weekend. Expect highs near or above 70 degrees through Sunday.
I was standing outside the Townsend Shopping Center yesterday, talking to Jerry, the owner. It was warm and nice. He remarked, "We should be busy today, but we're not". I told him it was supposed to be cold. He said it was supposed to be raining too. Neither happened.
I talked to Daniel yesterday at about noon on the phone. He said we were very busy.
Today is the first day of Spring. Trees and flowers are blooming in the lower elevations. It is beautiful. Leaves have even sprouted on some trees. And tonight, we are under a "Freeze Watch". I hope that doesn't happen. It would be a shame to lose these blooms.
It appears there will be a good break in the generation at Norris Dam today. Right now TVA is reporting no-generation between 9 am and 7 pm today. They are generating now, with one unit. Check the TVA website yourself and see if their schedule will work for you. Don't take my word for it.
Our tailwaters are finally becoming more fishable for wading anglers. That is great news.
I'm working every day on the online store. Most of the work is writing about manufacturers and products. Right now, I'm working on fly lines. Fly line technology has improved dramatically during the past 20 years. I got my first fly line as a gift in 1962. Things have really changed in fly lines since then. During the past 20 years in the fly fishing business, I've seen lots of changes.
For instance, Fishpond was founded by John Le Coq and Dave Thompson, in the early 2000's. In 2013, Dave sold his stake to Ben and Will Kurtz and distribution moved from Kansas City to Denver.
Redington was founded by Jim Murphy. He sold to Orvis. Orvis sold Redington to Sage.
Rio was founded by Jim and Kitty Vincent. They eventually sold to Farbank. Farbank is the parent company of Sage and Redington.
I remember Paula and I having dinner with Steve and Gina Able, in Islamorada, Florida while on a fishing trip. They are the founders of the Abel Reel Company. They sold Abel, and then it was sold again to the Mayfly Group, now known as Mayfly Outdoors. At some point, Mayfly acquired Charlton Reels.
Ross Reels was founded in 1973 by Ross Hauck. Ross became the largest manufacturer of machined fly reels in the world. Ross was sold to the 3M Company in 2010.
3M has owned Scientific Anglers for as long as we have been in the business. In 2013, Orvis acquired Scientific Anglers and Ross Reels from 3M.
Six months later, Orvis sold Ross Reels to the Mayfly Group.
There have probably been other acquisitions and mergers I can't remember this morning.
From our perspective, everything appears to have worked out well. We continue to see improvements in tackle. We experience great service from all of these companies. All the changes seem to be for the better. We still conduct business with all of these companies.
These 20 years have flown by.
Have a great day and thank you for being here with us.
Byron Begley
March 20, 2016
Respond to: Byron@littleriveroutfitters.com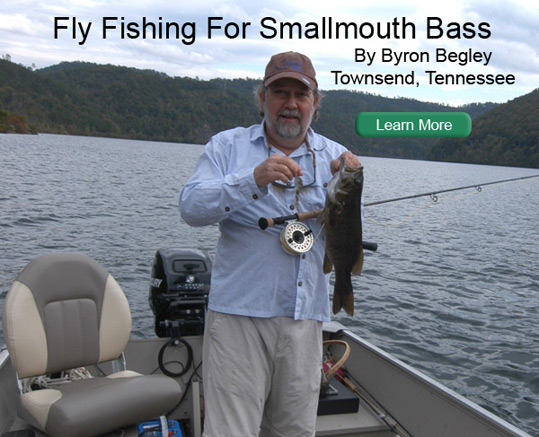 I have been fly fishing over 50 years and I am a partner in fly shop. I have been in the fly fishing business over 20 years. We live in trout country, in East Tennessee, near the entrance to Great Smoky Mountains National Park.
Most of my time fly fishing has been spent targeting trout, in streams. I love that. I fly fish in saltwater too. I will fly fish for just about any species.
A few years ago I was fishing with my friends Jack and Joe. We were in a boat on one of our nearby lakes. I was casting a wooly bugger. On that day I hooked and landed a large smallmouth bass. Before releasing the fish, we weighed it. The bass weighed exactly 5 pounds. I have not experienced anything like that. I was hooked. These fish fight harder for their size than anything I have caught. They are aggressive and the eat flies.

(The bass in the photo above is not that fish. That bass probably weighs 3 pounds.)
Now, you can often find me fishing our mountain and lowland lakes, usually with my wife Paula, in our small aluminum boat. We cast flies to the bank, hoping to catch smallmouth bass. We love it. We usually go on cloudy days, like you see in the photo above. Topwater fishing is usually better on cloudy days. We drift the lower stretches of our tailwaters for smallies too. We fish from kayaks for these fish.
I think this is something you should read about and consider. Unless you live in the deep south, you probably have great smallmouth bass fishing near your home.
I wrote a page on the subject a few years ago and placed it on our website. It quickly became, and still is, the 3rd highest visited page on our entire website. One reason is, if you do an internet search for "Fly Fishing for Smallmouth Bass", it usually comes up at the top of the search page.
You can CLICK HERE to read this page, with menu items to other pages on our website, written on the subject of smallmouth bass fishing. I think you will enjoy and learn from this. Maybe fly fishing for smallmouth bass is something you should consider.
Thank you for supporting Little River Outfitters.
Byron Begley
Lake Information and Tailwater Generation Schedules



Please enter your e-mail address in the box to the left to sign up for our e-newsletter. You will receive news about the shop, events, sale information, fishing info and more important information a fly angler would want to have.

You can opt out at any time. If you decide you don't want to receive our information just change your status or click at the bottom of an e-mail we send you in the "Remove" box.

We do not sell or give your e-mail address to anyone. And, we won't hound you to death with e-mails. You will just get a few per year. Thank You for supporting us.