Townsend, Tennessee - Fly Fishing in the Great Smoky Mountains National Park, East Tennessee and Western North Carolina

Welcome to the Fishing Report from the Great Smoky Mountains. We have had two consecutive days of cloud cover and light rain. Frankly, we're over it, tired of it and thankful for some sunshine coming today. It is still dark outside but I went out to feel the morning conditions. We live deep in the woods. It is foggy. Everything is wet. The temperature is 50 degrees.
The weather forecasters promise sunshine this afternoon and a high temperature of 65 degrees. Weather conditions will be about the same tomorrow, with a slight chance for showers.
Now, we'll have a nice weekend again.
Little River is flowing at 426 cubic feet per second (cfs) or 2.46 feet on the gauge. 2.4 feet is on the high side of good. Some people think that is high, and others think it's perfect. Perfect flow is in the eye of the beholder. Median flow for this date is 407 cfs. The water temperature at 6:31 am is 50.7 degrees.
Fly fishing in the Smoky Mountains has been good. Not many anglers reported excellent fishing over the past two days because not many were out there fishing. And, those who were, said fishing was fair to good. Nothing spectacular.
I think that will change today. It is a weekend, one day after the first day of Spring. Anglers will be fishing without staying soaked all day. It will be comfortable.
Bugs will be on the water and you should see some good dry fly action at times. Early Spring hatches are often short lived and unpredictable. Some sun shining on the water should help get those insects fired up. The trout are active, especially in the lower to mid-elevations. Afternoons should still be the best time to fish.
If you don't see surface activity, and you fish for a period with a dry fly and no results, switch to a nymph and you will catch trout. Most of the pictures I'm seeing of trout caught during the last two days, have been on nymphs.
If you plan to fish in the brook trout streams, go armed with a Pink Weenie or some sort of wiggle worm. I'm seeing photos of Lynn Camp Prong fish with these flies in their mouth. I just looked at our message board and saw some photos of Lynn Camp Brookie caught on a Green Weenie and even a yellow Neversink Caddis. We think of those flies as Summer patterns. The brook trout think of them as year round food.
Dang it! They are running the generators on the Clinch again today, all day, "2 or more". Dang it again! They are doing the same thing on the Holston. They've been turning those generators off at time, at night. Why not do that during the day?
So many fishermen in our area, love fishing the tailwaters for trout and these two are the most popular. Good generation schedules have been rare lately. A lot of fishermen have been driving to the South Holston. I hear that often, lately.
The shop is busy and I bet we will be very busy today. Next weekend, our beginner fly fishing classes begin. The first two, 2-day schools are filled. I've noticed people are signing up for our Aquatic Entomology classes too.
I normally work about 2 ½ to 3 hours before our store opens, every morning. Believe it or not, it always takes two hours to write and arrange this fishing report. One reason is, I check all news websites, that may have stories pertaining to the Smoky Mountains. Then, I gather the data, look at the weather sites and sit here, trying to think about something to write. Before I know it, two hours have gone by.
When this report goes up to our server, I check and answer e-mail. I noticed this morning I had several from customers. I will respond to those in a little while.
After that, I tie 4 Knucklheads. I tie a dozen of those or more every day. Then, I hit the shower and go to the shop to see the staff, talk to customers and do some bookkeeping chores.
Then, I come home and finish tying that dozen flies I started that morning. I usually work 6 days a week. On my day off, I still write this report and answer e-mail.
Yesterday, I came home at about 3:00 pm. We have a small field, and a barn on the property. That field was packed with turkeys yesterday. I think there were about 20 hens and one happy gobbler. He was fanned out and trying to impress the girls.
I mentioned that to Paula when I walked into the house. She told me she saw some turkeys behind the house in the forest, earlier. She took the photo below from the kitchen window yesterday afternoon. See that gobbler strutting?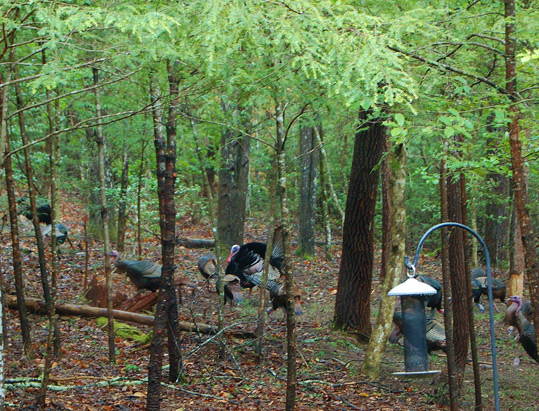 The back of our house is made mostly of glass windows and doors. We have a 15' to 20' buffer with no trees. Three bird feeders are located there. Then, the forest begins. I've got a little trail, leading back into the forest, where I scatter bird seed on the ground. The seed is a mixture of Proso White Millet (which is hard to find in stores) and sunflower seeds. Those turkeys actually come into that area and eat the tiny millet seeds. That gobbler you see in the photo is more interested in the hens, not millet. This is what our back yard looks like at times. At other times, it is loaded with smaller birds, and always a ground covering of mourning doves. We always have fat squirrels eating sunflower seeds.
Behind my desk, where I am typing now, is an 8 foot wide window, with a view of the same area. Sometimes it is hard to work when I look around and see something going on like you see in this picture above. Deer, bobcat and bear like that forest too. Unfortunately, a pack of coyotes hang around here too. Hey, it's daylight. There's a rabbit out there.
Living in a forest is a maintenance nightmare. Last year, I had over 40 big pine trees cut and removed. That is nothing. We don't even notice they are gone. There are thousands left. On the other hand, maintenance is easy. There is almost nothing to mow. They guy who mows at our shop, mows our field every other week from April to October. I have a weed eater that probably would not run right now. It hasn't in years. I don't own a lawn mower.
It is Spring in the Smokies and we're all pumped about it. This year, I thought it would never come.
Have a great day and a great weekend. Go fishing! Thank you for being here with us.
Byron Begley
March 21, 2015