Townsend, Tennessee - Fly Fishing in the Great Smoky Mountains, East Tennessee and Western North Carolina

If you don't see today's fishing report, please refresh your browser to empty your cache.
Welcome to the Fishing Report from Townsend, Tennessee in the Great Smoky Mountains. At 5:42 am, the temperature outside is 28.4 degrees. The "Big Chill" is about over. Today's high will be in the high 60's, near 70, with a low temperature tonight in the 40's. Tomorrow, through the weekend, highs in the mid 60's to the mid 70's, with lows in the high 30's to mid 50's are predicted. It will probably rain Thursday.
Little River is flowing at 193 cubic feet per second (cfs) or 1.76 on the flow gauge. Median flow for this date is 385 cfs. The water temperature is 43.7 degrees.
Fishing will be slow in the Smoky Mountains today due to the cold water. The water temperatures will begin warming today through the weekend. I can't predict how warm the water will get and when. I think it will happen quickly. I believe fishing will be good again tomorrow.
The tailwaters in our area, especially the Clinch River below Norris Dam are fishing very well. TVA has cut back on the generation schedules, offer wade and boat fishermen more time on the water. I've seen photos of some really nice trout that were caught this past weekend. Today looks like another good day to fish the local tailwaters. Check the TVA website from the links near the bottom of this page and try to go if you can.
The fog lifted yesterday morning, the sun shined all day, but it was still chilly outside. I looked out the windows on the front of our house, and saw snow in the mountains, that fell Sunday evening. It was raining down here, but snowing in the higher elevations.
Paula took the photo below from our third level porch.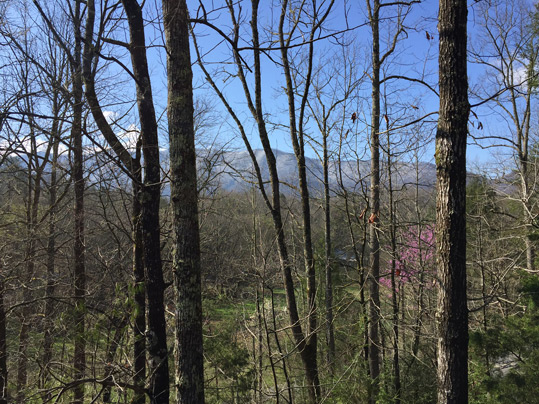 Our friend Kathy lives up there. She owns Gracehill Bed and Breakfast. Gracehill is at the highest elevation, of any residence, in our County. You can see below, the two photos she took yesterday. Look at the snow on the redbud trees. It should all be gone today. You can visit her website by CLICKING HERE. The views from her B & B are incredible. You can see them on her website. A lot of our customers stay there when visiting Townsend on fly fishing trips.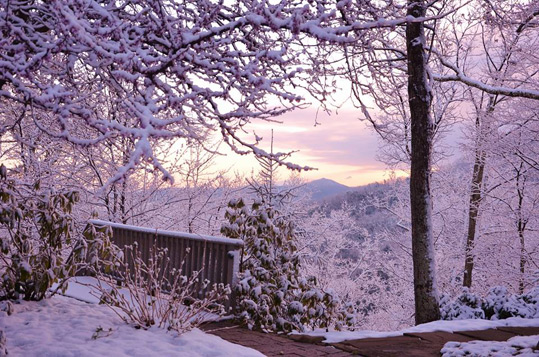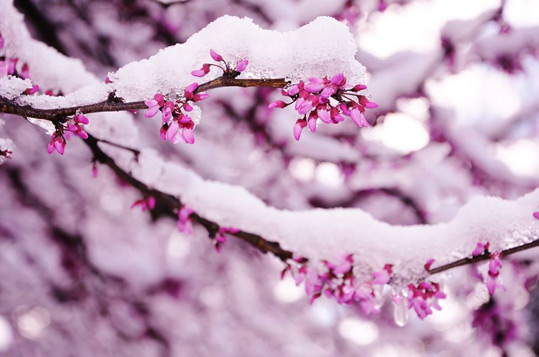 The wild turkeys went crazy yesterday. All day long, while I was working, they were behind our house. Some times I saw as many as 30 back there, just a few feet away. The toms were gobbling and fanned out. I thought I was going to see a fight at one point. I had my video camera ready. It didn't happen. When I'm working, I have no distractions, like television or music. I'm writing. Every time a tom gobbled, it sounded like they were in here, when actually, they were 20 to 50 feet away.
Another window in my office has a view of our upper driveway and carport. I heard a gobble from that direction. I looked out, and one tom was standing on the concrete drive behind Paula's Subaru, gobbling his head off. The younger males are nervous. The hens seem disinterested right now. That will quickly change.
I designed the ad below, yesterday. It is a reduced version of an e-mail that will go out today to thousands of subscribers on our e-mail list. I enjoy placing photos on top of photos but it is a lot of work. Product photos are shot on a white background. So, to place a photo on another photo, I have to remove the white background. It is more work on a ported reel, so the background of the bottom photo shows through. I do that in Adobe Photoshop.
The lake in the photo is Fall Creek Falls Lake, on the Cumberland Plateau. There are some huge bluegill in that lake. The state record was caught there. It was 14" long. I broke off one we think was 12" long a while back. Paula and Frank were my witnesses.
Get ready for more great fishing in East Tennessee. Right now, you have many choices.
Have a great day and thank you for being here with us.
Byron Begley
March 22, 2016
Respond to: Byron@littleriveroutfitters.com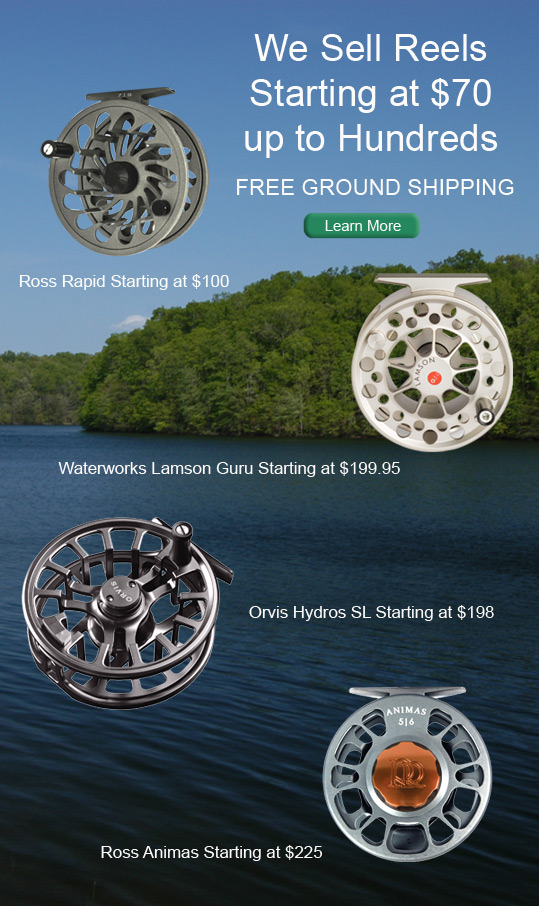 Fly fishing reels are essential equipment. They hold our fly line and they fight our fish. Fly fishing reels can be very small and light, to balance and look good on small trout rods. Some are large with a line and backing capacity of several hundred yards, to fight large gamefish such as tarpon or billfish that run long distances. And then, there is everything in between.
Reel prices vary greatly. Almost all fly reels are made from aluminum. The lower priced reels are usually cast in a mold, filled with molten aluminum. Inexpensive reels often have a less expensive anodized finish. They are usually heavier.
More expensive reels are machined from bar stock aluminum. This method is accurate. The tolerances are close. Machining can remove more aluminum, making the reel lighter while still remaining strong. The more machining, the more expensive the reel, and the lighter it is. High priced reels usually have a nicer anodized finish, that costs more.
Paula and I each have nice tarpon reels made to cast a 12 weight fly line. Mine is a less expensive reel. It works great. I love it. I've caught or fought big tarpon on that reel. The only problem is, it weighs 16 ounces. That is a one-pound reel. She has a nicer Tibor Gulfstream. It has the same capacity as mine. Hers weighs 10.9 ounces. Am I going to buy a reel like hers? No! I'm too cheap for that.
Rod manufacturers continue to make technological advancements in materials. Fly rods are becoming lighter. They have slimmer blanks, while being stiff and strong, to save weight. Like reels, lighter rods cost more.
Fly fishermen are more comfortable with a balanced rod and reel outfit. That basically means, when you are holding your fly rod by the grip, it does not feel tip heavy or butt heavy. It balances. Will having a perfectly balanced outfit make you a better fly fisherman? No, it won't.
You can visit the Reel Category at our Online Store by CLICKING HERE. We sell fly reels made by Orvis, Ross and Waterworks Lamson. My practical advice is to stay within your budget and find a reel you will enjoy. If you plan to fish for big game species, buy one with a good drag system. The reels shown in the photo above were picked by me today because they are reasonably priced.
Have a great day and thank you for supporting our shop. We do not charge for ground shipping should you decide to order from us.
Byron Begley
Lake Information and Tailwater Generation Schedules



Please enter your e-mail address in the box to the left to sign up for our e-newsletter. You will receive news about the shop, events, sale information, fishing info and more important information a fly angler would want to have.

You can opt out at any time. If you decide you don't want to receive our information just change your status or click at the bottom of an e-mail we send you in the "Remove" box.

We do not sell or give your e-mail address to anyone. And, we won't hound you to death with e-mails. You will just get a few per year. Thank You for supporting us.