Townsend, Tennessee - Fly Fishing in the Great Smoky Mountains National Park, East Tennessee and Western North Carolina

Welcome to the Fly Fishing Report. It is cloudy and dark this morning in the Great Smoky Mountains. Human activity in town is very light. I didn't see hardly any vehicles on the road and I don't think I saw one person outside on my way to work.
Little River looked great. We got some rain yesterday afternoon but not much. Look at the photo I took yesterday. That is a double rainbow and the only one I've seen at the shop.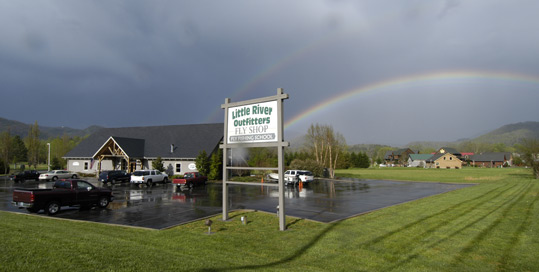 The Knoxville Airport got plenty, almost an inch. Flow in Little River is 510 cubic feet per second (cfs). Median flow for this date is 351 cfs. The water temperature was 55 degrees at 7:38 am. The water is clear.
Fishing should be good. It was yesterday in the smaller streams. The East Prong of Little River was not fishing as well as the creeks. Rainbow, brown and brook trout are taking dry flies and nymphs. One angler I talked to yesterday said he saw plenty of insects on the water and he caught a brown on a dry fly. But, he did not see many trout rising. Other anglers reported better fishing. We are recommending a Parachute Adams or March Brown for the dry fly. Bead Head Pheasant Tails make a good dropper or when fishing with nymphs alone. Swinging wet flies might work well too. Hardly anyone does that anymore. I remember using wet flies often when I was younger.
It is going to be cooler, in the 70's during the day. I planned to go fishing tomorrow but that was cancelled due to work. Maybe I'll go Thursday.
Yesterday I worked on this report design and I bet you have not noticed. The dashboards, the boxes that contain all the information are different. I adopted those finely outlined background images and replaced those that I've used for years that looked more three-dimensional. You may have to refresh your browser a few times to see the changes if you are a regular visitor. I had to.
I changed the link color to green on this page and the home page. The slides at the bottom of this page are new. You can click on them and read more about the products at our online store. And there is another new feature and this is a test. A new dashboard, #4 contains lake level information. The only problems is, it is a day late. I start writing this report by 8:00 am every morning. The lake information I found is updated at 11:30 so it is always going to be a day late. I'm not sure how much work this will be or how helpful it is to you. Like I said, it is a test.
I don't know if you have looked at our home page lately but there is a large slideshow of fishing photos that I change every day. Check it out. I have been getting lots of positive comments on that slide show.
Readership of this report has exploded during the past several months. One reason is, I get in here early and don't feel pressure to finish fast. I think I do a better job. Yesterday, we had 618 readers. That was on a Saturday. The weekends have the lowest visitation. During the week we have 700 to 800 people reading this report each day.
We are holding a Troutfest Committee meeting today at the shop. I think the committee is made up of 27 members now. It takes about 175 different people to put this event on. To be successful we need volunteers. People are not volunteering this year like they have in the past. You can do it online and apply for a four-hour shift. See the plea below and click on the links. One is a e-mail to Ron Becker who is in charge of volunteers. I promise, you will enjoy volunteering for Troutfest.
I am seeing compelling evidence that the thousand or so hours I have spent on the online store during the past few months is paying off. I still probably have another 1,000 hours to go before I feel we have that store and this web site where I want it. I have never put an Orvis Clearwater Outfit on the website before. I guess I never thought of it. The new ones are excellent, the best Orvis has ever offered. Yesterday, I saw a customer buying one and in his hand was a copy of our Clearwater Outfit page. You can't find more compelling evidence than that. I made a page for a $29.95 Simms Taco Wader Bag a week ago. Two days later, we got an order for one. Hard work pays off.
The two missing men in the Park are still at large and the searches have been called off. It is almost impossible to find someone in the Great Smoky Mountains backcountry. This is a large wilderness area with steep terrain and thick undergrowth. Other missing people have never been found. Hopefully these two guys will just walk out of the woods one day. These two searches were unrelated. If you wander off the trail and you are not on a stream you will probably get lost. Maybe these guys want to be lost. And don't think a GPS will keep that from happening. This is a rain forest one of only a couple in North America. The vegetation is so thick in the backcountry you probably won't get a signal.
Have a great day and thank you for being here with us.
Byron Begley
March 25, 2012
Respond to: byron@littleriveroutfitters.com