Townsend, Tennessee - Fly Fishing in the Great Smoky Mountains, East Tennessee and Western North Carolina

If you don't see today's fishing report, please refresh your browser to empty your cache.
Welcome to the Fishing Report from Townsend, Tennessee in the Great Smoky Mountains. AT 5:40 am, the temperature is 39.2 degrees. According to the National Weather Service, it will be cooler during the day this weekend, in the low to mid 60's. Nights will be warm, in the mid to high 40's. We have a chance for showers and maybe a thunderstorm tomorrow.
Another weather website predicts much warmer days and nights this weekend, with highs in the 70's and lows in the 50's.
WBIR, which usually has accurate forecasts, predicts high temperatures of 70 degrees both days.
I think this will be a nice weekend, except for the rain chance tomorrow.
Little River is flowing at 295 cubic feet per second (cfs) or 2.05 feet on the flow gauge. Median flow for this date is 346 cfs.
The water temperature in Little River is 52.2 degrees this morning. Yesterday, that peaked at about 57 degrees.
Water temperatures and flows are very good for fly fishing in the Smokies, and they should remain that way today and probably tomorrow. Tomorrow afternoon could cause changes if we get too much rain but that does not seem likely right now.
I think fishing will be good in the Smoky Mountains all weekend.
TVA's generation schedule looks angler friendly at times today on the Clinch and Holston rivers. Check the TVA website yourself, using the links below, and determine if the schedules will work for you.
If you live in Middle Tennessee, take a look at the generation schedule for the Caney Fork, below Center Hill Dam. I think you may have some opportunities this afternoon and evening.
Lowland river fishing may be something to try this weekend.
It is Spring, and all the signs of Spring are obvious. Flowers are blooming, leaves are showing on some trees, and the wildlife is acting different. Trout are active. They are hungry and feeding.
Wild turkeys are mating. I know that for a fact. I saw them "in the act" yesterday. Hens are chasing hens, gobblers are chasing jakes away from the hens, gobblers are fanning and strutting. They are all moving around, with a bad attitude. I can sense the jealously. I was outside late yesterday afternoon, and I have never heard so many clucking hens.
When I looked outside yesterday, I always saw at least one turkey. Once, I saw 4 gobblers fanned at the same time.
The youth turkey hunting season opens today and ends tomorrow. This season is for boys and girls between 6 and 16 years old. My neighbor's son and grandson are here. I predict the grandson has a good chance at bagging a tom today. I will be listening for shots and I'll check in with them this evening.
I have not been turkey hunting in years and I've never shot one of the birds that live around here. It just would not feel right to me. They are fairly tame and one is very tame. I see between 35 to 40 different turkeys almost every day. You may wonder how I can tell them apart? There is one flock of young jakes and hens that travel together, usually 27 to 30 birds. There are 5 gobblers. And there are some older hens. Right now, they are all broken up, traveling in groups of 3 to 10 birds.
Starting today, they won't be tame for a while. When hunting season opens, they know something is going on. They hear people talking in the woods. They hear 4-wheelers. More cars drive on our gravel road. Our neighbor's sons and their buddies will be here when the adult season opens next weekend. I know from experience, those birds will all but disappear. I don't know where they go. When the hunting season is over, they will be back.
Tomorrow is Easter and I will be off. I won't even write a fishing report.
So, I hope you all have a great Easter.
Have a great day today and thank you for being here with us.
Byron Begley
March 26, 2016
Respond to: Byron@littleriveroutfitters.com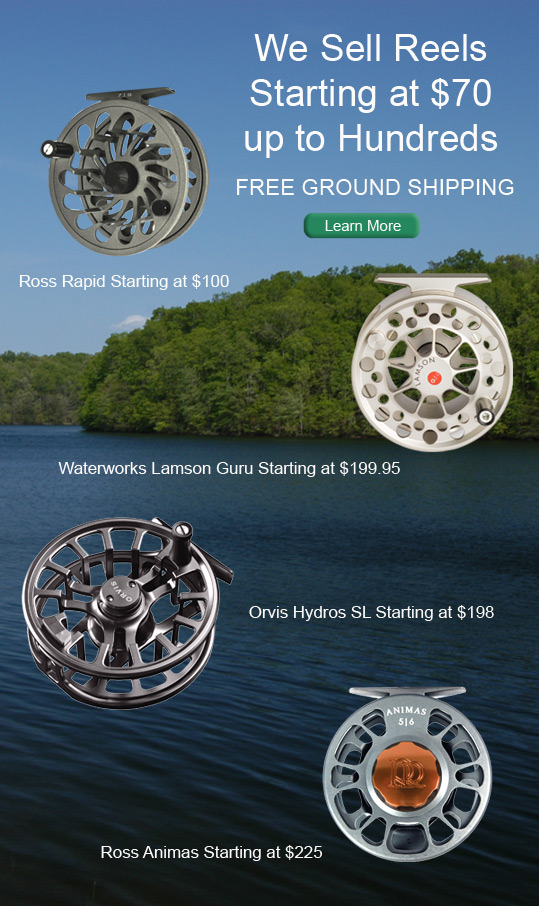 Fly fishing reels are essential equipment. They hold our fly line and they fight our fish. Fly fishing reels can be very small and light, to balance and look good on small trout rods. Some are large with a line and backing capacity of several hundred yards, to fight large gamefish such as tarpon or billfish that run long distances. And then, there is everything in between.
Reel prices vary greatly. Almost all fly reels are made from aluminum. The lower priced reels are usually cast in a mold, filled with molten aluminum. Inexpensive reels often have a less expensive anodized finish. They are usually heavier.
More expensive reels are machined from bar stock aluminum. This method is accurate. The tolerances are close. Machining can remove more aluminum, making the reel lighter while still remaining strong. The more machining, the more expensive the reel, and the lighter it is. High priced reels usually have a nicer anodized finish, that costs more.
Paula and I each have nice tarpon reels made to cast a 12 weight fly line. Mine is a less expensive reel. It works great. I love it. I've caught or fought big tarpon on that reel. The only problem is, it weighs 16 ounces. That is a one-pound reel. She has a nicer Tibor Gulfstream. It has the same capacity as mine. Hers weighs 10.9 ounces. Am I going to buy a reel like hers? No! I'm too cheap for that.
Rod manufacturers continue to make technological advancements in materials. Fly rods are becoming lighter. They have slimmer blanks, while being stiff and strong, to save weight. Like reels, lighter rods cost more.
Fly fishermen are more comfortable with a balanced rod and reel outfit. That basically means, when you are holding your fly rod by the grip, it does not feel tip heavy or butt heavy. It balances. Will having a perfectly balanced outfit make you a better fly fisherman? No, it won't.
You can visit the Reel Category at our Online Store by CLICKING HERE. We sell fly reels made by Orvis, Ross and Waterworks Lamson. My practical advice is to stay within your budget and find a reel you will enjoy. If you plan to fish for big game species, buy one with a good drag system. The reels shown in the photo above were picked by me today because they are reasonably priced.
Have a great day and thank you for supporting our shop. We do not charge for ground shipping should you decide to order from us.
Byron Begley
Lake Information and Tailwater Generation Schedules



Please enter your e-mail address in the box to the left to sign up for our e-newsletter. You will receive news about the shop, events, sale information, fishing info and more important information a fly angler would want to have.

You can opt out at any time. If you decide you don't want to receive our information just change your status or click at the bottom of an e-mail we send you in the "Remove" box.

We do not sell or give your e-mail address to anyone. And, we won't hound you to death with e-mails. You will just get a few per year. Thank You for supporting us.