If you do not see today's Fishing Report, please refresh your browser to empty your cache.
Welcome to the Fishing Report from Townsend, Tennessee in the Great Smoky Mountains. At 5:21 am, the temperature is 52.7 degrees. The Knoxville Airport reported .40" of rain yesterday. We got about .25" in Townsend.
Thunderstorms are possible tonight and tomorrow. Rain is in the forecast Thursday and Friday. It is going to be warm this week, with highs in the high 60's to mid-70's. Lows at night will be in the 50's. Today will be warm, with a high of 76 degrees predicted.
Little River is flowing at 377 cubic feet per second (cfs) or 2.44 feet on the flow gauge. Median flow for this date is 334 cfs. The water temperature is 54.9 degrees this morning.
The streams are flowing on the high side of good. The water temperature is within the trout's preferred range. Fishing is good or better than good. Barring any heavy rain, this will be a great week to be fishing in the Smoky Mountains. Trout are active, especially in the low to mid-elevations. Today should be perfect.
You will see a variety of aquatic insects on the water. Watch for Hendricksons in sizes #12 and #14. Blue Wing Olives like overcast rainy days and we've had some of those. You may see caddis or stoneflies. I would still use a Parachute Adams as a dry fly, in sizes #14 and maybe #16. That pattern is easy to see and it looks like "food" to trout. If you encounter a Blue Wing Olive hatch, they will be small, #18 or smaller. Nymphs will work too. I like a Bead Head Pheasant Tail in different sizes. The Squirmy Wormy keeps gaining popularity among anglers and trout. Try red or pink. Brookies love them.
Smallmouth bass fishing is improving in the lower tailwaters. I don't know if they are active in the lowland rivers. White bass are preparing to spawn. You may find them in the mouths of rivers or in the rivers. If they are not there, it won't be long.
I am looking ahead, at the long term weather forecast. What I am seeing is wonderful news. Through April 10th, we should have nothing but Spring-like weather and good fishing through the period starting now. There is rain in the forecast. That is what we expect and need. The temperatures look great.
We got some of the new and long awaited Ross Evolution R fly reels in stock at the shop. They are everything we expected and more. These reels are beautiful. And, they are extremely light, made for today's ultra light fly rods.
Yesterday I grabbed two and brought them home to photograph. The photos below are the black model. I think I shot about 30 photos yesterday.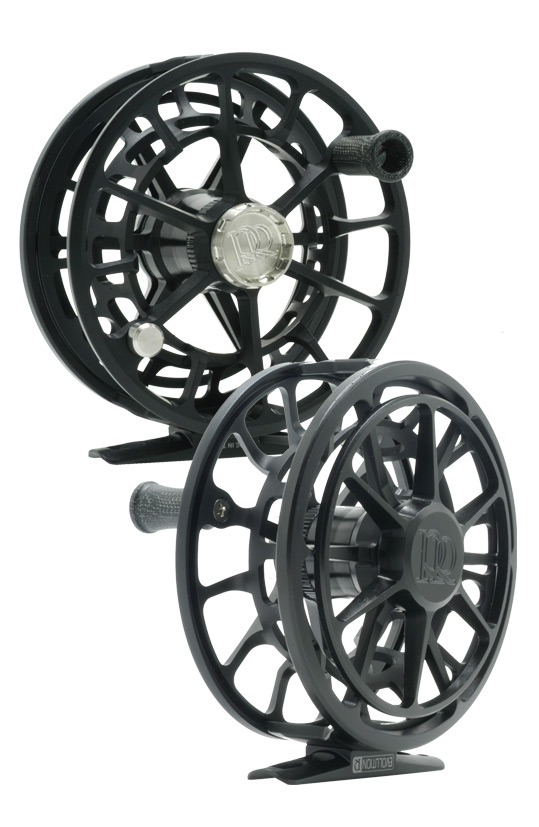 The Ross Evolution R comes in 4 sizes from a 3/4 weight to a 7/8 weight, and in two colors, black and platinum. Ross and Abel are part of one company now. I can see influences from both in these reels. They are meticulously machined and finished. The drag knob is huge. Look at it in the lower of the two reels in the photo. The drag knob is ported and almost as large as the frame. The Evolution R features a completely sealed drag.
The frame and spool are machined from aluminum alloy and all internal parts are made from stainless steel. These reels weigh from 4.34 ounces to 4.48 ounces.
We don't have these on our online store. I'll do that this week. You can read more on Ross Reel's website by CLICKING HERE. You can buy them now at the shop or call us at 865-448-9459 to order. Ground Shipping is Free. Prices start at $455 for the 3/4 and top out at $495. I think this is one of the prettiest fly reels I have seen. They also feel good and sound good.
It is barely daylight right now. I can hear a mourning dove outside. Youth wild turkey season opened this weekend in Tennessee. Our neighbor's 16-year-old grandson bagged a tom, not far from our house. All of a sudden, the turkeys are cautious. Paula and I saw two gobblers behind our house, walking slowly and watching their surroundings with every step they took yesterday. I can tell, they are worried. They don't act like that most of the year. Turkey hunting season for everyone opens next weekend.
The turkeys will be safe at our house. If they were smart, they would just stay here for a few weeks.
Have a great day and thank you for being here with us.
Byron Begley
March 27, 2017