Townsend, Tennessee - Fly Fishing in the Great Smoky Mountains, East Tennessee and Western North Carolina

If you don't see today's fishing report, please refresh your browser to empty your cache.
Welcome to the Fishing Report from Townsend, Tennessee in the Great Smoky Mountains. At 5:56 am, the temperature is 53.4 degrees. It rained last night as expected. Today and tomorrow will be cooler, with highs in the 60's and lows in the high 30's to low 40's. Warm air will move into the area Wednesday. There is a good chance for rain Thursday.
Little River is flowing at 291 cubic feet per second (cfs) or 2.04 feet on the flow gauge. Median flow for this date is 313 cfs. The water temperature is 55.9 degrees.
Fishing should remain good in the Smoky Mountains this week. We will see the water temperature fall tonight. I don't know how low it will go. You may also find stained water in some streams this morning, though that is not likely. I do not think we got much rain but you never know what happens in the mountains.
If the water temperature remains 50 degrees or above, fishing will be fine. I think it will.
Fishing in the tailwaters, specifically the Clinch and Holston should be good today at times. Check the TVA website for generation schedules. Right now, the Clinch looks prime for fishing today.
If you fished in the Park yesterday, you had excellent conditions. It was overcast and very warm. Being Easter Sunday, the shop was closed. We close 4 days per year on holidays.
The long term weather forecast for Great Smoky Mountains National Park, through April 11th looks great right now. The only negative possibility is rain Thursday. Thunderstorms are possible. Otherwise, the temperatures will be warm and fishing should be great.
The internet connection at our home was dead this morning. I called our provider early and got the problem resolved. I am running a little late this morning because of that issue. I would do anything to get this report written by 9 am. I was almost ready to drive to the shop at 7 am, to hopefully find our internet service working there. I didn't have to.
I was off yesterday, and I loaded video to my computer from the camera I have, always ready at the window in my office. I found footage I forgot I had. The wild turkey gobblers were filmed yesterday morning. The boys were showing off to the girls. You can't see the hens in the photos, but there were about 15 of them near the gobblers.
The males are fanning, strutting and mating. These three were at the edge of the forest, right behind our house, 30 feet away. It was overcast so the colors are not great. Also, these photos are screen shots from video, so the quality is not very good.
Every time I looked outside yesterday, I saw turkeys, either in the back, front or side of our house. I noticed one young male turkey (jake), trying to fan his tail and puff up like the elders do. I could tell he was frustrated. He tried and he could not quite get it. At one point, he turned in circles, standing in place, first one direction, then the other. He was finally able to get his tail to fan, though not perfectly.
The buck below was filmed a month ago or longer. He has some odd looking antlers. The doe below the buck is a frequent visitor to our back yard (forest). Deer come into the area to lick the mineral blocks I placed out there.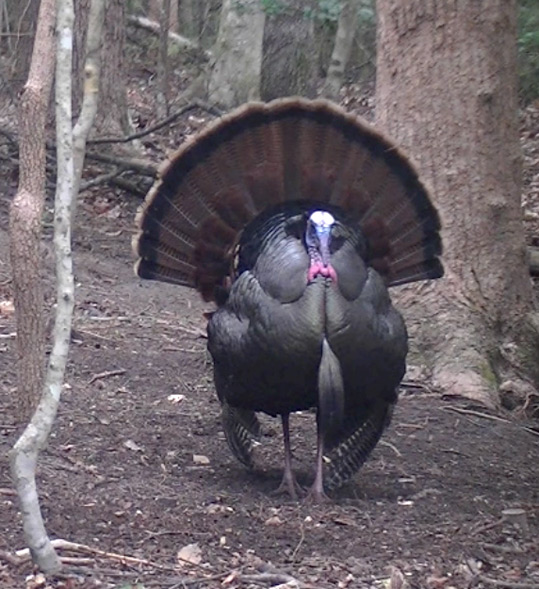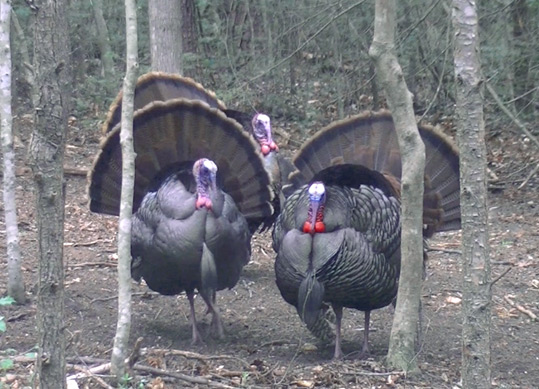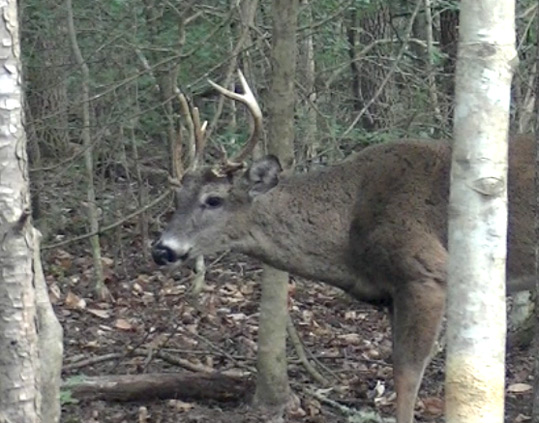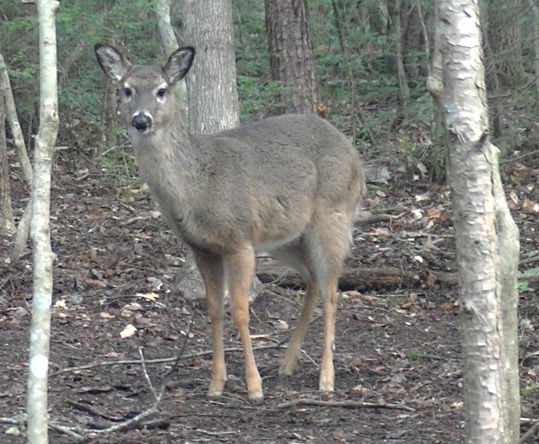 When I was a kid, growing up in Kentucky, I could never have imagined living where we do now, and seeing this wildlife. Soon, we will be seeing bear at hour home. Every time I look outside and view what Mother Nature shares, to me, it is a dream come true.
As a kid, I never imagined living near hundreds of miles of wild trout streams. I was in my 30's when I made the decision to buy this land, and someday, move here. It took 5 years of searching, but when I found this property, within 2 weeks, it was mine. I lived in Nashville at the time. When I found the land, I called my attorney and told him, "We need to move quickly", and we did.
Have a great day and thank you for being here with us.
Byron Begley
March 28, 2016
Respond to: Byron@littleriveroutfitters.com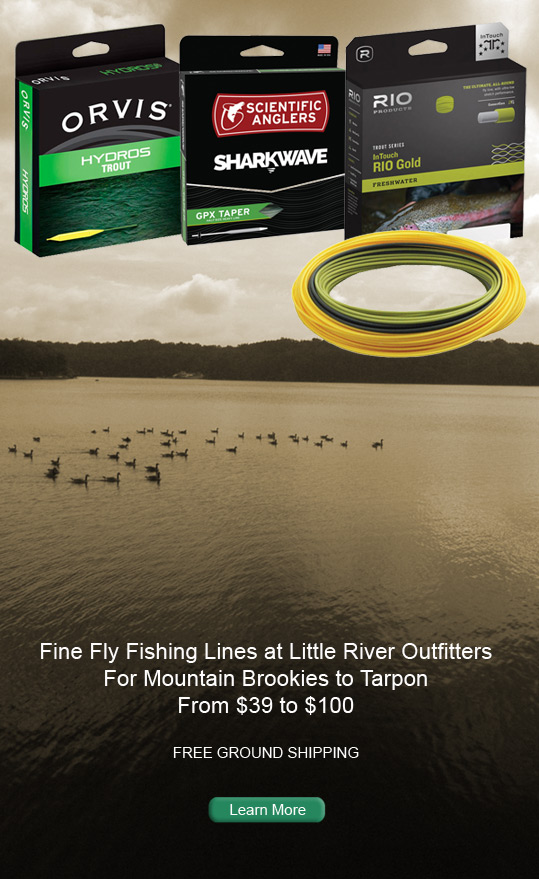 Whether you are presenting a Parachute Adams on your 2-weight to brookies at Lynn Camp Prong, or casting to tailing Permit in Belize, choosing the right fly line does make a difference. We offer many choices from some of the top fly line companies on the planet.
Fly lines for cold water are made differently than those made for the tropics, or lakes and cool water fishing situations. From our selection, you can make the right choice.
We don't just push expensive high performance lines. We sell plenty of fly lines in the $40 range and we have many of those to choose from. If you want the best, we've got those too, from Orvis, Scientific Anglers or Rio.
So, browse through our selection by CLICKING HERE, and remember, Ground Shipping is Free at Little River Outfitters.
Thank you for supporting us.
Lake Information and Tailwater Generation Schedules



Please enter your e-mail address in the box to the left to sign up for our e-newsletter. You will receive news about the shop, events, sale information, fishing info and more important information a fly angler would want to have.

You can opt out at any time. If you decide you don't want to receive our information just change your status or click at the bottom of an e-mail we send you in the "Remove" box.

We do not sell or give your e-mail address to anyone. And, we won't hound you to death with e-mails. You will just get a few per year. Thank You for supporting us.