If you do not see today's Fishing Report, please refresh your browser to empty your cache.
Welcome to the Fishing Report from Townsend, Tennessee in the Great Smoky Mountains. At 6:08 am, the temperature outside is 54.3 degrees. It is windy and there is light rain in the area, but it is about over for the day.
It poured last night before midnight, then again a while later. The Knoxville Airport reported .57", while two personal weather stations in Townsend indicated higher amounts, about .75" each.
Today will be mostly cloudy with a high temperature in the low 70's. Tonight's low will be in the low 50's. The temperatures this week will remain about the same as today. Rain is predicted again Friday.
The USGS Gauge in Townsend is not reporting. I don't know how high the river is now. What I do know is, the river is probably rising fast. Other rivers in the area are. The Little Pigeon is barely rising right now, so maybe Little River is not. Tellico River is shooting straight up on the USGS flow chart. Oconaluftee is rising sharply. Cataloochee was rising and has now peaked.
After I finish this report, I will send an e-mail to USGS's Knoxville Field Office to let them know the Townsend Gauge is not working properly. They will get on it quickly.
I think, Little River and other streams will be too high to safely wade this morning and probably all of today. The water is likely stained. Water levels were fairly high before this last rain event, and, .75" is quite a lot of rain in a short period of time. Since I can't see the flow data, I'm reporting to you based on past knowledge and guessing.

UPDATE 10:53 AM - Daniel drove to the USGS Gauge and took a visual reading of 2.9 feet. That translates to 610 cfs. We do not know if the river is rising or falling.
If you go, wait a while and be prepared to find a small stream to fish.
I will update this report after the USGS data is available and I hope that happens today.
Fishing has been good though the streams are flowing pretty high. I can't see the water temperature in real time right now, but it has been in the 50's each day, which always indicates good fishing, with dry flies or nymphs. It is probably in the 50's now.
When the water recedes, through the week, fishing will be good. More rain Friday may raise the water levels again. This weekend looks good, with no rain predicted, and warm days and nights. We will have to wait to see what the rain expected Friday amounts to and what effect it has on the rivers in the Smokies.
Below is a great photo, to us and those who know Tradd Little (left) and Powell Partridge (right). The scene is the Sowbug Roundup a Mountain Home Arkansas, held last weekend.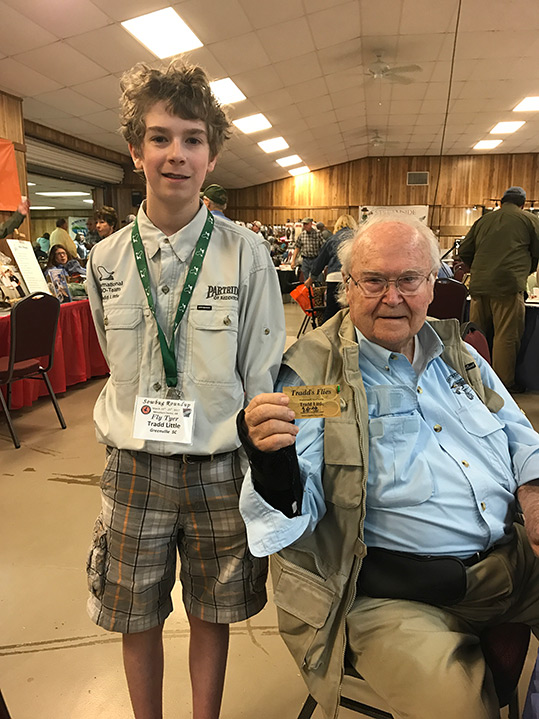 Powell is one of my favorite people and has been for a long time. He loves to attend fly tying events, and as far as I know, never misses the Sowbug Roundup. You will often see him at our shop when we hold our Winter fly tying demonstrations. When we are together, we are always laughing. We all love his wife Susan, who shares Powell's sense of humor.
Tradd lives in Greenville, South Carolina. He started tying flies, about 4 years ago when he was 11 years old. I met him and his parents, back then, in the beginning. He has become, in a short period of time, one of the best fly tyers I have met. He did his first fly tying demonstration at our shop years ago. Since then, he has traveled to much larger shows, demonstrating his skills and learning from others who attend. He ties at Fly Tyers Weekend, and other regional shows. He ties at the huge show in New Jersey and another in Atlanta. He ties at the Western North Carolina show in Asheville.
Tradd's parents and grandparents have been an essential support team for Tradd. They are all wonderful people.
Rusty, Tradd's Dad sent me an e-mail describing this latest Sowbug Roundup event. The attendees enter flies to be judged. Tradd's flies won 7 of the 10 categories. Congratulations Tradd! Great Job! We are all proud of you!
You can visit Tradd's website by CLICKING HERE. This is an amazing website featuring the flies of an amazing young man. I know you are all interested in flies. We all are. Check out his site and you will be amazed too.
Have a great day and thank you for being here with us.
Byron Begley
March 28, 2017