Townsend, Tennessee - Fly Fishing in the Great Smoky Mountains, East Tennessee and Western North Carolina

If you don't see today's fishing report, please refresh your browser to empty your cache.
Welcome to the Fishing Report from Townsend, Tennessee in the Great Smoky Mountains. At 5:44 am, the temperature is 35.1 degrees. Today and tomorrow will be sunny and warm. Highs will be in the mid-60's today and around 70 degrees tomorrow. Nighttime temperatures will hover near 40 degrees. Rain is predicted Thursday, but it will be warm.
Little River is flowing at 279 cubic feet per second (cfs) or 2.01 feet on the gauge. Median flow for this date is 308 cfs. The water temperature is 52.2 degrees.
Fly fishing in the Smoky Mountains has been and will continue to be very good.
You will find trout to be very active. They will take dry flies or nymphs. Matt Duncan sent a photo yesterday of a 21.5", beautiful brown trout, he caught on a nymph. That is a nice trout! Anglers are catching rainbows and brook trout as well as browns. We are having beautiful weather and fishermen are getting out on the streams and enjoying these days. What we are enjoying is prime time fishing in the mountains.
Fishermen who are hiking into the backcountry are doing well. The small streams with large populations of rainbows and brook trout are rewarding those willing to hike. These trout are taking about any fly you cast to them. Try a Pink Weenie. The scenery is beautiful in the backcountry.
The tailwaters are fishing well, especially the Clinch River. The photos I'm seeing from readers are of fat, chunky and healthy rainbow and brown trout. Generation schedules have been more angler-friendly lately. Many fishermen are enjoying the big rivers, catching big trout.
Today, you will have periods of no generation on the tailwaters, specifically the Clinch and Holston rivers. It also looks like the Caney Fork will be an option this afternoon. Check the TVA website to see if TVA's schedule fits yours.
The long term weather forecast from now until April 12th looks awesome. Highs in the 60's and 70's with lows in the 40's and 50's are predicted during the period. Of course there is some rain mixed in. But, overall, it appears Spring-like weather will continue.
I designed the fly line ad below yesterday. A larger version will be sent to everyone on our e-mail list today. The background is Fall Creek Falls Lake, with a flock of geese swimming near a cabin Paula and I rented. I changed the photo to a sepia-tone so the fly lines would show up better. My hope is, people will sign up on our e-mail list, to see the ads. Advertising works best if the ads are interesting. I owned a printing company for over 30 years and learned that from experience. You can subscribe by entering your e-mail address in the box at the bottom of this page.
It is working. More people are subscribing every day, and joining the thousands of others who already subscribed.
Daniel is loading the store with new tackle. A huge Orvis order was supposed to arrive yesterday. Orders are arriving from all of our manufacturers.
Because the fly fishing industry is small, fly shops buy direct from the manufacturers, with no "middle man" except when we sell items that are sold in mass but made by very small companies. Those come from a distributor.
Some fly fishing manufacturers are only staffed by one person, usually the owner.
In some cases, a manufacturer is also a distributor, that sells merchandise they buy and re-sell. One example is, Wapsi, based in Mountain Home, Arkansas. Wapsi is the largest seller of fly tying materials in the US. They buy and dye, and ship to stores. They sell some materials to other fly tying distributors. They also buy and re-sell items made by tiny manufacturers, and larger companies like Mustad.
Umpqua, based in the Denver metro area is the largest fly manufacturer in the world. However, they also sell products made by other small companies, and large companies. For instance, they are the US importer of Tiemco hooks.
Some large family owned sporting goods stores, with small fly fishing departments, buy fly fishing tackle from distributors. It is convenient to buy from fewer sources. They sell conventional tackle, hunting and camping gear. I don't know their business, but I suspect they buy from many sources, both direct and through distributors.
What we do as a specialty fly fishing store, is certainly not convenient. We buy from many sources. Ordering, receiving and merchandising a fly shop is a huge job. Ours is also tough because we are in the fly tying business, in a big way. It takes the same amount of time to order, receive and merchandise a $700 fly rod, as it does to do the same with a pack of dubbing. Think about all of the $2 items we sell in the fly tying department.
Another important and big responsibility is our school. We teach and feed hundreds of people every year. It' like another store.
And, there is the online store and mail order business. That is our third store.
Little River Outfitters is complicated to manage. Daniel and everyone working there do a great job. We do almost everything in house, from marketing to merchandising to accounting. The only thing I can think of right now that we don't do, is mow the grass.
What you see is what you get. You can be assured we give it all we've got. We've been doing it for 20 years.
We enjoy our customers and friends who patronize us.
I know I have always enjoyed the job.
Have a great day and thank you for being here with us.
Byron Begley
March 29, 2016
Respond to: Byron@littleriveroutfitters.com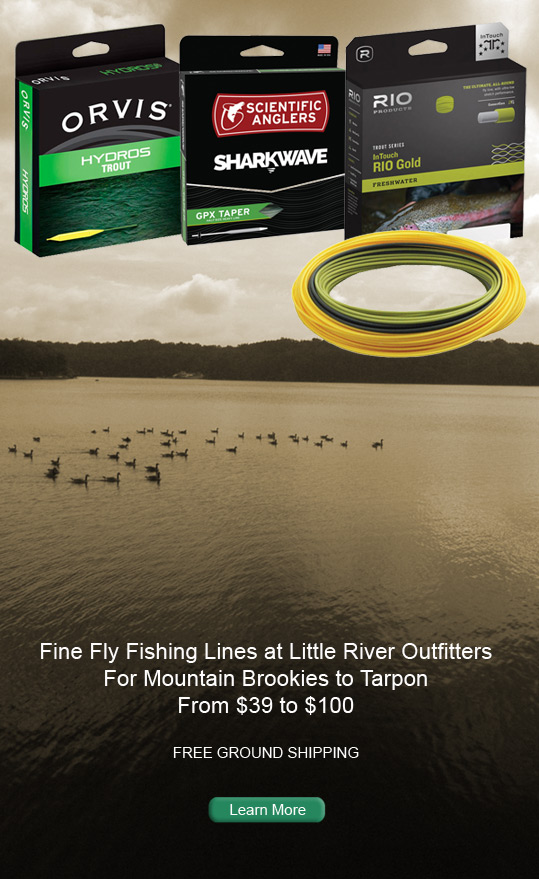 Whether you are presenting a Parachute Adams on your 2-weight to brookies at Lynn Camp Prong, or casting to tailing Permit in Belize, choosing the right fly line does make a difference. We offer many choices from some of the top fly line companies on the planet.
Fly lines for cold water are made differently than those made for the tropics, or lakes and cool water fishing situations. From our selection, you can make the right choice.
We don't just push expensive high performance lines. We sell plenty of fly lines in the $40 range and we have many of those to choose from. If you want the best, we've got those too, from Orvis, Scientific Anglers or Rio.
So, browse through our selection by CLICKING HERE, and remember, Ground Shipping is Free at Little River Outfitters.
Thank you for supporting us.
Lake Information and Tailwater Generation Schedules



Please enter your e-mail address in the box to the left to sign up for our e-newsletter. You will receive news about the shop, events, sale information, fishing info and more important information a fly angler would want to have.

You can opt out at any time. If you decide you don't want to receive our information just change your status or click at the bottom of an e-mail we send you in the "Remove" box.

We do not sell or give your e-mail address to anyone. And, we won't hound you to death with e-mails. You will just get a few per year. Thank You for supporting us.