Townsend, Tennessee - Fly Fishing in the Great Smoky Mountains, East Tennessee and Western North Carolina

If you don't see today's fishing report, please refresh your browser to empty your cache.
Welcome to the Fishing Report from Townsend, Tennessee in the Great Smoky Mountains. At 5:55 am, the temperature is a cool 35.8 degrees. Don't worry, it will warm again today, to over 70 degrees. High temperatures will be in the 70's through Friday. Tomorrow will be breezy and it should rain. Thunderstorms are expected tomorrow night.
Little River is flowing at 267 cubic feet per second (cfs) or 1.98 feet on the gauge. Median flow for this date is 361 cfs. The water temperature is 50.7 degrees.
The water will be cool in the high elevations this morning. If you go fishing, start in the lower elevations. As the day progresses, the water will warm.
If you are planning a fishing trip to the Smoky Mountains this weekend, you will notice cooler temperatures, with highs in the low 60's and lows around 40 degrees. It will be sunny through Monday with no rain expected. Fishing should be good unless the water is too high. Keep an eye on the water levels Friday. I don't think we have heavy rain coming. I can't find anything in the forecast that indicates that will happen. You never know.
Fishing is very good right now. The water is fairly warm and flows are perfect. Fishermen are out and enjoying this Spring weather. Trout are very active, taking dry flies and nymphs. Fishing will improve today through Friday, as the water warms further.
These longer days sure are nice. Now, we can go fishing after work.
There are wade fishing opportunities on many of the tailwaters today, once again. A quick check showed me times of no flow on the Holston, Clinch and Caney Fork rivers. If you can get away, check the TVA website and see what works for you. I know what tailwater trout fishermen are thinking, "It's about time".
I can't believe it is almost April. Looking at the long term weather forecast through April 13th, all I see ahead is great fly fishing weather. It's time to get the boat ready for lake fishing. Paula and I are planning some weeks in Florida this year. We have already rented houses and they are paid for. We'll take the kayaks, not the boat.
We usually rent a house on the bay, and keep our kayaks pulled up on the small beach behind the house. We leave our tackle in the boats, then, if the urge to fish hits, we simply walk about 100 feet, get in a kayak, and go fishing. We always use 9 weight fly rods.
We rented the same house on the bay for one trip, but we also rented one on the beach this year. This house has a boardwalk to the beach. We can carry the kayaks down to the surf and fish in the Gulf. If we decide to fish in the bay, we will have to trailer the kayaks about a mile to launch. If fishing is good, and the weather looks good for the next week, we can stay another week. We may have to move to another house, if the one we have rented is not available the next week. I'll take my computer, so I can work from there.
Saturday, Paula and I will have been married 22 years. Wild turkey hunting season opens the same day. I quit trying to shoot turkeys years ago. Now, I just like looking at them. We have been in the fly fishing business 20 years. I finished and moved into this house 23 years ago. The last 20 some odd years have been my best 20 some odd years.
I will be signing up for Medicare next week. Imagine that? I could retire anytime I want. I can't imagine that. I enjoy working too much.
I tried "not working" for a few years after selling a business. I moved from Nashville to here, built the house, got married, and became bored. So, we got into the fly fishing business to give me something to do. It turned out to be more than something to do.
Now, Daniel runs the business. I support him and the other guys who work at Little River Outfitters by working on our website and online store. I work from home, but go into the shop a couple of times each week to say hello to everyone.
Since you read this report, you know I begin my work-day very early. I always quit by 4 pm, and play a guitar for an hour. Playing guitar or piano keeps my brain very active. There is no mental exercise like playing a music instrument by ear. I don't read music. I have always played by ear. To do that makes you think ahead several seconds and make split second decisions. I can listen to a song and visualize playing it on an instrument.
You would think, designing and building web pages would be mental exercise. It's not. Writing the text is. I guess I've done it too long. I need music for mental stimulus.
I have no appointments. None. I don't make appointments except with doctors and my dentist. I just checked the calendar on my computer to see what day it is. This is Wednesday. I thought it was Tuesday. I've been living this way for 18 months.
The plan is, for Daniel to buy Paula and I out of the business when he is ready. She and I will probably keep the building for a while. If he wants to buy it later, he can. I hope to work for him for a few years.
Now that the days are longer, Paula and I will go fishing after work and music. I'm excited about that. Winter is over, and in some ways, I'm glad.
Have a great day and thank you for being here with us.
Byron Begley
March 30, 2016
Respond to: Byron@littleriveroutfitters.com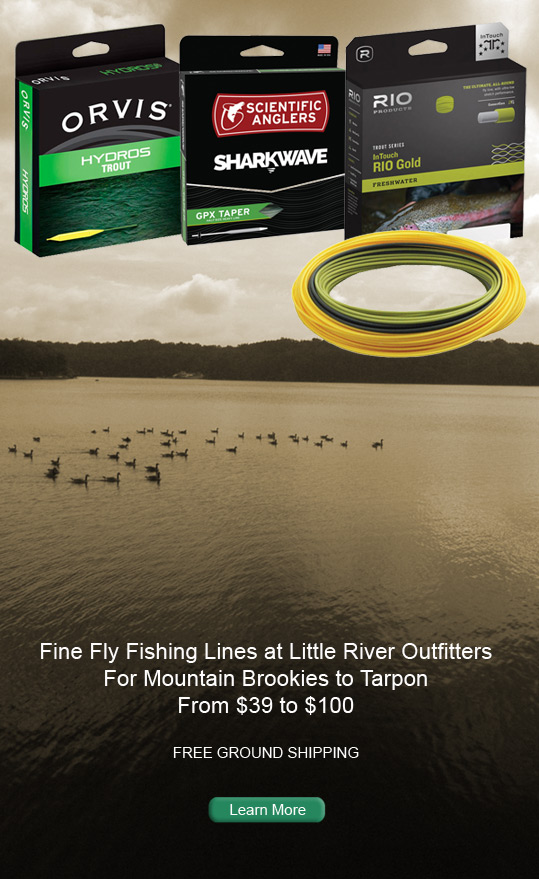 Whether you are presenting a Parachute Adams on your 2-weight to brookies at Lynn Camp Prong, or casting to tailing Permit in Belize, choosing the right fly line does make a difference. We offer many choices from some of the top fly line companies on the planet.
Fly lines for cold water are made differently than those made for the tropics, or lakes and cool water fishing situations. From our selection, you can make the right choice.
We don't just push expensive high performance lines. We sell plenty of fly lines in the $40 range and we have many of those to choose from. If you want the best, we've got those too, from Orvis, Scientific Anglers or Rio.
So, browse through our selection by CLICKING HERE, and remember, Ground Shipping is Free at Little River Outfitters.
Thank you for supporting us.
Lake Information and Tailwater Generation Schedules



Please enter your e-mail address in the box to the left to sign up for our e-newsletter. You will receive news about the shop, events, sale information, fishing info and more important information a fly angler would want to have.

You can opt out at any time. If you decide you don't want to receive our information just change your status or click at the bottom of an e-mail we send you in the "Remove" box.

We do not sell or give your e-mail address to anyone. And, we won't hound you to death with e-mails. You will just get a few per year. Thank You for supporting us.