If you do not see today's Fishing Report, please refresh your browser to empty your cache.
Welcome to the Fishing Report from Townsend, Tennessee in the Great Smoky Mountains. At 6:41 am, the temperature outside is 51.6 degrees.
Today will be partly sunny and warm, maybe in the high 70's. Showers and thunderstorms will move into our area tonight. Rain is expected tomorrow too, with a high temperature in the high 60's. Tomorrow's rain is not predicted to be heavy. The weekend looks great, sunny with highs in the 70's.
Little River is flowing at 421 cubic feet per second (cfs) or 2.53 feet on the flow gauge. Median flow for this date is 351 cfs. The water temperature is 54.7 degrees this morning.
Some fishermen love fishing Little River at this level. Others do not. But, what we have now is normal. I use "median flow" as a comparison. That is the middle between the highest and lowest recorded flow for the date. I use that because USGS uses it on their chart, to depict current flow compared to median flow.
This time of year, "mean" flow is often higher than the median flow. Mean flow is actually average flow. So, today, based on 53 years of data, the mean or average flow is 554 cfs, which is higher than the actual flow today.
So, what we have now is lower than average. The water is swift, but, when compared to most years, what we have now is below average. Spring flows are usually high.
Fishing conditions are very good. The water temperature is one reason for that. Yesterday, for instance, the water temperature in the low elevation on Little River peaked at 58 degrees, which, in my mind is perfect. Trout are very active at 58 degrees.
As the waters recede today, hopefully tomorrow and through the weekend, fishing should be excellent. The only potential negative would be heavy rain tonight and tomorrow. There may be thunderstorms tonight. There could be heavy rain in those storms.
You may do best with nymphs, or you may do better with dry flies. Try both. Try one or the other. I would use a Parachute Adams as my dry, at least at first. Most reasonable nymphs will work. A Bead Head Pheasant Tail is a good choice. There are many others. If you see one of the sporadic large hatches, switch to a dry fly and try to match what you see.
The trout are looking for food. Their metabolism is in high gear in the low elevations. I would fish a low to mid-elevation stream. The water will be colder in the high elevations. That will change some as the water warms, and it will certainly warm today.
I have known the guy holding the musky he caught for many years. His name is Jim Hebera, a fisheries biologists who works for Tennessee Wildlife Resources Agency (TWRA).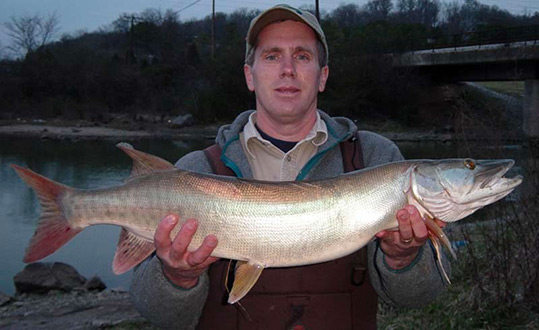 Jim specializes in trout. This winter, he and the crew at TWRA have been doing population sampling on the Clinch River.
The Clinch River is one of the trout fisherman's favorites, in our area. This big river produces some huge trout and offers fly fishing opportunities to thousands of anglers through the year.
Jim will be presenting a program on the "State of the Trout" in the Clinch River, at the Clinch River Chapter of Trout Unlimited April meeting. The meeting is free and open to the public. It will be held on Thursday April 13 at the parish hall at St. Francis Episcopal Church in Norris. The street address is 158 W Norris Road. The meeting will begin at 7 pm.
If you are interested in what is going on, in the Clinch River, this is a meeting you should attend. I know, many of you are interested. So, show up.
You can visit the Clinch River Chapter of TU website by CLICKING HERE. Find out what this great group of folks are doing for us. The do a lot!
Townsend City Council is working on an ordinance that will allow for temporary beer permits for special events and festivals. You can read more on the Daily Times website by CLICKING HERE.
I slept late today, so, it is daylight now. I see three turkeys, about 50 feet from my window, eating bird seed. The birds have split. At one time this Winter, I saw 36 turkeys back there at once. That number dropped to 35. I guess one died. Now the turkeys are traveling in smaller groups or alone. That is normal in late March.
Turkey season for adults opens Saturday. These birds are acting very cautious. One of their buddies died last weekend during the opening of the youth hunt. I think they know what is coming. They are safe here. I'm fine with turkey hunting. But, shooting one of these would be like killing a pet.
They are closer to my window now. They are jakes, less than a year old, with 2-inch beards.
Have a great day and thank you for being here with us.
Byron Begley
March 30, 2017