Townsend, Tennessee - Fly Fishing in the Great Smoky Mountains, East Tennessee and Western North Carolina

If you don't see today's fishing report, please refresh your browser to empty your cache.
Welcome to the Fishing Report from Townsend, Tennessee in the Great Smoky Mountains. At 5:51 am, it is very windy and the temperature is 66.6 degrees. I just now heard a tree fall outside our house.
Strong to severe thunderstorms will move across our area today and tonight. We may receive 1 " to 1 ½" of rain, which could cause localized flooding. Strong winds to 45 miles per hour are possible in the high elevations.
I am looking at the weather radar right now. This system is headed our way.
If you are planning a fishing trip to the Smokies this weekend, see what happens today and tonight, then adjust your plans if necessary.
Strong winds could temporarily close roads and campgrounds in Great Smoky Mountains National Park. We could have high water. Thankfully, this storm is coming through on a Thursday. That will give you the opportunity to look at the situation tomorrow at some point and make a decision. We do have a chance for thunderstorms tomorrow morning.
This storm could miss us completely. That happens often. I read the forecast that sounds like doom and gloom, and the storms often barely slip by the mountains. Maybe this will be one of those storms.
High temperatures today and tomorrow will be in the 70's. It is expected to be cooler Saturday and Sunday with highs in the low 60's and lows in the high 30's to low 40's. It will be sunny Saturday and Sunday.
So, there you have it. We'll have to wait and see what happens. I hope we avoid this storm somehow, and fishing will be good this weekend.
Little River is flowing at 256 cubic feet per second (cfs) or 1.95 feet on the gauge. Median flow for this date is 346 cfs. The water temperature is 54.5 degrees.
I wish I could tell you what fishing will be like today and tomorrow but I can't. If the wind and rain misses us, I think fishing will be very good, based on the water temperature and flows.
I am working every day this week, if we don't lose power, so I won't be out there. What I'm doing is updating our online store and working on search engine optimization. Our new online store did not get finished as planned, so I'm updating the old one.
After that, we'll get back on the new online store later this year, I hope. The problem is, new 2017 merchandise will be shown to us this summer. Then, the online store will have to be updated again. All of this stuff takes longer to you than you can imagine.
Generation schedules look pretty good today at Norris and Cherokee dams. I think you can work in some wade fishing time on those tailwaters today. Check the TVA website and see what you think.
I talked to Jack yesterday. He told me the lake fishing is getting very good. Frank sent me a photo of a 29", 10 pound redfish he caught yesterday on the Georgia coast. I saw a photo from North Georgia a customer sent me yesterday. It was a huge rainbow trout.
What I am seeing is, many people are fly fishing right now in the South. I got in a pinch with my work duties, and have not been this year. When this is over, I'm going for a long, extended period of time.
The guys at the shop are very busy too. I haven't seen anything like this since before the great recession. It's been a week since I have been to the shop, and it is only a 10-minute drive from here. I'm going today, to look around and talk to the guys.
The wind died down and it is getting somewhat light outside. The wind has more than died down. It is totally calm out there. Soon, the turkeys will be gobbling. That should start in a few minutes.
Have a great day and thank you for being here with us.
Byron Begley
March 31, 2016
Respond to: Byron@littleriveroutfitters.com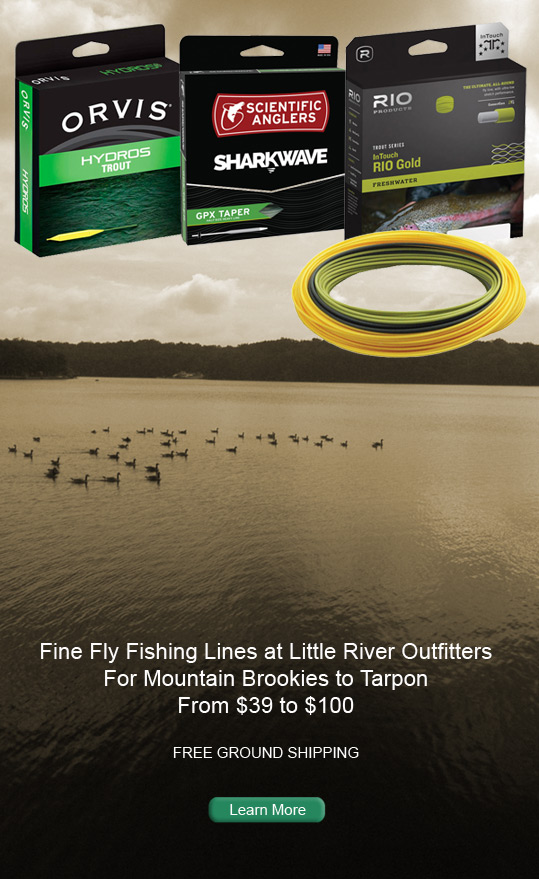 Whether you are presenting a Parachute Adams on your 2-weight to brookies at Lynn Camp Prong, or casting to tailing Permit in Belize, choosing the right fly line does make a difference. We offer many choices from some of the top fly line companies on the planet.
Fly lines for cold water are made differently than those made for the tropics, or lakes and cool water fishing situations. From our selection, you can make the right choice.
We don't just push expensive high performance lines. We sell plenty of fly lines in the $40 range and we have many of those to choose from. If you want the best, we've got those too, from Orvis, Scientific Anglers or Rio.
So, browse through our selection by CLICKING HERE, and remember, Ground Shipping is Free at Little River Outfitters.
Thank you for supporting us.
Lake Information and Tailwater Generation Schedules



Please enter your e-mail address in the box to the left to sign up for our e-newsletter. You will receive news about the shop, events, sale information, fishing info and more important information a fly angler would want to have.

You can opt out at any time. If you decide you don't want to receive our information just change your status or click at the bottom of an e-mail we send you in the "Remove" box.

We do not sell or give your e-mail address to anyone. And, we won't hound you to death with e-mails. You will just get a few per year. Thank You for supporting us.