Townsend, Tennessee - Fly Fishing in the Great Smoky Mountains, East Tennessee and Western North Carolina

If you don't see today's fishing report, please refresh your browser to empty your cache.
Welcome to the Fishing Report from Townsend, Tennessee in the Great Smoky Mountains. At 6 am, the temperature is 50.5 degrees. The high temperature today and tomorrow is predicted to be 60 degrees. Tomorrow may be a little warmer than 60. The low tonight will be in the low to mid 30's, depending on which weather website is correct. It will likely be windy this afternoon.
Little River is flowing at 401 cubic feet per second (cfs) or 2.45 feet on the gauge. Median flow for this date is 352 cfs. The water temperature is 55.8 degrees this morning.
Flows in the Smokies streams are on the high side of good. The water temperature this morning is great. The only negative today to fly fishermen could be the wind this afternoon. Sometimes wind is predicted and it doesn't happen. This morning, two different weather sites are predicting wind.
Water temperatures will drop tonight. I don't know how far down they will go. If the stream temperatures drop into the 40's, fishing will slow, at least Sunday morning. If you plan to fish Sunday, wait a while before you go, unless the water temperature is at least close to 50 degrees.
I would choose to fish this morning. The water and the air temperatures are warm this morning.
I would also check the TVA website and generation schedules. Look at the Clinch River. I would think about fishing there. The schedule at the Holston River may work for you.
This has been an incredible Spring for fly fishermen in this area. Rainfall is normal. That helps. It has been warm most days. Trout and aquatic insects became active early this year. For the most part, it has been a very comfortable Spring. Dogwoods, flowers and other trees are blooming. Everything seems to be early this year. Fly fishing in the Smokies has been very good, even excellent at times.
Tennessee Valley Authority is definitely generating less, lately, so the tailwaters have been friendlier to wade fishing anglers.
None of us at Little River Outfitters are complaining about business. March was awesome. That is not only due to the great weather and fishing we have had in East Tennessee. Mail order sales were up 47% in March over the same month last year. Mail order business is up 38% for the first quarter this year, compared too last year. I look at those orders every day, at home, on my computer. Many are going to areas of America, where fly fishing Spring has not begun.
Everyone at the shop is doing a super job. To be successful in business, you need a great team taking good care of customers. We've got that.
I stopped by the shop yesterday. I don't ever remember seeing that much tackle in inventory. There were boxes that had not been opened. The guys had a great first quarter, and a good year last year. So I guess they are expecting that to continue. I think they are right.
It is daybreak so I went out to feed the birds. It is a beautiful morning. The air is clear. I heard turkeys gobbling and other birds announcing the coming of another Spring day. The Smoky Mountains are vivid in the clear air. They appear to be larger and closer this morning.
I also heard four shots from a shotgun. Today is opening day of wild turkey hunting season. Turkeys have been running around our house like pets all Winter. Today, they will become more reclusive. Somehow, they know.
I hope you enjoy this beautiful day.
Have a great one and thank you for being here with us.
Byron Begley
April 2, 2016
Respond to: Byron@littleriveroutfitters.com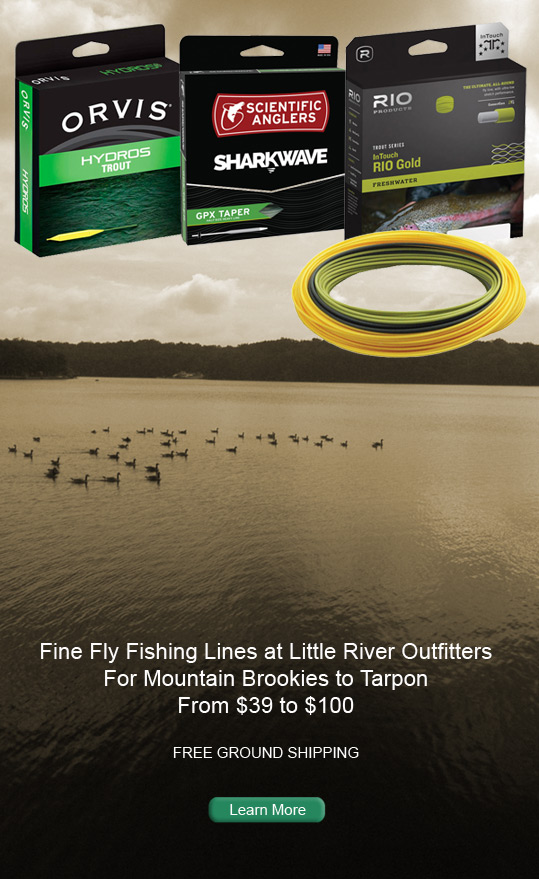 Whether you are presenting a Parachute Adams on your 2-weight to brookies at Lynn Camp Prong, or casting to tailing Permit in Belize, choosing the right fly line does make a difference. We offer many choices from some of the top fly line companies on the planet.
Fly lines for cold water are made differently than those made for the tropics, or lakes and cool water fishing situations. From our selection, you can make the right choice.
We don't just push expensive high performance lines. We sell plenty of fly lines in the $40 range and we have many of those to choose from. If you want the best, we've got those too, from Orvis, Scientific Anglers or Rio.
So, browse through our selection by CLICKING HERE, and remember, Ground Shipping is Free at Little River Outfitters.
Thank you for supporting us.
Lake Information and Tailwater Generation Schedules



Please enter your e-mail address in the box to the left to sign up for our e-newsletter. You will receive news about the shop, events, sale information, fishing info and more important information a fly angler would want to have.

You can opt out at any time. If you decide you don't want to receive our information just change your status or click at the bottom of an e-mail we send you in the "Remove" box.

We do not sell or give your e-mail address to anyone. And, we won't hound you to death with e-mails. You will just get a few per year. Thank You for supporting us.