Townsend, Tennessee - Fly Fishing in the Great Smoky Mountains National Park, East Tennessee and Western North Carolina

Welcome to the Fishing Report from the Great Smoky Mountains. At 6:32 am, the temperature is 66 degrees. This is the warmest morning so far, this year. Today's high will be 81 degrees according to weather.com. That will be our warmest day, so far.
Little River is flowing at 279 cubic feet per second (cfs) or 2.13 feet on the flow gauge. Median flow for this date is 369 cfs. The water temperature is 53.6 degrees this morning.
Yesterday was windy at times. It looks like today will be the same. Fishing is excellent. You will just have to deal with the wind. Trout are taking about anything you cast to them. They are enjoying great water temperatures in the low to mid elevations. When the water temperature is right, fishing is always good, unless we have high water. Right now, the conditions are perfect.
You may have a chance for wade fishing on the Holston today. According to the TVA website, the generators will be off from 8 am until 1 pm. They will probably be generating most of the day on the Clinch. Check the TVA website before you go.
From what I'm hearing, white bass are running up the creeks and rivers, to spawn from the lakes. That can be some very exciting fly fishing. All white or white and chartreuse Clouser Minnows are the ticket. We chase smallmouth bass this time of year and miss out on the white bass run. There was a time though, when I was a kid, the white bass spawn was always on my to-do list. I was too young to drive, but Silas, who lived on the farm, took me to the Dix River in Kentucky. Fishing was fast and furious.
Paula and I are trying to plan a couple of days next week, to fish on the lakes. Rain is in the forecast every day. That's ok. But, thunderstorms are also in the forecast. That's not OK. Thursday looks pretty good so, we'll shoot for that.
Thunderstorms can appear quickly on the Little Tennessee River lakes. Obscured by mountains, until the last minute, they are on top of you before you know it. We've spent a lot of time, sitting in the truck, at the ramp, waiting for them to pass. We also get caught on the water in strong thunderstorms. That is never fun.
This weekend and next weekend look pretty good, but we don't fish on weekends. We may have to break that rule.
Here is what we are seeing daily around our house. Turkeys, strutting, fighting and mating. Paula took the picture below Wednesday, from the kitchen window. The young males or "Jakes" are mostly alone. The older males, "Gobblers" have run them off from the hens. The hens are appearing in small groups. Yesterday, I almost saw a fight between two gobblers. The larger of the two, decided not to partake, and walked off.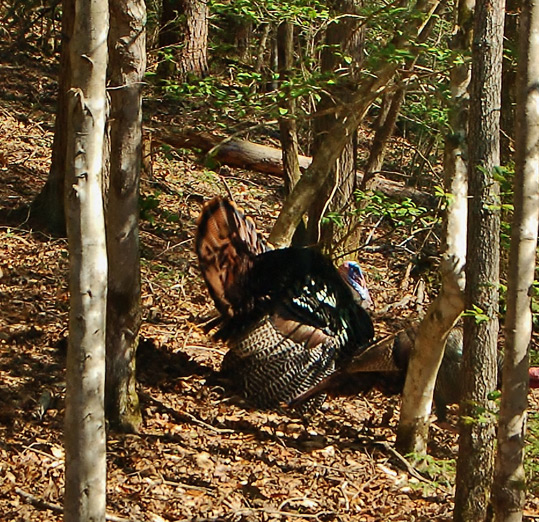 Last night, two deer were standing near where this bird is, just before dark. We have a mineral block back there and deer visit in the evenings to lick whatever it is made of.
It's a zoo around here. You never know what kind of wildlife you will see next.
Turkey hunting season opens tomorrow. When that happens, the turkeys disappear. When the season is over, they show up again. Wild turkeys are keenly aware of what is going on in the woods where they live.

They know, I'm not going to hurt them. So, they don't bother to run away when they see me. They see me every day. But, when other people invade their space, making the slightest noise or a movement, the turkeys switch to high alert. Things are not usual. Unusual, triggers their survival instinct. Tomorrow, I'll watch that behavioral change.
I am so happy, Spring is here. We are busy at the shop, we're going fishing, and I'm pumped.
This is my favorite time of year. We can tell, by seeing and talking to you at the shop, you are feeling the same.
Have a great day and thank you for being here with us.
Byron Begley
April 3, 2015