Townsend, Tennessee - Fly Fishing in the Great Smoky Mountains, East Tennessee and Western North Carolina

If you don't see today's fishing report, please refresh your browser to empty your cache.
Welcome to the Fishing Report from Townsend, Tennessee in the Great Smoky Mountains. At 5:45 am, the temperature is 34.9 degrees. The small individually owned weather station in Townsend reported that temperature. Other websites report the temperature in the low 40's. They use the Knoxville airport to obtain data. It's a heck of a lot colder here than in Alcoa, where the airport is located. That is often the case.
Little River is flowing at 315 cubic feet per second (cfs) or 2.26 feet on the gauge. Median flow for this date is 385 cfs. The water temperature is 49.6 degrees this morning.
Yesterday, the water temperature dropped by over one degree after I wrote this report. At 6:12 am the number was 51.1 degrees. Shortly thereafter, it dropped to 49.5 degrees. Later in the day it climbed back to near 54 degrees.
Today will be warm, in the 70's. We may have afternoon thunderstorms move into our area. Fishing should be good today. It may be windy this afternoon.
Generation scheduled by TVA at Norris and Cherokee dams look to be favorable to anglers today, at times. Check the TVA website to see if their schedule works for you.
I spent the weekend at home, working on this website. Yesterday, was opening day of wild turkey hunting in Tennessee. I knew our neighbor, Will and one of his friends, were hunting on his property. Right now, before the leaves block the view, we can see the field where they were hunting, from our house.
I looked out the window behind my desk and saw 4 gobblers in the woods behind our house. Those four mature males, have been there every day, for months. They come and go. There are almost always turkeys back there. Because they are so close to our house, I've come to recognize individual birds. I was glad those four were here, and safe.
I looked out the window later, and they were walking away, and seemed too be headed to the Will's field. I kept working until I heard a gunshot. Paula and I both stepped outside. We could hear a turkey slapping its wings on the ground. Soon after, we could barely see Will and his buddy in the field through the trees.
I walked down to see what happened. The guys called in a big tom, and Will shot the turkey. It was huge. I took photos of them using their phones, holding the turkey together. We talked for a while, and I walked back to the house. Paula and I were both kind of sad. One of the big birds we see every day, was dead.
I used to turkey hunt and have nothing against it at all. I was happy for Will and his buddy. They are skilled hunters and did everything right.
I went back to work in my office. Later, I looked out the window, and those 4 gobblers were back. Will shot a different turkey. Paula and I were both happy about that.
A rental cabin owned by Tremont Lodge and Resort, caught fire Saturday night. Evidently the fire started near the fireplace. The guests got out safely and called 911. Fire fighters extinguished the blaze. The cabin was damaged but not destroyed.
We have a great volunteer fire department. Their response time to fires and other emergencies is fast. The fire fighters and first responders are top notch trained. They are also trained for swift water rescue, training they use often, as we live in a resort town on a free flowing river.
Unfortunately, our insurance rates have always been high, because our fire department is volunteer based.
That is about to change. Our volunteer fire department has been graded higher, and our insurance rates are about to be much lower. The Townsend Area Fire Department has worked hard for this new rating, and they should be proud.
I remember paying about $1,400 for a fire hydrant that is located at our store. Paula and I had a fire sprinkler system installed when we built the store. That was very expensive. It was not required, but we did it anyway. We have a steel fire escape from our second level. These and other safety enhancements to our building, were eventually paid for by insurance premium reductions over the years. Now, with the new fire department rating, we'll save even more.
The four gobblers made it through opening weekend, and our insurance rates are about to be reduced.
I'm happy about both.
Have a great day and thank you for being here with us.
Byron Begley
April 4, 2016
Respond to: Byron@littleriveroutfitters.com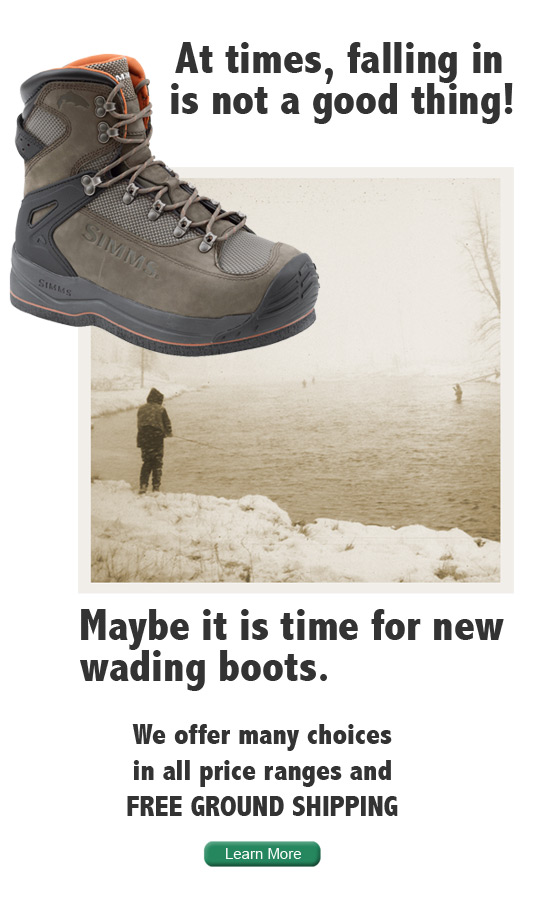 Even if you have brand new wading boots, you can still fall in. We've all done it.
However, if your felt or rubber soles are worn, the likelihood of a spill is greater. Check out your boots and see what you think.
If you decide it is time, please visit our online wading boot department. There you will see some new 2016 models, and in all price ranges. Or, if you live close to Townsend, come by the shop. We are open 7 days a week.
The main brands we stock right now are Simms, Chota and Korkers. We will add Orvis to the lineup soon.
Should you order from us, Ground Shipping is Free in the Continental United States.
You may order online by CLICKING HERE or call us at 865-448-9459. If there is a model you are interested in, that we don't stock, we will have them sent to you.
We hope you consider Little River Outfitters for your next wading boot or any fly fishing related purchase.
Thank you for supporting us.
Lake Information and Tailwater Generation Schedules



Please enter your e-mail address in the box to the left to sign up for our e-newsletter. You will receive news about the shop, events, sale information, fishing info and more important information a fly angler would want to have.

You can opt out at any time. If you decide you don't want to receive our information just change your status or click at the bottom of an e-mail we send you in the "Remove" box.

We do not sell or give your e-mail address to anyone. And, we won't hound you to death with e-mails. You will just get a few per year. Thank You for supporting us.