Townsend, Tennessee - Fly Fishing in the Great Smoky Mountains, East Tennessee and Western North Carolina

If you don't see today's fishing report, please refresh your browser to empty your cache.
Welcome to the Fishing Report from Townsend, Tennessee in the Great Smoky Mountains. At 6:09 am, the temperature is 39.6 degrees. Yesterday's high temperature was 74 degrees.
It will be cooler this week. Expect high temperatures in the 50's and 60's, and colder on Saturday, in the high 40's. Lows will be in the 30's and 40's through the weekend. Believe it or not, we have snow showers in the forecast Saturday. Beginning Sunday, it will be warm again. The water temperature is 52.9 degrees.
If the weather forecast holds true, we may see fishing slow by the weekend in the Park streams. It depends on how cold the water becomes. We'll have to wait and see what happens. The weather has been so unpredictable lately. Yesterday was much warmer than anticipated.
Right now, I think fishing will be fairly good all week, except maybe Saturday and Sunday morning. That could change. Watch the water temperature if you are making plans. There is a 90% chance for rain Wednesday and a lower chance Thursday.
If you are planning to float the tailwaters this week, you will probably do well. Fishermen are catching some nice trout on the tailwaters. The colder air won't affect those rivers much at all. There are also good flows for floating and wading at times. If the freestone streams slow down, go to the tailwaters. If you want to float, hire a guide if you don't have a boat. If you want to wade, check the TVA website first, to view their generation schedule.
CLICK HERE to access our local guide page. These are guides we have worked with for years. They are independent, so you can just contact them and make arrangements. Our shop is not in the guiding business.
See the photo in the ad below? It was taken many years ago. That is the Madison River in Yellowstone National Park. We were fishing there in late October. I think that picture is at least 20 years old. A larger version of that ad will be e-mailed to thousands of anglers today. I make those photos look older in Photoshop so product shots 'pop" on the background.
Something terrible happened in Pigeon Forge yesterday. A sightseeing helicopter crashed, killing all five on board. You can read the story on the WBIR website by CLICKING HERE. That is so sad. This is a gruesome story. You may not want to read it.
I just heard a turkey gobble. It is getting light outside. I opened the blinds in my office and there he is, just a few feet from the house. Gobblers (adult males) are beautiful birds. The photo below was taken Easter Sunday. I think it appeared on this report the next day. These three gobblers were strutting outside the window, as is they were posing for the photo. They were standing 20 feet from my window, at the edge of the woods.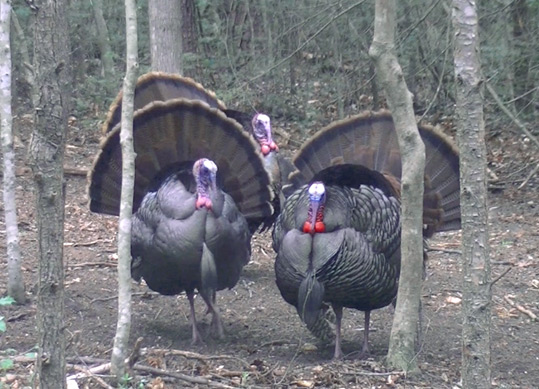 Now there are three gobblers in the woods. They are probably the same three you see in the photograph. I see them several times every day. There is a 4th one out there somewhere. They don't usually get as close to our house, as they were Easter Sunday.
The hens are about gone. They are nesting. Soon we will be seeing their young. I'm looking forward to that.
Have a great day and thank you for being here with us.
Byron Begley
April 5, 2016
Respond to: Byron@littleriveroutfitters.com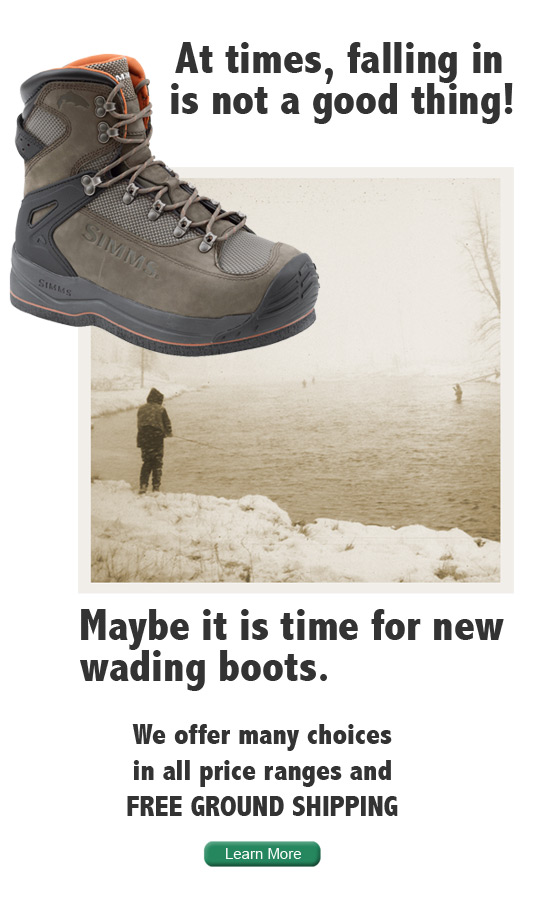 Even if you have brand new wading boots, you can still fall in. We've all done it.
However, if your felt or rubber soles are worn, the likelihood of a spill is greater. Check out your boots and see what you think.
If you decide it is time, please visit our online wading boot department. There you will see some new 2016 models, and in all price ranges. Or, if you live close to Townsend, come by the shop. We are open 7 days a week.
The main brands we stock right now are Simms, Chota and Korkers. We will add Orvis to the lineup soon.
Should you order from us, Ground Shipping is Free in the Continental United States.
You may order online by CLICKING HERE or call us at 865-448-9459. If there is a model you are interested in, that we don't stock, we will have them sent to you.
We hope you consider Little River Outfitters for your next wading boot or any fly fishing related purchase.
Thank you for supporting us.
Lake Information and Tailwater Generation Schedules



Please enter your e-mail address in the box to the left to sign up for our e-newsletter. You will receive news about the shop, events, sale information, fishing info and more important information a fly angler would want to have.

You can opt out at any time. If you decide you don't want to receive our information just change your status or click at the bottom of an e-mail we send you in the "Remove" box.

We do not sell or give your e-mail address to anyone. And, we won't hound you to death with e-mails. You will just get a few per year. Thank You for supporting us.