Townsend, Tennessee - Fly Fishing in the Great Smoky Mountains, East Tennessee and Western North Carolina

If you don't see today's fishing report, please refresh your browser to empty your cache.
Welcome to the Fishing Report from Townsend, Tennessee in the Great Smoky Mountains. It is cold this morning, 31.3 degrees. Today will be partly cloudy with a high temperature in the mid 60's. It will be warm tonight and wet, with a 100% chance for rain and a low temperature in the mid to high 40's. Rainfall is expected to be ½ inch. We need rain. March was a very dry month. Wildfires are present with some uncontained. Fire fighters are looking forward to tonight's predicted rain.
Little River is flowing at 260 cubic feet per second (cfs) or 2.12 feet on the flow gauge. Median flow for this date is 381 cfs. The water temperature is 49.3 degrees.
Fishing should be good today. Stream flows are excellent. The water temperature is below 50 degrees this morning, barely. That number should climb some today.
With the expected warm evening and rain tonight, fishing tomorrow should be good, depending on how much rain we get. As locals, we are hoping for plenty of rain, to avoid more forest fires and putting those we have under control. If you are visiting, on a fishing trip, you are probably hoping for less rain.
As far as I know, there are no fires in Great Smoky Mountains National Park.
It will be sunny and cool Saturday with a low temperature Saturday night about like what it is now or colder. Sunday will be warmer, day and night.
TVA is planning only short periods of generation today at Norris and Cherokee dams. You should be able to wade fish at times on both the Clinch and Holston rivers. Fly fishing for trout on these two tailwaters, and probably others, has been very good. If you have a float trip planned this week, you will probably do well. Check the TVA website for current generation schedules.
Looking at the long term, 15-day weather forecast, after Saturday, we have some awesome fly fishing weather ahead. We are expecting rain from time to time, which is good, but the temperatures are going to be perfect. Expect highs in the high 60's to 70's with lows in the 40's and 50's. This will maintain very good water temperatures in the Smokies for great Spring fly fishing.
The only downside could be high water. That is always a possibility.
Paula and I dined at Dancing Bear Appalachian Bistro in Townsend last weekend. We were celebrating our 22nd wedding anniversary. If I had time this morning, I would draw some. Maybe I could download them from the internet and take a chance on being sued for copyright infringement. I better not do that.
Instead, I'll put in my own words. "I give Dancing Bear Appalachian Bistro FIVE DANG STARS." Our meal and the atmosphere was unbelievable. When we walked in we were greeted by Debbie and Joe Matteo. They live here. Joe is a fly fisherman, and Debbie is a very active volunteer and sponsor of the Appalachian Bear Rescue. I think she said there are 35 bear cubs at the center now, being raised, to be re-released in the wild.
Paula and I started with a salad, one like I've never tasted before. Paula recognized the ingredients and preparation methods. She is a chef. Her food blog is Saucy Southerner. You can visit her food blog by CLICKING HERE. She took a photo of the salad with her cell phone. You really should visit her website. You will be blown away.
We both ordered lobster stuffed trout for the main course. It was awesome. Since we sat next to Joe and Debbie, I watched as their food was served. Joe got what looked like the largest hamburger I have seen. I'm getting that next time. Paula took another photo of our main course. I wish I had a picture of Joe's hamburger.
You anticipate getting small portions at a restaurant like this. Not so. I got more than I could eat. I didn't know that was possible. Ask my friends.
This place is beautiful. The owners, Mark and Sharon Oldham, bought Dancing Bear and Apple Valley Farms last year. They are building and remodeling and doing a great job serving local folks and visitors in Townsend.
This is a special place. You can visit the Dancing Bear website by CLICKING HERE. If you visit Townsend, or live nearby, make it a point to dine at this restaurant or stay in their beautiful cabins. You won't regret the experience. I promise!
By the way, Townsend, Blount County and Knoxville are a culinary destination. Of course we have Blackberry Farm and Foothills Milling Company nearby. Joseph Lenn just opened his new restaurant in Knoxville. And there are many others, too many to mention here. We have great restaurants right here in Townsend. Almost all fishermen are familiar with and dine at Steven's Parkway Grocery. There you can eat their world famous slaw dog.
We don't eat out much. Paula is a chef and I'm still learning to cook a few things myself.
When you own a business, in a resort area, it is essential to have great food served to our visitors. Food is an important component of the travel decision-making process. If you choose Townsend, for your fly fishing destination, you will eat well. You will also be taken good care of, by friendly people. Townsend people are friendly people.
Have a great day and thank you for being here with us.
Byron Begley
April 6, 2016
Respond to: Byron@littleriveroutfitters.com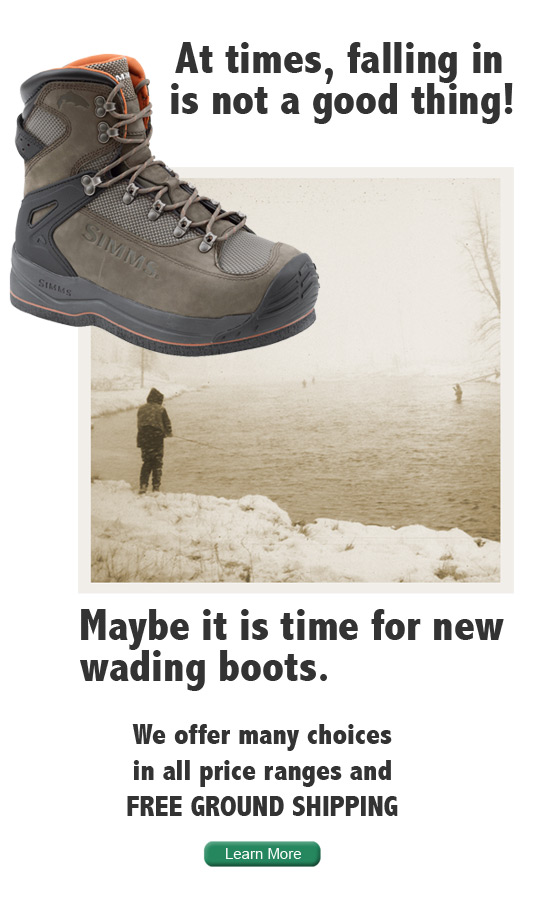 Even if you have brand new wading boots, you can still fall in. We've all done it.
However, if your felt or rubber soles are worn, the likelihood of a spill is greater. Check out your boots and see what you think.
If you decide it is time, please visit our online wading boot department. There you will see some new 2016 models, and in all price ranges. Or, if you live close to Townsend, come by the shop. We are open 7 days a week.
The main brands we stock right now are Simms, Chota and Korkers. We will add Orvis to the lineup soon.
Should you order from us, Ground Shipping is Free in the Continental United States.
You may order online by CLICKING HERE or call us at 865-448-9459. If there is a model you are interested in, that we don't stock, we will have them sent to you.
We hope you consider Little River Outfitters for your next wading boot or any fly fishing related purchase.
Thank you for supporting us.
Lake Information and Tailwater Generation Schedules



Please enter your e-mail address in the box to the left to sign up for our e-newsletter. You will receive news about the shop, events, sale information, fishing info and more important information a fly angler would want to have.

You can opt out at any time. If you decide you don't want to receive our information just change your status or click at the bottom of an e-mail we send you in the "Remove" box.

We do not sell or give your e-mail address to anyone. And, we won't hound you to death with e-mails. You will just get a few per year. Thank You for supporting us.