Townsend, Tennessee - Fly Fishing in the Great Smoky Mountains, East Tennessee and Western North Carolina

If you don't see today's fishing report, please refresh your browser to empty your cache.
Welcome to the Fishing Report from Townsend, Tennessee in the Great Smoky Mountains. At 6:32 am, the temperature is 42.6 degrees.
A thunderstorm with heavy rain, wind and lightening blew through about midnight. I slept through the whole thing, according to Paula. Recorded rainfall amounts range between .68" to .72".
We have a good chance for more rain today, tonight and tomorrow. Today's high should be in the low 60's. Friday and Saturday will be cooler with highs in the 50's and lows in the 30's. It may drop to below freezing Saturday night.
Little River is flowing at 416 cubic feet per second (cfs) or 2.48 feet on the flow gauge. The river is still rising. Median flow for this date is 371 cfs. The water temperature is 51.1 degrees.
It is hard to predict how much higher Little River will rise before it crests. Looking at the USGS chart, it appears to be near that point now, which is slightly over 2.5 feet. We do not take beginner students to the river for classes if the water level in Little River is over 2.5 feet, which it is now.
You should always be careful wading, but at over 2.5 feet, you may find many places that should not be entered deeply or in faster water. If the river peaks soon, and we do not get any more rain, the river should be fine today. You may find stained water for a while. If we do get more rain, I have not idea what to expect at this point.
If you are fishing, be alert and watch the water levels. Get out quickly if you see the water levels rising.
Trying to predict fishing conditions this weekend is not easy this morning. We have to watch the water temperatures. Right now, Little River's water temperature is 51 degrees. It is going to be cooler over the next few days. I think we'll have fine water temperatures, in the afternoons. If that number drops to the mid 40's, fishing will be slower. A good rule of thumb is, 50 degrees or warmer is good. The high 40's is fair. The mid to low 40's is not good. That is what I have experienced, along with many other fly fishermen in the Smokies. I think the water temperature will bounce above and below 50 degrees this weekend.
I am looking at the weather radar right now. I don't see any rain or storms headed this way. Except for the East Coast and parts of Florida, I don't see anything. I think the rain is over, unless something new forms.
When I write this report every morning, I try to consider everyone. I consider new anglers, skilled anglers, people who travel long distances, and those who live nearby. I take this seriously because I don't want anyone to be disappointed. I remember many trips I've made to the Smokies, only to find the streams blown out, just a trickle or too cold, because 35 years ago, the information was not readily available.
I didn't know what the stream flows were or the water temperature. We did not have the internet.
To get tailwater generation schedules from TVA, we had to call someone on a land line. At some point, TVA began using a recording, giving us the predicted generation schedules, without talking to a real person.
I remember well, waiting through the long list of dams, to the one I was interested in, and writing down the schedule. Sometimes I missed something, and had to do it all over again. Then, you would call your fishing buddies with the news. Plans were made. When we got there, the dams would be generating full bore, when earlier, they were predicted to be turned off.
It's a lot easier now, to plan trout fly fishing trips.
If I were much younger, and did not know how tough it used to be, and how often I was disappointed by not having accurate river or stream conditions, I may have never started writing this fishing report. I started doing this when the internet was young and just becoming accessible to everyone.
These days, you probably don't need me. You can get the conditions yourself, online. I can usually count on 600 to 900 people per day, reading this report. As long as that continues, I'll probably keep writing.
Here is something you won't find online without reading a fishing report. David Knapp sent his update to me yesterday. He is a professional guide and is on the water several days each week. He is keenly aware of what is going on and at what times of the day, things are happening. Here is his bug report:
Hendricksons and March Browns are present
A lot of Blue Wing Olives are hatching
Little Black and Early Brown Stoneflies at times
Black Caddis
Mayflies hatch starting between 10 am and 2 pm and lasting until the evenings
Blue Wing Olives heaviest hatches near Elkmont
Hendricksons and March Browns showing up everywhere
To visit David's website CLICK HERE. His site should be bookmarked on your browser. David has a wealth of information. He is an excellent guide. He is also a very nice guy and a good friend of mine.
Have a great day and thank you for being here with us.
Byron Begley
April 7, 2016
Respond to: Byron@littleriveroutfitters.com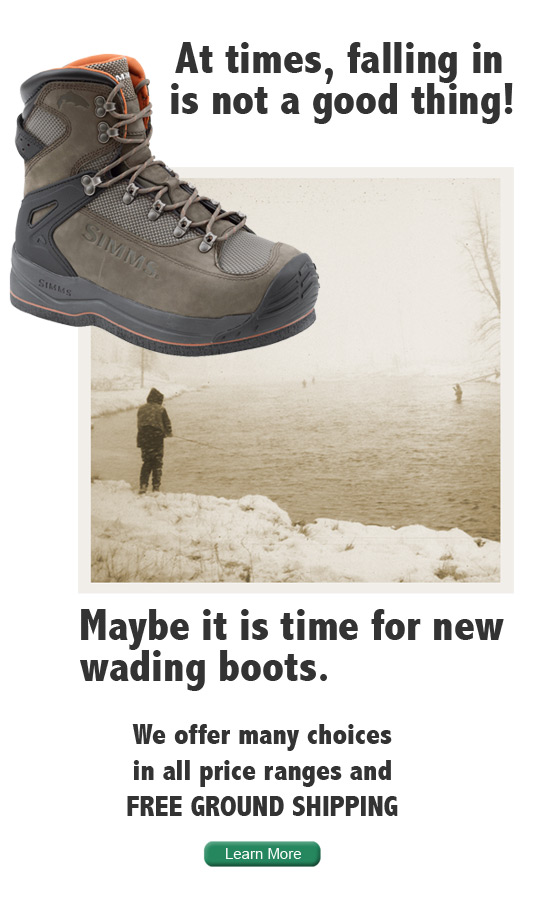 Even if you have brand new wading boots, you can still fall in. We've all done it.
However, if your felt or rubber soles are worn, the likelihood of a spill is greater. Check out your boots and see what you think.
If you decide it is time, please visit our online wading boot department. There you will see some new 2016 models, and in all price ranges. Or, if you live close to Townsend, come by the shop. We are open 7 days a week.
The main brands we stock right now are Simms, Chota and Korkers. We will add Orvis to the lineup soon.
Should you order from us, Ground Shipping is Free in the Continental United States.
You may order online by CLICKING HERE or call us at 865-448-9459. If there is a model you are interested in, that we don't stock, we will have them sent to you.
We hope you consider Little River Outfitters for your next wading boot or any fly fishing related purchase.
Thank you for supporting us.
Lake Information and Tailwater Generation Schedules



Please enter your e-mail address in the box to the left to sign up for our e-newsletter. You will receive news about the shop, events, sale information, fishing info and more important information a fly angler would want to have.

You can opt out at any time. If you decide you don't want to receive our information just change your status or click at the bottom of an e-mail we send you in the "Remove" box.

We do not sell or give your e-mail address to anyone. And, we won't hound you to death with e-mails. You will just get a few per year. Thank You for supporting us.