Townsend, Tennessee - Fly Fishing in the Great Smoky Mountains, East Tennessee and Western North Carolina

If you don't see today's fishing report, please refresh your browser to empty your cache.
Welcome to the Fishing Report from Townsend, Tennessee in the Great Smoky Mountains. At 6:37 am, the temperature is 43.7 degrees. Todays high temperature will be in the mid-50's with a low tonight near or below freezing. Tomorrow's high is expected to be 50 degrees with a low of 29 degrees. It will be windy tomorrow.
Warm days and nights will return Sunday, with highs in the 60's and 70's and lows in the 40's and 50's for several days.
Little River is flowing at 311 cubic feet per second (cfs) oor 2.25 feet on the flow gauge. Median flow for this date is 362 cfs. The water temperature is 49.8 degrees this morning.
If you are planning a weekend fishing trip to the Smokies, you may want to re-consider. Tomorrow (Saturday) does not look good. First, the water temperature will be cool. Worse, it will probably be windy, maybe very windy. Winds are predicted to be 20 to 30 miles per hour with gusts to 40 miles per hour.
Sunday will be better, but, after a nighttime low of 28 to 29 degrees, which is expected, the water will be chilly in the morning.
Plan a trip next weekend. It is going to be nice.
The tailwaters are fishing well. That is a better option this weekend, though it will still be very windy tomorrow.
I hate writing bad fishing news, especially on a weekend. That is my job at times.
The good news is, after this weekend, fishing will be great again.
The forest fire in Cocke County is only 40% contained and has affected 1,500 acres in the Cherokee National Forest. At least 120 fire fighters are trying to contain the blaze. WBIR has been reporting on this fire. You can read more by CLICKING HERE. I'm worried about the high winds expected tomorrow.
We are very busy at the shop. More people must be fly fishing or those who do are going more. I hope this trend continues. It has now for 18 months. Mail order is growing much faster than we anticipated. That generally indicates a broad area in America, not just good fishing conditions in the Smoky Mountains. Our "in store" business has been very good too. We are not complaining.

Paula and I enjoyed a beautiful sunset from our front porch last night. You can see from the photos below, the mountaintops were orange. She took these photos with her iPhone. What you see is Scott Mountain, one of many that surround Cades Cove. In a few weeks, the leaves on the trees around our house will block the view of the mountains until next Fall. But, we will live in the forest canopy, which is really nice.
Enjoy!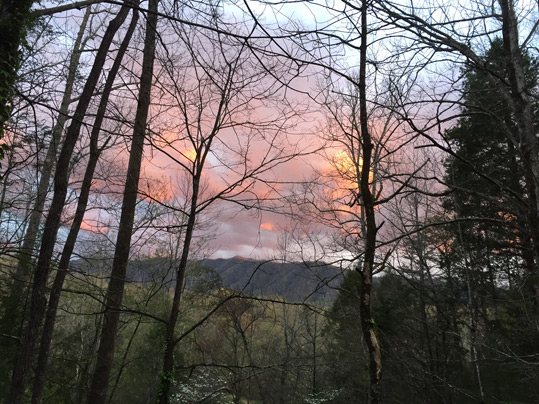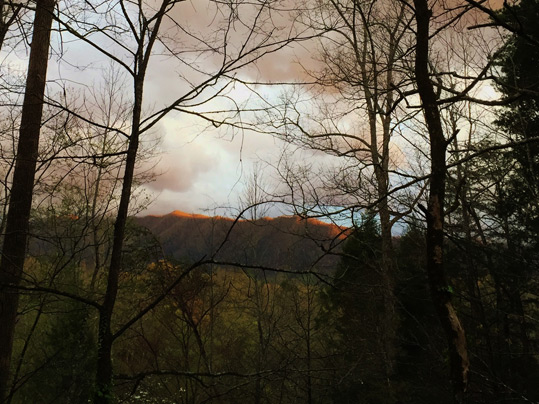 Have a great day and thank you for being here with us.
Byron Begley
April 8, 2016
Respond to: Byron@littleriveroutfitters.com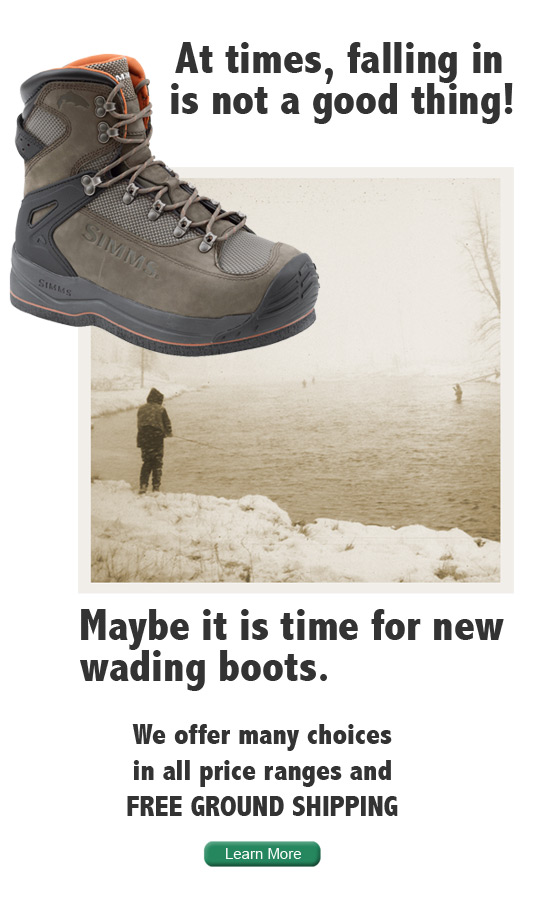 Even if you have brand new wading boots, you can still fall in. We've all done it.
However, if your felt or rubber soles are worn, the likelihood of a spill is greater. Check out your boots and see what you think.
If you decide it is time, please visit our online wading boot department. There you will see some new 2016 models, and in all price ranges. Or, if you live close to Townsend, come by the shop. We are open 7 days a week.
The main brands we stock right now are Simms, Chota and Korkers. We will add Orvis to the lineup soon.
Should you order from us, Ground Shipping is Free in the Continental United States.
You may order online by CLICKING HERE or call us at 865-448-9459. If there is a model you are interested in, that we don't stock, we will have them sent to you.
We hope you consider Little River Outfitters for your next wading boot or any fly fishing related purchase.
Thank you for supporting us.
Lake Information and Tailwater Generation Schedules



Please enter your e-mail address in the box to the left to sign up for our e-newsletter. You will receive news about the shop, events, sale information, fishing info and more important information a fly angler would want to have.

You can opt out at any time. If you decide you don't want to receive our information just change your status or click at the bottom of an e-mail we send you in the "Remove" box.

We do not sell or give your e-mail address to anyone. And, we won't hound you to death with e-mails. You will just get a few per year. Thank You for supporting us.