If you do not see today's Fishing Report, please refresh your browser to empty your cache.
Welcome to the Fishing Report from Townsend, Tennessee in the Great Smoky Mountains. At 5:07 am, the temperature is 31.8 degrees.
Today will be sunny and warm with a high temperature in the high 60's. It will be chilly again tonight, with temps dropping into the mid to high 30's. Then, the warm trend begins again. Tomorrow we'll see highs in the mid 70's. Lows through the week will hold in the 50's except one night which will drop into the mid 40's. Highs through the week will be in the mid to high 70's. There is a very low chance for rain next week.
Little River is flowing at 738 cubic feet per second (cfs) or 3.04 feet on the flow gauge. Median flow for this date is 358 cfs. The water temperature is 46.9 degrees this morning.
Flows are high in Little River and other streams in the Park. Little River is receding slowly. With water levels at 3 feet, most anglers prefer not to wade much in the main river. The water is swift. Many, including me, consider 2.5 feet on the gauge as being on the high side of good.
A smaller tributary might be a better option today. You may find some streams that are not flowing very high. I don't know that for sure. My guess is, on this side of the Park, the water will be on the high side wherever you go.
Nymphs are a good choice. I would add plenty of weight to get the fly or flies down. Try larger nymphs, like a #12 or #14. Try a Bead Head Pheasant Tail, Prince Nymph or a Squirmy Wormy. By all means, try a dry fly. They may work, especially later today.
The water is chilly. It will warm today, drop some tonight, then continue to warm tomorrow. 47 degrees is certainly not perfect, far from it. However, temperatures in the high 40's are fair, if the temperature is rising. It will be rising today and tomorrow. Fishing should be much better tomorrow, than it is today. We will see that number in the 50's, probably today and for sure tomorrow.
I think next week will be awesome. Flows will recede to normal, and the water temperatures will warm to the ideal range for trout activity. Fishing should be incredible next week.
You will find lower water on the North Carolina side. Cataloochee Creek and Oconaluftee River are flowing only slightly higher than normal right now. Normal is high this time of year. Don't expect to find "Summer Flows".
The long term weather forecast predicts rain again, beginning April 16th and continuing through the 22nd. That is subject to change.
The lakes will warm soon, if it remains this warm, and shallow water fishing with fly rods for warmwater species will improve. I'm looking forward to that. I plan to work 4 hours this morning, then tow my boat to Morristown to the dealer to have some work done on the engine. It is hooked up to my truck right now, ready to go. I'll leave it with them for a week or so. We are taking it to Florida this Spring, and I want some preventative things done, like rebuilding the water pump.
Fishing for trout on the tailwaters has been fair to good. Smallmouth bass can be caught on the tailwaters on sub-surface streamers. White bass are in the rivers, spawning or preparing to spawn, depending on where you want to fish.
They say repairs to the dam at Chilhowee Lake are on schedule. The lake should be re-filled by June. I'm not expecting good fishing for a few years, but it will be nice to have the lake back. It was drained to the river in 2015.
Check the generation schedules on the TVA website. You may have some wading opportunities today on the Clinch this afternoon.
This is going to be a nice weekend in East Tennessee and a good one to be outside. Go fishing somewhere if you can.

I finished writing the fishing report and answered e-mails. Then, I opened the blinds in my office. The critter below was out there. I heard about it, maybe two years ago. But, I've never seen it until now. He or she is a beautiful white raccoon. Paula and I took lots of photos, including wider shots with wild turkeys nearby. I will show you more tomorrow.

I watched this animal walk away and disappear in the forest as I was loading these photos. I never know what I'm going to see out there. We've seen some incredible creations.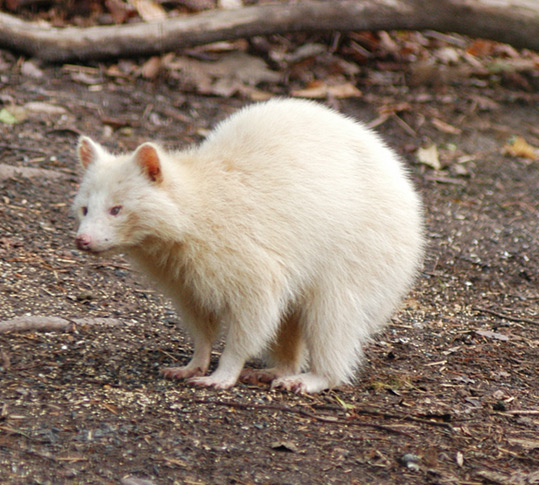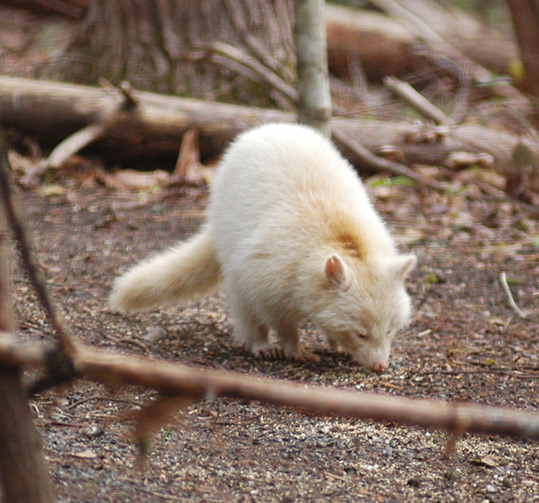 Have a great day and thank you for being here with us.
Byron Begley
April 8, 2017