If you do not see today's Fishing Report, please refresh your browser to empty your cache.
Welcome to the Fishing Report from Townsend, Tennessee in the Great Smoky Mountains. At 5:55 am, the temperature outside is 33.6 degrees.
Beautiful Spring-like weather has returned to the Smoky Mountains. Today will be sunny with a high temperature in the mid-70's. Tonight's low will drop only into the mid-40's. The forecast for tomorrow and Tuesday calls for more of the same, but warmer with highs reaching the high 70's and lows in the low to mid 50's.
Little River is flowing at 598 cubic feet per second (cfs) or 2.84 feet on the flow gauge. Median flow for this date is 380 cfs. The water temperature is 47.8 degrees this morning.
Fishing is improving. In fact, as the week progresses, fishing will in fact be very good to excellent. The streams are receding. Little River has fallen fairly close to the high side of good, which is 2.5 feet. The water is warming. Yesterday, the water temp in the low elevations of the river rose to 52 degrees. It will climb to a higher mark today, then higher as the week goes by.
The chance for rain remains low until Tuesday and Wednesday. We may see scattered thunderstorms Tuesday evening and Wednesday morning.
I think fishing today, especially later, will be good. The water levels are high, so I would fish a smaller stream. Be careful wading. By this afternoon, the water temperature should reach the mid-50's. When water temperatures are rising, into the 50's, fishing is good. You only obstacle is the higher than normal flows.
Nymphs may work best. I would weight them with split shot. You will probably do best, not using a strike indicator, so you can vary the depths of the fly. But, if you prefer, use a strike indicator.
Dry flies may work well in slower runs or pockets. I would use a larger fly you can see, probably a Parachute Adams in a #12 or a Yellow Stimulator of the same size.
There are bugs hatching and on the water. Watch for them. Try to match what you see.
Fishing will get even better, tomorrow and Tuesday.
We are holding our first Nymphing Tactics Class of the year today. Those students are going to enjoy and learn from Rob Fightmaster and David Knapp. We have more Nymphing Tactics classes scheduled this year. CLICK HERE to learn more.
I will be working at home today, on e-mail newsletters and our online store.
I work full time at home. My office has a large window with a view of the forest behind our house. I keep a DSLR Nikon camera on a tripod, with an 80-200 mm 2.8 lens attached by the window. We get a lot of interesting wildlife visiting behind our house. I shoot a lot of photos. I feed birds, and that attracts other critters. We have some mineral blocks placed in the woods, which deer and other animals use.
A few hundred yards further back, a spring creek runs through a gorge. We live in Dry Valley. The valley gets its name due to the fact, most of the water runs underground. Water above the ground is rare. Tuckaleechee Caverns is nearby. We have caves, an underground lake and an underground stream that feeds the spring creek. Paula is building a new raised garden this weekend. The garden will be watered from a pump, in a cave, nearby.
I keep the area in the gorge natural. Hardly anyone goes back there. It provides a densely covered area for wildlife to drink. When we see bear, bobcats, deer and other animals, they are usually coming from that direction. It's kind of creepy back there after dark.
Yesterday morning, I finished the Fishing Report, then answered e-mail from customers. When I finished, it was daylight, and I opened the blinds. There were three wild turkeys and a white animal in the woods. I thought the white animal was a raccoon. I looked through the lens of the camera, zoomed in, and what I saw was a pure white raccoon. The raccoon had pink eyes, nose and feet. I think it is albino.
Albino raccoons are very rare. One website I saw stated, "Odds are you'll get hit by lightning before seeing an albino raccoon". I read, "Many wildlife biologists around the nation agree that albinism occurs in about one in every 750,000 raccoons". "Also, very few survive in the wild as they cannot successfully hide from predators". I read this on the Wide Open Spaces website.
I shot a bunch of photos, Paula did the same, and I placed two on yesterday's report. Below are more. I heard about this animal two years ago but never saw it until yesterday morning. Also below is a shot of two wild turkey gobblers I took about a week ago. Enjoy.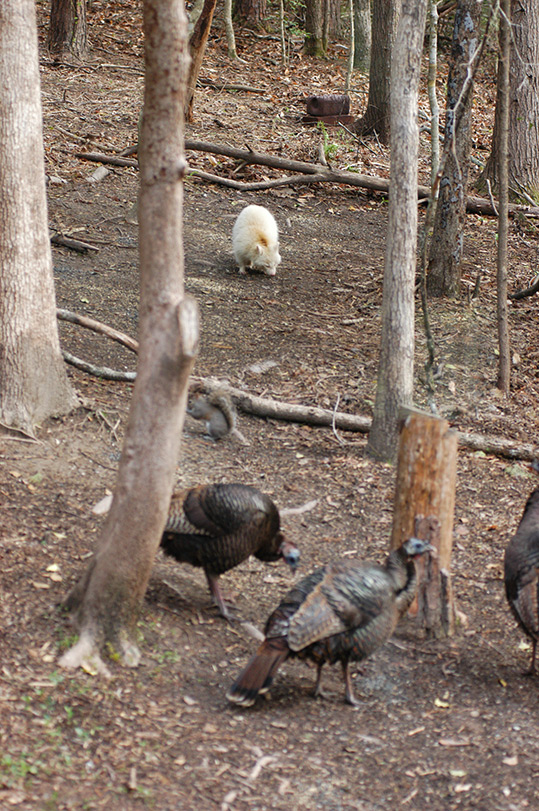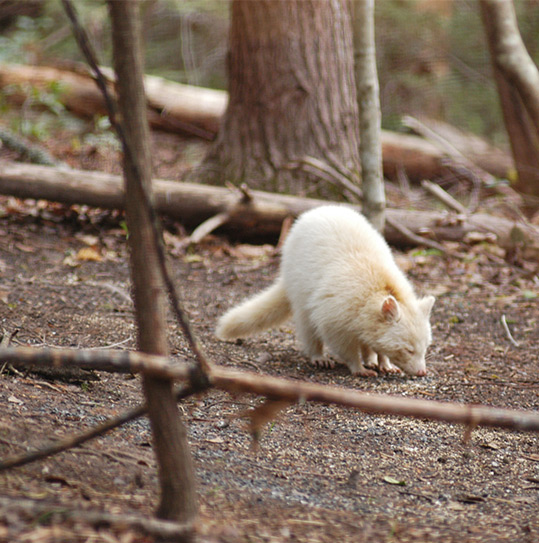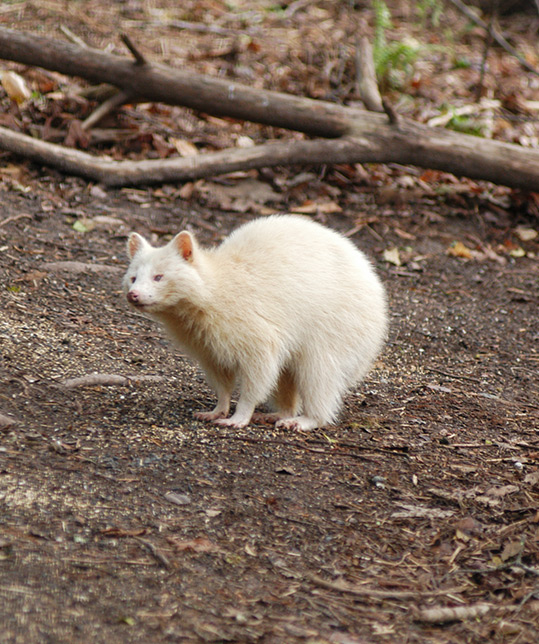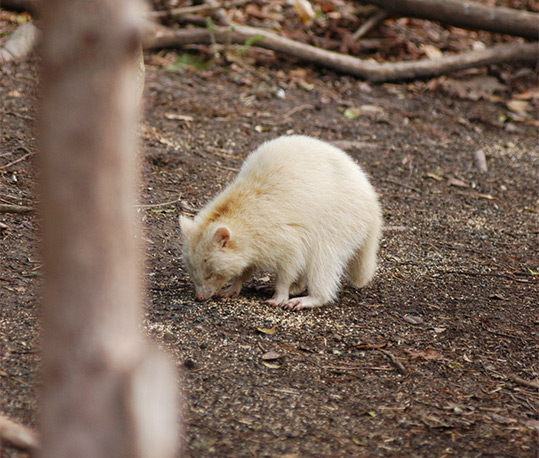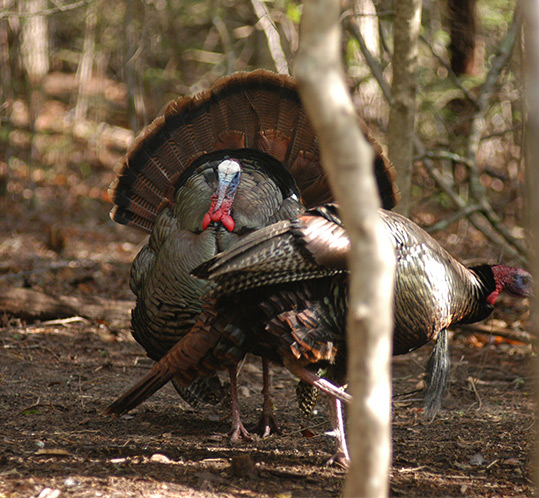 I think these two turkeys are brothers. I've watched them grow up. They are inseperable. The turkey that is fanned out is the dominate male. The other has a split beard. That is how I recognize these from the other males. They have made it so far, through turkey hunting season. All of the turkeys are more cautious now that the season has opened. I am looking out my window right now. There are four hens out there.

Have a great day and thank you for being here with us.
Byron Begley
April 9, 2017