Townsend, Tennessee - Fly Fishing in the Great Smoky Mountains, East Tennessee and Western North Carolina

If you don't see today's fishing report, please refresh your browser to empty your cache.
Welcome to the Fishing Report from Townsend, Tennessee in the Great Smoky Mountains. At 5:43 am, the temperature is a cold 28.6 degrees.
Warmth returns today. The high temperature is predicted to be between 65 and 69 degrees. The low tonight will be in the mid 40's. Tomorrow we should expect highs in the low to mid-70's. Rain is in the forecast Tuesday. The chance is 80% to 100%. That usually means, it will rain.
Little River is flowing at 275 cubic feet per second (cfs) or 2.16 feet on the flow gauge. Median flow for this date is 353 cfs. The water temperature is 45.5 degrees this morning.
This will be a chilly morning to be fishing. We have a class of beginner students, who will be on the water today. Casting For Recovery will have 14 women with their river helpers, on the water this morning. Hopefully, the cold air will move out quickly.
Fishing may be somewhat slow this morning due to the cooler water temperature. If you go today, my advice is to wait a while. Go this afternoon. You will be more comfortable and the fish will too. Trout prefer temperatures in the 50's. They may be a little sluggish this morning. Fishing will certainly be better this afternoon until the evening.
I don't know how warm the water will be today but it will be warmer than it is now.
Nymphs will probably work best, at least early. You may see some hatches and aquatic insects on the water later, so be prepared to switch to dry flies. Watch for March Browns, Hendircksons and Blue Wing Olives among other varieties of mayflies, stoneflies and caddis.
The long term weather forecast, through April 24th looks great. Except for Tuesday, all I see is highs in the 70's and lows in the 40's and 50's throughout the period. We should have excellent fly fishing for trout in the Smoky Mountains, through April, but there is always a chance for high water. That chance looks slim right now. The prediction for rainfall Tuesday indicates about ½ inch. That probably won't be enough to affect the fishing in a negative way. Of course, that can change.
If you are planning a trip to the Smokies, you should have good conditions at least through April 24th.
There will be periods of no-generation at Cherokee and Norris dams today. Check the TVA website to see if their schedule works for you. Fly fishing on a local tailwaters for trout, might be a good option. Fly fishing on the Clinch River has been very good lately.
I was off yesterday. Jack and Donna were here Friday night and yesterday. It was like being on vacation for me with two great friends and Paula. Jack and I stayed up until 1:00 am Friday evening. I haven't stayed up that late in a long time.
Friday, before they arrived, Paula and I saw the largest wild turkey gobbler behind our house, that I have ever seen. He was not a local. I know them all. This bird appeared nervous and looked like something from Jurassic Park. I think his beard was at least 10" long. That turkey was a monster.
I slipped into my office to shoot some video of him. When I slowly raised the blinds on the windows, he must have seen something he didn't like. The huge gobbler walked away. We never saw him again. I hope we do in the future. It is wild turkey hunting season. But, this bird was so wary, I think he will live another year.
I will be working today on the wader department of our online store. I hope to finish today or tomorrow.
I was at the shop Thursday. Paul told me to walk into the store room and look at the waders in back stock. I did. I never saw so many waders and wading boots at Little River Outfitters, during the past 20 years.
Our first quarter "wading department" business was up 98.67% over last year. It appears this will be a "wader" year. And believe me, we've got plenty to sell, more than ever before. Our online store will feature more waders than I can remember, when I finish updating it, tomorrow.
Daniel is stocking two different wading pants, one from Simms and another from Redington. They are perfect for anglers who don't wade over their waist. They are made for fishermen who fish in small streams, and prefer the lack of bulk of a chest wader.
Years ago, when Chota brought their "Hippies" to the market, we were shocked at how well they sold and continue to sell. In units, Hippies are our best selling wader. We sell many of them through our mail order department. That tells me, fly fishermen are looking for more comfortable wading gear, and many do not wade deep. The folks at Chota "hit a home run" when they invented Hippies.
I love my Hippies. Sometimes, I have to look for a shallow place to cross a creek. I don't mind. I love the comfort, lightweight and simplicity of Hippies.
I shot and edited the video below for Chota, featuring Hippies, four years ago. The actor is Mark Brown, Sales Manager at Chota. We were on Little River at Coulter's Bridge, downstream from Townsend, in Walland.


Check it out. Hippies are a great item for fly fishermen at a very reasonable price.
Have a great day and thank you for being here with us.
Byron Begley
April 10, 2016
Respond to: Byron@littleriveroutfitters.com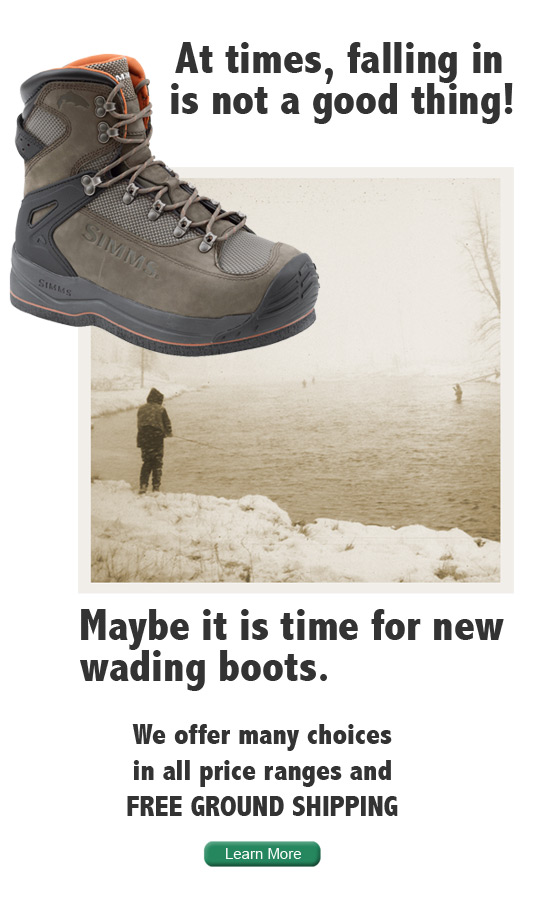 Even if you have brand new wading boots, you can still fall in. We've all done it.
However, if your felt or rubber soles are worn, the likelihood of a spill is greater. Check out your boots and see what you think.
If you decide it is time, please visit our online wading boot department. There you will see some new 2016 models, and in all price ranges. Or, if you live close to Townsend, come by the shop. We are open 7 days a week.
The main brands we stock right now are Simms, Chota and Korkers. We will add Orvis to the lineup soon.
Should you order from us, Ground Shipping is Free in the Continental United States.
You may order online by CLICKING HERE or call us at 865-448-9459. If there is a model you are interested in, that we don't stock, we will have them sent to you.
We hope you consider Little River Outfitters for your next wading boot or any fly fishing related purchase.
Thank you for supporting us.
Lake Information and Tailwater Generation Schedules



Please enter your e-mail address in the box to the left to sign up for our e-newsletter. You will receive news about the shop, events, sale information, fishing info and more important information a fly angler would want to have.

You can opt out at any time. If you decide you don't want to receive our information just change your status or click at the bottom of an e-mail we send you in the "Remove" box.

We do not sell or give your e-mail address to anyone. And, we won't hound you to death with e-mails. You will just get a few per year. Thank You for supporting us.